Follow our guide to the best 48 hours in Canberra - with all the best inside tips from a born and bred Canberran.
Friday night:
When you arrive from your flight, walk 50 metres from Canberra's award winning airport terminal (no seriously – it's incredibly classy and has just won a series of awards) head straight across to Piallago Estate Farmhouse Restaurant (a short walk) and dig into the degustation menu in the main building – there are a la carte options too – and of course you'll need to try the matching wines. On another trip to the Nation's Capital, be sure to check out the pavilions for a casual lunch or brunch. They overlook the entire estate with sweeping wonderful views over Canberra city. Details are meticulous here, right down to gleaming copper pipes and incredible wrought iron chandeliers. After you are sufficiently wined and dined, wander over to Helix Bar & Dining at
Vibe Hotel Canberra Airport
for a night cap. Crawl into a cosy chair by the magnificent fire place and enjoy!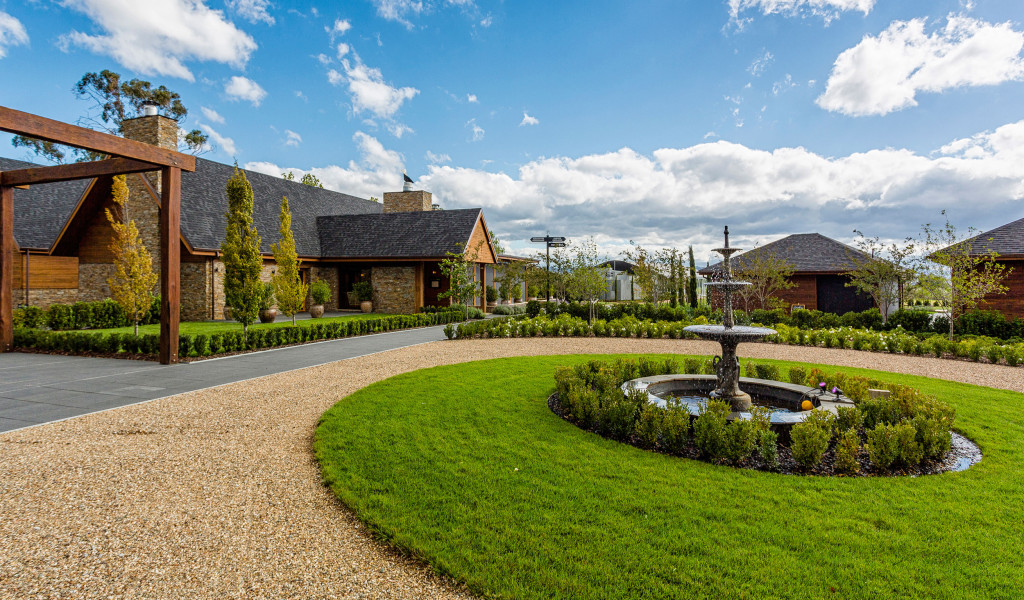 Saturday morning:
Pick up a hire-car from Canberra Airport and head straight to 7th and Bake Patisserie Café on the Kingston Foreshore offering an all-day breakfast menu as well as delicious lunch options. The coffee is by Lonsdale Roasters (Smith & Evans, Johnny Cash + Assassin ranges) and they make a brilliant coffee from an impressive mint green coffee machine. Grab a pastry from the range on show – a cronut goes down a treat… so many flavours to choose from, try the passionfruit pancakes or the bread (baked fresh on site) is out of this world. There are colourful seats and planter boxes enclosing the outdoor area with stunning lake views, the perfect setting for a Saturday breakfast stop.
Saturday:
It's time to explore this city! You have so many things on offer, depending on your preferences, pick from:
Questacon – This place makes science fun! The science and technology museum by the lake is fun for kids and adults alike, offering over 200 interactive science exhibits. It's best to start at the top and wind your way down through the various galleries. That is if you can get past the Robot on the ground floor 'Robo Q' will have you singing and asking questions for hours. The Lightning Cage and Earthquake Lab are another two of my favourites.
The National Portrait Gallery holds a collection of portraits of prominent Australians who are or were important in their field of endeavour or whose life sets them apart as someone of public interest. They say a picture is worth a thousand words, the achievements of these subjects are broad and impressive. The gallery is stunning in design, with a unique layout and plenty of sunlight for viewing, you can easily spend hours in the gallery.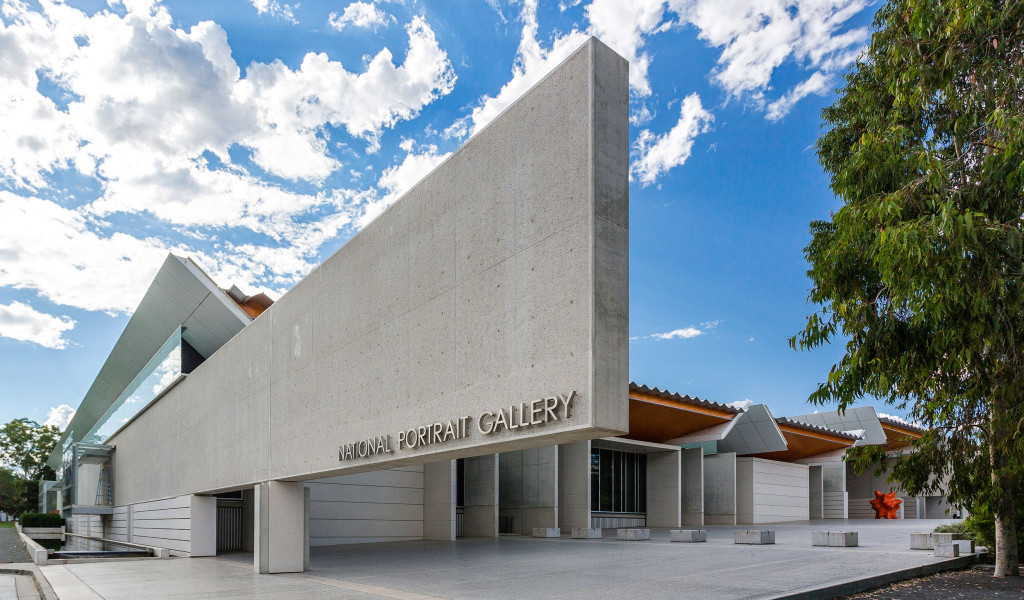 The National Library of Australia hosts the greatest collection in the world of material relating to Australia and the Australian people. Works here range from the early European pieces referencing the Great Southern Land, to modern recently released publications. The collection includes all formats of material, from books and magazines to photographs, maps, sheet music, recordings and much, much more! There are always exciting exhibitions rotating, Celestial Empire is currently showing which has material from 16th century China that until now had never left China.
Saturday evening:
When evening rolls over, head up to see the city lights from Red Hill Lookout.
South of the city centre, Red Hill boasts an amazing lookout over many of our national icons and sweeping vistas of the city. Canberra has four distinct seasons and all four show a beautiful side to our brilliant city, sunset is always a sight.
Combine the views with beautiful food and wine in one of the two eateries; the sophisticated Onred or the more casual Little Brother.
Onred was built in 1964, although has been under current ownership since 2007. The restaurant is elevated 175m above Canberra, the highest restaurant in the ACT. The menu is a little different… all the dishes are entrée sized, so you choose four or five to suit your individual taste, essentially designing your own menu. The emphasis is on quality and the simple combination of incredible flavours, textures and colours.
Little Brother is located just underneath and has a more casual feel. It is operated by the same owners but has a more informal, fresh dining style. The food is just as delicious as Onred, but more relaxed, especially if you're a little worn out after the walk up the hill!
Sunday morning:
Wake early, lace up your sneakers and head to the Lake Burley Griffin to walk the Bridge to Bridge, a classic Canberra trail linking a path around the lake with the Kings Ave and Commonwealth Ave bridges. It's beautiful at all times of day and always buzzing in the morning.
Travel Secret: If you're not keen on walking, head to SegGlideRide at the West Kiosk in Commonwealth Park for a fun way to get around the Lake. Take a Segaway tour or have a go on your own. It's as easy as it looks!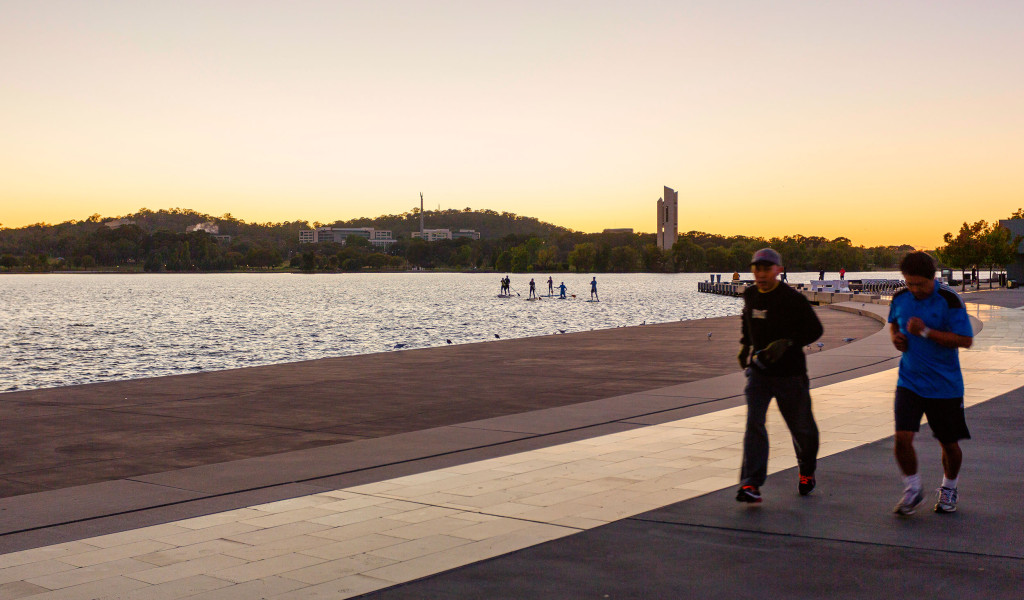 On the way back stop at the Old Bus Depot Markets. Canberra's national, award winning indoor Sunday market focuses on the creativity of local artists, with hundreds of stalls and vendors selling everything from handcrafted jewellery, gourmet foods, regional wines, and freshly ground local coffee. Definitely grab breakfast from one of the food stalls and a freshly squeezed orange juice from Jo's Juice is the perfect pick me up.
Sunday:
From the markets, head straight to the National Zoo and Aquarium, a privately-owned attraction combining both a zoo and aquarium. It is located very close to the city centre and is home to both native and exotic animals. The animal encounters here are  truly breathtaking – you can get up close and personal with sharks, sun bears, tigers, white lions, tree kangaroos, and red pandas or if you're up for some real excitement, take your experience further and Meet a Cheetah or do a Zooventure tour which combines a few experiences. On another trip to Canberra, plan your stay at Jamala Wildlife Lodge – a hotel with a difference – where giraffes can poke its head in your living room or a bear can lay alongside your bathtub.
Followed by the zoo, relax at the National Arboretum Canberra, a 250-hectare collection of rare, endangered and significant trees, created after the area was burned out during the Canberra bushfires. Wonder at panoramic views, stunning architecture and experience it all with a free guided tour. Personally – after a day of walking the lake, markets and the zoo, just grab a coffee and take in the scenery while the sun slowly sets.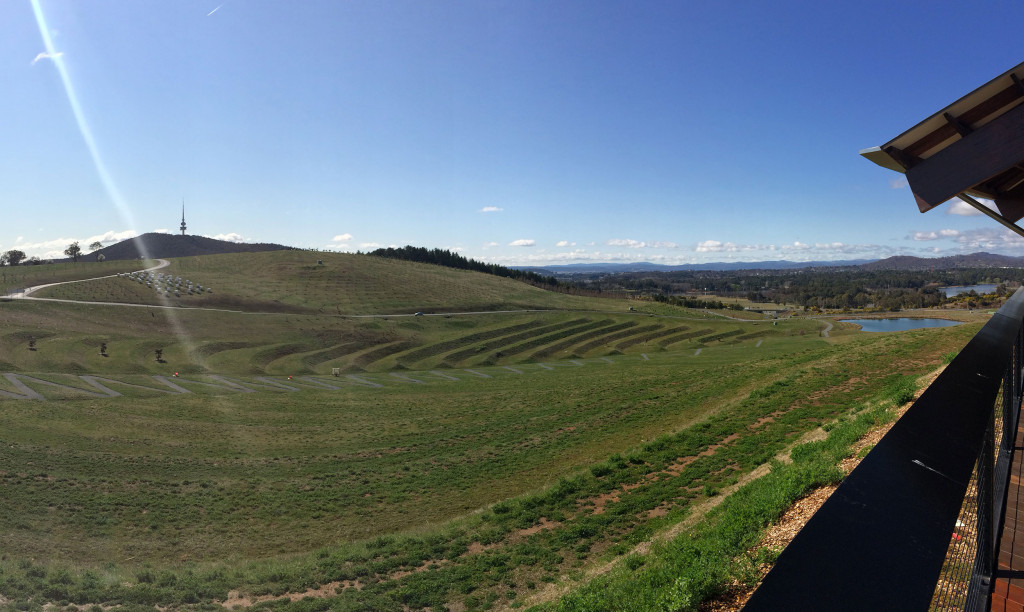 Sunday evening:
Before dropping your hire car back at the airport, stop at The Hamlet on Lonsdale Street… 'The food court of food vans'. You must go to Brod Dog. The owners of famous Brod Burger at the Kingston Foreshore have invented their red caravan again, this time serving a range of hot dogs. It's been so successful they have now opened another caravan in Chatswood, Sydney. Trust me, these are seriously good hot dogs.
Then hit the road, drop off your car and catch your quick flight back to reality. You'll be back soon, I'm sure of it.
Staying in Canberra? Check out TFE Hotels' accommodation options, suiting every type of traveller, from families and couples to groups of friends and those on business.