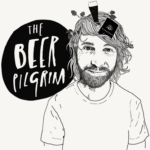 Meet Tim, aka The Beer Pilgrim. He has embarked on a mission to sample the best brews from every corner of the world and discover the stories from the brewers behind this ancient ale.
How many beers did you have to drink before you could call yourself 'The Beer Pilgrim?'
Well I lost count a long time ago... But you can rest assured I definitely drank enough to earn the title.
What does being The Beer Pilgrim entail?
It is my job and mission to spread the good word of beer far and wide. When it comes to daily life, each day is different and each pilgrimage I take is vastly different again. I am a film-maker, photographer and writer by trade and as the Beer Pilgrim, my attention is focused on this magnificent beverage. Sometimes, I like focus my attention and energy on the ingredients of beer, how they are created, grown and used. Sometimes it's on the brewing process; the techniques, innovations and the craftsmen/women of the brewing world. Sometimes I'm chasing down the latest and greatest beers, the oldest beers, the most obscure, the most popular, the most bitter, the most boozy, the most bizarre. It's a tough job, but someone's got to do it.
Where's the most amazing place beer has taken you?
Probably the brewing monasteries of Belgium.
Any travel mishaps?
When I was filming adventure travel television, mishaps were pretty much a daily occurrence and I could write a book about all my close calls. But as the Beer Pilgrim, the biggest mishaps are probably a few slow mornings and the occasional missed train.
Best brewery in Australia?
This is a hard question because my favourites tend to change almost weekly, but at the moment, I can't go past Boatrocker in Melbourne, Feral in WA, Stone and Wood in Byron or Modus Operandi in Mona Vale. For the brewery experience itself, it's hard to go past Little Creatures in Fremantle. You said "best 5" right?
Favourite Australian beer?
Boatrocker 'Ramjet' barrel-aged Imperial Stout.
What's next for you?
I'm off to Wellington, New Zealand next week to film some beers being created for the Great Australasian Beer Spectapular.
Where can we find you?
@thebeerpilgrim | www.thebeerpilgrim.com.au | timcharody@elsewhereproductions.com