There are plenty of things to do in Melbourne on any given late afternoon, but few things beat having a drink and enjoying the view from a rooftop bar when the day winds down. Melbourne has its fair share of places to enjoy a sky-high libation, and here are a few of our top picks.
Melina on the Rooftop – 168 Lonsdale Street
One of the kids on the rooftop block, Melina is a slickly designed contemporary bar and eatery perched above the Greek Centre. Accompany your tipple with meze and other Mediterranean fare in keeping with the Melbourne-Hellenic theme. Opa!
Naked in the Sky – 285 Brunswick Street
You may have to jostle for a seat at Naked in the Sky – upstairs from Naked for Satan – but there's a reason the crowds flock to the terrace: its vista over the city and Brunswick Street is unrivalled. Choose from a huge drinks list skewed towards a Spanish/Basque influence to complement the Pintxos menu.
Travel secret: West-facing bars like Melina on the Rooftop and Naked in the Sky are best for enjoying a sunset. Head over at about 4pm to grab your early evening seats before they're all taken.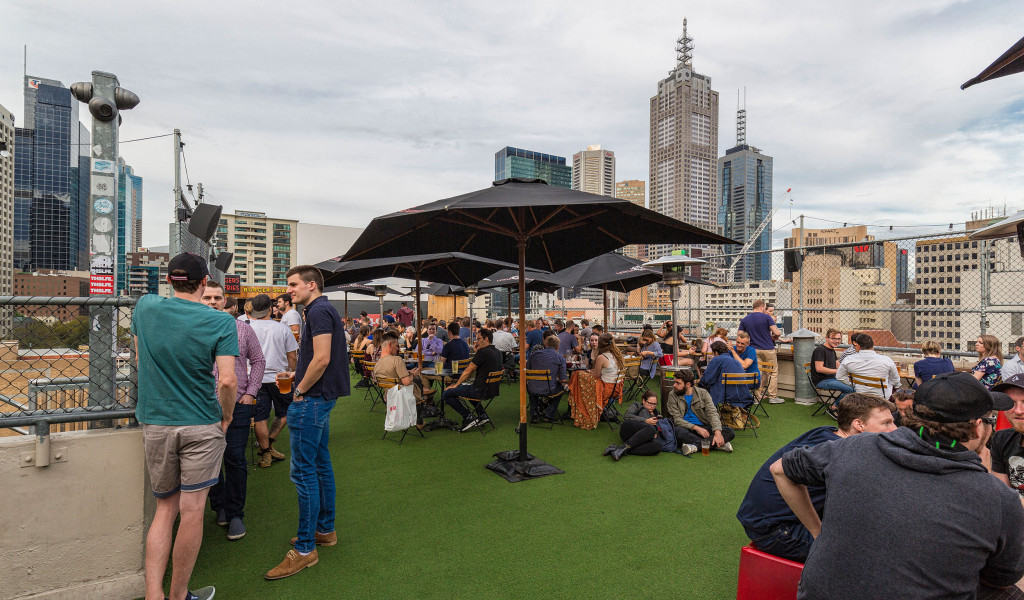 Rooftop Bar – Curtin House 252 Swanston Street
The name says it all – this is one of Melbourne's original rooftop bars located in Curtin House along with popular venues Cookie and Toff in Town, yet it is still one of the best. Just keep in mind it is totally open to the elements and, during the summer months, it turns into the Rooftop Cinema with limited access.
Bomba – 103 Lonsdale Street
Right across the road from Melina on the Rooftop, Bomba offers a different – but still excellent – vantage point over Lonsdale Street. The retractable roof is particularly attractive given Melbourne's often fickle weather, and the Spanish tapas and copper-top bar are definite drawcards.
Wolf's Lair Drinking Haus and Treetop – 333 Lygon Street (Jimmy Watson Lane, Carlton)
Jimmy Watson's restaurant and wine bar has been a Melbourne institution since 1935, so it's little wonder the addition of a rooftop bar to the venue has been warmly embraced. This little oasis is referred to as "Carlton's version of the Hanging Gardens of Babylon", a green space within the urban scrum. No bookings are taken at this intimate hideaway, so arrive early to get your pick of the seats.
Madame Brussels – Level 3, 59 Bourke Street
Without a doubt, Madame Brussels is one of the cutest rooftops in Melbourne. Imagine a rooftop garden party with fake turf grass, jugs of Pimm's cocktails, raspberry cupcakes and waiters in tennis whites. This is the place where your Spring Racing Carnival outfit will fit right in – or anything pink.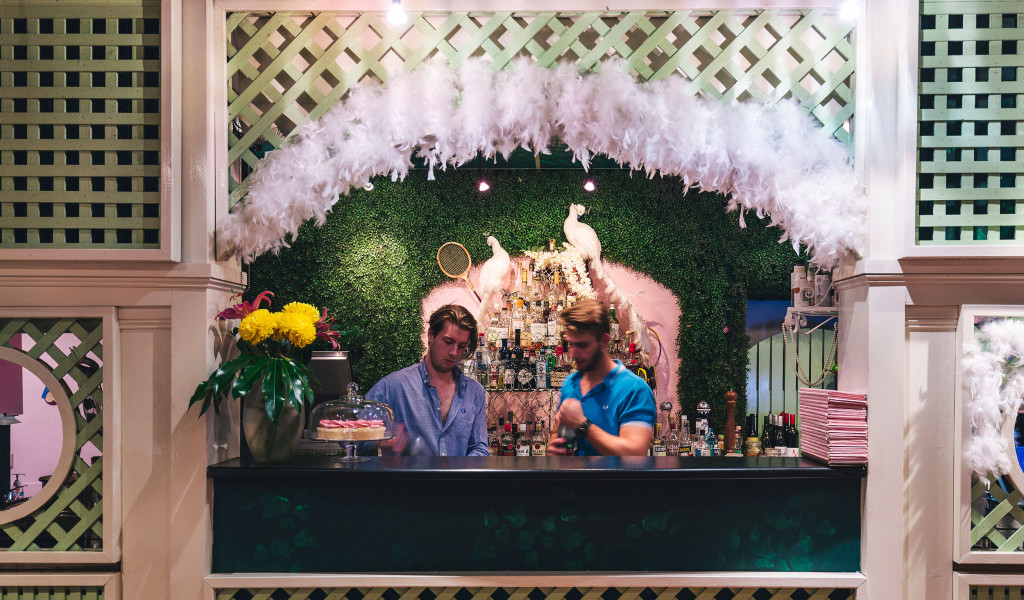 Siglo – 2/161 Spring Street
Go upstairs from The European, through the Melbourne Supper Club and, after a decent climb, you'll emerge at Siglo. This is an old-world, European-style rooftop terrace that exudes sophistication with its view of St Patrick's Cathedral and Parliament House. Mushroom heaters make it appealing in the cooler months.
The Emerson – 141-145 Commercial Road
Rooftop bars are few and far between in glamorous South Yarra, which makes the rooftop at The Emerson something to crow about. This is an expansive, open-air venue that gets drenched in sunshine on fine days but also sports a retractable roof, just in case the weather turns. Enjoy French champagne at this chic venue and watch the interesting crowds that frequent this local haunt.