Forget the early morning school rush-  getting teeth brushed, bags packed and homework completed all before 8am Monday to Friday! School holidays are almost upon us. Unfortunately, the restful and relaxing mornings might last 1 or 2 days (if you're lucky!) before your house starts to turn into a full blown Game of Thrones battle scene, with carnage covering every inch of the floor. Pack your bags and head to Sydney for anti-eye-rolling family fun - without dropping bags of cash.
We have lined up the best cheap thrills that Sydney has to offer, sure to tantrum-proof your Summer holidays.
Sydney Festival (7-29 January, 2017)
With a mammoth list of activities, here are our Sydney Festival top picks that will deliver maximum entertainment for minimum coin.
For the brave at heart, enter the House of Mirrors, a labyrinth of endless mirrors and optical illusions. Minutes will quickly turn into hours while you weave your way through the maze, and for $10 entry, that's pretty great bang for your buck.
Remember when rolling skating was the trendiest (and trickiest) mode of transport? Dust your skates off, grab the family and roll on down to the Archibald Fountain in Hyde Park for the (free!) Roller Jam, every Saturday night in January. No skates? No worries, find a cozy patch of grass and watch live bands and entertainment on the Village Stage as you chow down on a Mary's Fried Chicken or a mouthwatering Gelato Messina creation. Last year they showcased the MessinaWeiner, a pluto pup spin off consisting of deep fried maple syrup gelato coated in donut batter, our stomachs are eagerly awaiting this year's lineup of desserts…
Pack your picnic basket and spend a glorious Summer's night lapping up the sounds of Mozart and Tchaikovsky at Symphony Under The Stars in The Domain. The free event on 14 January is always a memorable event for the family, with pre-show entertainment and a fireworks display to cap off the evening. Arrive early with picnic blankets in tow to snag the best spot!
Do you have any Dora the Explorer, Teenage Mutant Ninja Turtles or SpongeBob fans in the house? Then they would probably love a tennis lesson from the Nickelodeon stars right? Apia International Sydney Kids Tennis Day hosted at Sydney Olympic Park on the 8th and 9th of January is a full family day of action and entertainment with on and off court fun. Entry is free for kids 14 years and under with an accompanying adult (adult tickets come in at $20).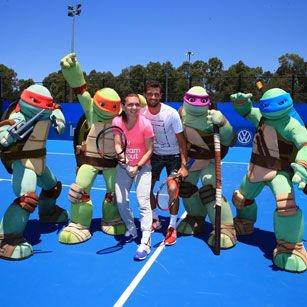 For a day that is sure to wear the kids out and promises a full night's sleep for all, register the family in the Weet-Bix Kids TRYathlon, on at Sydney Olympic Park, 29 January 2017. This non-competitive family event aims to encourage kids to be active, confident and inspired. Individual tickets start at $44 but tickets for a family of up to 6 are only $39 all up! As an added bonus, celebrity athletes will be cheering you all on from the side line! Go on, you know you want to…
Do you have a keen young grom to keep busy? Escape to the beach and marvel at the talents of the world's best surfers at the 2017 Carve Proevent in Maroubra. From 19 to 22 January, more than 200 world class surfers will compete in the 4-day comp and you don't have to be an avid surfer to appreciate the talent of these athletes. Did we mention it's also free?
Sticking to the water theme, this next one is sure to make you the best parent everrrr. Mermaiding. Yes, you heard us. Mermaiding is a thing! Throw on a fin and propel yourself around in the water, delivering true mermaid realness. No Ripples offers a host of mermaiding options from short 45 minute classes at $35 to whole day Sea School Workshops for $135 (including fin hire!). Gift vouchers are only available online if you wanted to show Santa…