International Women's Day takes place on 8 March 2017, celebrating the social, economic, cultural and political achievement of women while also encouraging people to advocate for change. We caught up with Meggie Palmer, a Sydney woman who is doing just that with an innovative new app.  
[caption id="attachment_3162" align="alignleft" width="173"]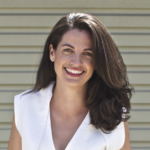 Meggie Palmer[/caption]
Meggie grew up on a small hobby farm in Mount Tambourine on the Gold Coast and now lives in Sydney's Bondi Beach. For more than a decade she travelled the world as a journalist, producer and director for programs like SBS Dateline, Insight and BBC World, meeting and interviewing a diverse range of people including the Queen, Julia Gillard, Hugh Jackman and Syrian President Bashar al Assad. She recently hung up her journalism hat to pursue a passion project – an app called Peptalkher which aims to close the gender pay gap by empowering women with confidence and negotiation skills. She also runs a business called Sliding Door Media, which helps CEOs and Founders of major corporates and start-ups communicate their story clearly in the press, is on the Board of not for profit Burn Bright and is an Advisor to the women in tech NGO Elevacao.
Who are some of the wonderful women in your life and how do they inspire you?
My sister inspires me! Ever since we were kids she was hustling and creating new business ideas. She was importing jewellery from China when she was a teenager and selling it at local markets when everyone else was shopping or hungover. She now runs the hugely successful Paddock Bakery, Bam Bam Bakehouse and Neptune eateries on the Gold Coast and is a wonderful mum to two small (and adorable!) boys.
As a journalist and producer I've been inspired by so many strong and resilient women over the years, like those I met in country Queensland holding their families together during the drought and an amazing young girl I met during the Nepal earthquake. She had lost family members in the quake and was living in a tent but maintained an incredible sense of positivity that has stayed with me to this day.
I've also met a number of amazing women in the workplace and feel so grateful to have had mentors who supported and believed in me, like Cathie Schnitzerling who was my boss at Channel Ten and Bernadine Lim, my colleague from SBS.
Starting your own business and developing an app is also pretty inspiring! It takes great ideas, hard work and determination. What have you learnt along the way and are there any particular challenges you've faced because of your gender? 
I think anyone starting their own business faces challenges but the upside of that is the joy you feel whenever you jump a hurdle!
Setting parameters is important. For example, through my media business Sliding Door Media we intentionally only work with clients who are a) legends; b) trying to change the world; and c) have a game changing business – we find that normally culls any undesirables.
Through the process of developing my app Peptalkher I have noticed more misogyny. One very successful tech CEO told me he honestly couldn't understand why the gender pay gap was a problem. While these kind of comments are really hurtful, I'm actually grateful for them because it's made me more determined and has helped me to more clearly articulate how Peptalkher helps.
Fortunately, the few negative interactions I've had are more than countered by the amazing men and women who have been generous and uplifting and kind with their time, advice and introductions.
The theme for this year's International Women's Day is #BeBoldForChange, a call to action to accelerate gender parity. It sounds like Peptalkher is a tool which will help people do just that. What inspired you to create the app?
Peptalkher was inspired from frustration! I was sick of seeing my friends and colleagues be treated differently. I'm fortunate to have an amazing and supportive friendship group. We help each other, uplift one another and are genuinely happy for each other's wins. I started thinking what if you weren't as lucky to have mates who texted you words of wisdom just before a job interview? What if you had no one to role play a pay rise conversation with? What if no one taught you the basic techniques that make a huge difference?
I'm a passionate believer in the power of technology to implement scalable positive change in the world so decided to turn my frustration into a vehicle for change. I'm excited by the prospect that when my nephews grow up, the idea that their female colleagues would be paid differently will seem like nothing more than a bad dream.
Current estimates predict the gender pay gap won't close until 2186, which feels very far away... What tips or suggestions do you have for women or organisations who want to close the gap sooner?
I think change will happen sooner. Collectively, we should ALL - men and women - demand that it does. My fiancée is a fierce feminist and my brother is as well – with more men AND women speaking up change can happen more quickly.
We are in discussions with some large ASX 200 companies at the moment actually who are really excited by Peptalkher and want us to work with them to roll the product out internally to help women in their organistion which is super exciting!
These tips are also helpful to consider when having a conversation about pay:
Always Ask: never accept the first offer without putting forward a counter proposal
Money isn't the only thing up for negotiation: consider what else your employer may consider, like extra annual leave, larger superannuation contributions, paid courses or flexible working conditions
Life's too Short: if you don't feel your valued by your employer find an exit plan ASAP. You deserve to be well treated and fairly compensated for your awesome contribution.
Finally, a lot of time is spent focusing on the challenges gender presents - particularly in the workplace. Because International Women's Day is a cause for action and celebration, we'd like to give some air time to the other side of the coin. What do you think women have to celebrate? 
I wake up every day and celebrate how lucky I am to live in Australia, a democracy where my contribution and my opinion is valued. Do I wish we had gender pay equality? One hundred per cent. Do I wish women weren't sacked on maternity leave? Yes. Do I wish my female friends weren't bullied? Of course - we have more work to do for sure. Equally, progress is happening every day. I'm inspired by the many Australian women fighting for change every day on both big and small scales. I'm inspired by fellow tech entrepreneurs like Christy Laurence and Millie Zinner and social entrepreneurs like Pip Russell – all forging their own path, creating new businesses and encouraging other women so they can do the same. Women have huge contributions to bring to business, especially when it comes to emotional intelligence, and I think this is starting to be recognised.
For first access to Peptalker, head to peptalkher.com
For more information on International Women's Day, including ways you can #BeBoldForChange, head to internationalwomensday.com