Halloween isn't only for the young door knocking trick or treaters. Get your ghoulish masks out, hop on your broomstick and head out to one of these Sydney venues for a night full of frightful fun.
The Argyle – 18 Argyle Street, The Rocks
Step inside The Argyle and be transported into a multi-sensory, nightmare-inducing carnival of horrors. They have organised a line-up of bearded ladies, contortionists, snake charmers and even bed of nail performers – a show not to be missed! Friday night 28 October sees Press Play and Jesbel performing to kick off the party (Free entry before 8pm!). Saturday night headliners include Glover, KIN and Helena Ellis, getting everyone on the dance floor (dead or alive). Purchase tickets here.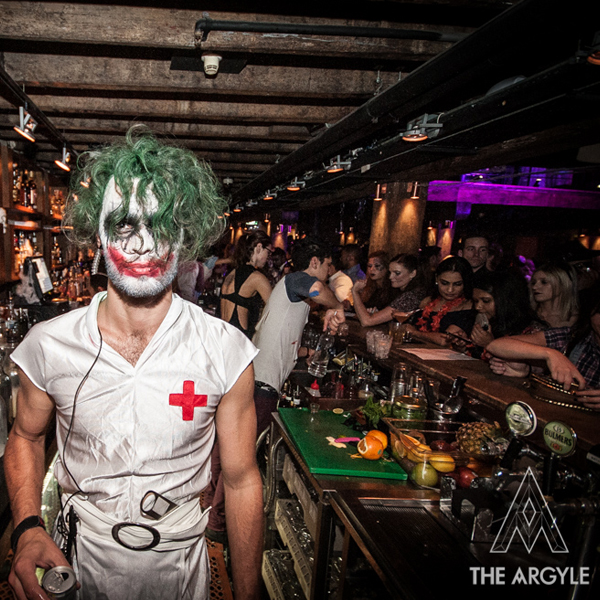 Earl's Juke Joint – 407 King Street, Newtown
Earl's Juke Joint will be hosting a Zombie Prom on Saturday October 29 channelling all things 80's – horror, music and shoulder pads! There will be prizes for the best/worst dressed as well as the goriest costume. Festivities kick off at 4pm, plenty of time to get a perm beforehand.
El Loco at Excelsior Hotel – 64 Foveaux Street, Surry Hills
For a Mexican soiree, El Loco are hosting a Day of the Dead party on the 30th and 31st of October. With skulls, tequila, face paint and $10 margaritas all night, you can't really go wrong. Don a colourful costume and get lost in the world of Dia de los Muertos.
Manning Bar – Level 2, Manning House, Manning Road, Camperdown
Cash prizes and a line-up that will be sure to rattle you to your bones, Manning Bar is hosting 'Father Halloween' their first official Halloween party. Start preparing your outfit for 29 October as cash prizes will be awarded to the best dressed! Gladiator (LA) and QUIX (NZ) are headlining the night, sure to have you partying into the graveyard hours. Purchase tickets here.
The World Bar – 24 Bayswater Road, Kings Cross
World Bar's The Wall is kicking off Halloween early with a Wednesday night Walloween party on 26 October. Come dressed up in a pair from 9-10pm for a free teapot to share! They will also be giving away prizes for the best dressed in the form of bar tabs and Le Snacks… CAKES will be hosting a Halloween Rave on Saturday night 29 October to continue your frightful fiesta.
The Ivy – 330 George St, Sydney
Join the multi-level madness at The Ivy's PACHA Halloween party on 29 October. With spooky theatrics and live performances from New World Sound and J-Trick, you will be carving it up on the dancefloor.
From the TFE Team, we witch you a Happy Halloween!