Jarryd Foote, a yoga instructor at Goodlife Fitness, shares his passion for yoga and top tips when travelling.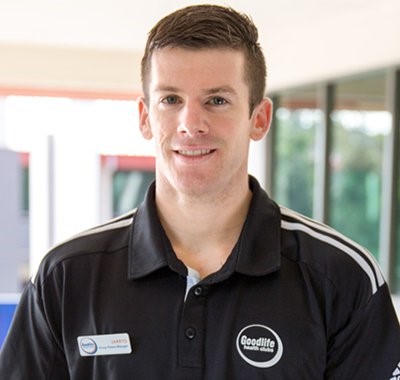 What's the strangest place you've practiced yoga?
I have practiced yoga in many strange places, but the one that sticks out was a hotel room kitchen. I had just stepped off a long flight and got to my room (my hips, butt and legs were so tight from being cooped up on the plane!) and the room I stayed in was very small. Out of desperation, I resorted to the kitchen! Breakfast benches are great props!
What's your favourite breakfast spot on the Gold Coast?
Anywhere with a great view and sunshine makes for a great breakfast spot. The Gold Coast makes for a perfect setting!
How do you stay healthy when you travel?
When traveling, I'm always focusing on hydration and circulation (particularly on long flights or drives). Hydrating before, during and after flying and taking the time to move my legs, feet and toes. In addition, I try to stick to the foods that I know and avoid too much experimenting!
3 things you always bring with you on your travels? (excluding your phone and wallet of course!)
Three things I always take: water, a great book and my yoga mat!
What advice can you give to people who struggle to stay motivated?
A great question! In my experience, the most important advice for staying motivated is: find what you love and do that! Whether you like to box, run, swim, go bush walking, do puzzles, practice yoga or even colour in, figure out what makes you happy and keep at it. Motivation struggles are something we all experience, but if you can find that special interest you have, it's a wonderful way of helping you get back on track. I always say: 'Do something you love for at least 15mins a day and you'll always have a reason to smile at the end of the day'.