Arrive Expected: Australia's First Hotel Sky Lobby Rises 21 Storeys above Sydney
Introducing A by Adina, Australia's premium apartment hotel brand.
SYDNEY: TFE Hotels' A by Adina Sydney, set to open late April 2021, is being billed as the flagship property of an elevated new 'premium' suite of Apartment Hotels, where VIP guest experience is set to soar to extraordinary heights.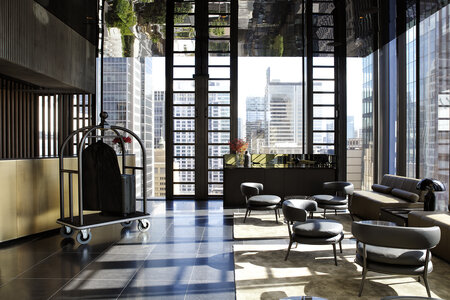 "Sky high in fact," says TFE Hotels Regional General Manager for Sydney CBD, David McDonald, in a nod to the arrival of Australia's first hotel sky lobby, perched atop 2 Hunter Street. A brand-new 26-storey tower, and striking addition to Sydney's world-famous skyline – proudly owned and operated by TFE Hotels and developed by TOGA Group.
A by Adina Sydney's sky lobby is 21 storeys up, filled with welcoming comforts and literally glows within a four-storey, glass-encased 'golden crown' – visible through the CBD after dark. 
As David is quick to point out, the hotel's sky lobby – a first for Sydney and, currently, Australia –showcasing immersive city views and overlooking a pool deck, which flows from the lobby's interior to an enclosed terrace. 
A by Adina Sydney promises a check in experience that raises the bar, particularly when guests also have the option to enjoy a celebratory drink on a separate mezzanine level (co-located within the 'golden crown'), dedicated to a sophisticated cocktail bar and dining experience - featuring the culinary delights of Executive Chef Jane Strode - that will be operated by the award winning Maybe Sammy team.
For design enthusiasts, the crown's 'glow' also comes down to clever interplay between the building's fabric, enhanced by nature. No special effects. Just bronze-tinted aluminium cladding and use of metallic-coated synthetic mesh, embedded into glass panels, resulting in a golden façade, illuminated by the sun.
"There's much excitement around A by Adina Sydney as a new premium destination… even before doors open," said David of the hotel, towering above Australia's oldest street and Sydney CBD's most prestigious address, rubbing shoulders with heritage buildings and icons like Australia Square. A fact not lost on financial giant, Commonwealth Bank, positioning its flagship site at the tower's base (Ground/Level 1).
"What's really exciting is that you are not above the city, you are immersed in the skyline and you really feel that sense of space."
In keeping with its surrounds, 2 Hunter Street (designed by JPW Architects, with interiors by Carr Design Group) sublimely marries Sydney's past, present and future. From Ground-level up, the building progressively evolves, starting with majestic sandstone – including three-storey monolithic columns, exposed horizontal slabs and vertical masonry blades – before moving into a sleek glass-curtain tower, crowned by A by Adina Sydney's cutting-edge sky lobby and leisure facilities (extending to a fully-equipped gym with city skyline views). 
Incredibly, the sky lobby isn't the only experience designed to ensure A by Adina guests feel like VIPs at each step of their journey.
"Stepping out of the lift into the sky lobby will take your breath away," Hotel General Manager Amanda Cottome said. "Guests will check in, they might have a drink at the bar and take in the views, before heading down to their apartment."
What awaits is best described as intuitive room technology. An integrated control system that seamlessly readies any one of the hotel's 194 apartments (82 studio, 104 one-bedroom, eight two-bedroom apartments) the moment guests commence check in. 
"A bit like a high-tech butler, it goes to work and prepares the room for arrival by switching on the air conditioner and setting a comfortable room temperature, before closing the blinds and turning off all the lights," Amanda said. "When guests swipe their key card, the technology sets off a sensory welcome experience, automatically raising the blinds on floor-to-ceiling windows and turning on the lights. 
It's a curated and thoughtful arrival experience.
For TFE Hotels Chairman and Managing Director of Toga Group, Allan Vidor, the sophisticated arrival experience happens before guests step inside the A by Adina. While 2 Hunter Street is the primary address – perfectly positioned at the pedestrian end, on the corner of George and Hunter Streets (easily accessed by car or tram) – guests' pre-arrival journey takes a unique and unexpected turn. 
"To enter this hotel, you leave the noise of the city behind as you walk through a sandstone colonnade flanked by a calming water feature, and arrive at a peaceful lift lobby," he said. "To me, it's a sensory cleanse as you're submerged into a calm space before you ride the lift to the sky lobby for our 'arrival' moment."
Last, but by no means least, Allan said A by Adina's warm welcome extends to the creation of a vibrant public space that surrounds 2 Hunter Street – on all sides – including activation of a buzzing Melbourne-style laneway network which feeds into Australia Square. 
What's more, the hotel's lower-ground entry foyer has its own surprise in store as the home of a new Italian restaurant by acclaimed Sydney restaurateur, Maurice Terzini, of Icebergs and CicciaBella fame. Boasting indoor and outdoor dining, the restaurant will be accessed from Curtin Place – a previously dormant laneway between George and Pitt Streets, reinvigorated by 280 George Street.
"The revitalisation of Curtin Place is going to be something quite special," Allan said. "It's going to be resurfaced and pedestrianised, with stairs going up to George Street. We've also commissioned Australian artist, Emily Floyd, to produce a beautiful sculpture, to be installed in the laneway courtyard between the hotel and Australia Square."
Entitled 'OPEN SPACE! the installation deconstructs the word 'OPEN' into individual letters that act as pointers to the inclusive public space activated around A by Adina Sydney.
Book now: https://abyadina.com/
Ends.
What's in a name: A by Adina Sydney (Can be shorted to A by Adina after first use. Please do not shorten to 'A' nor refer to the hotel team as the 'A' team).
Download A by Adina Sydney images
Download Amanda Cottome images
Website: https://abyadina.com/
Opening Special – Stay Your Way: Exclusive saving of 15% when you book direct on https://abyadina.com/. Your experience includes delicious chocolates, a bottle of wine ready for your arrival and a 1pm sleep-in on check out day. You also have the flexibility to change or chance your booking one day before arrival.
FOR MORE INFORMATION CONTACT:
Jodi Clark
TFE Hotels (Director of Communications)
+61 499 900 658 / jclark@tfehotels.com

Rebecca Astier
Klick X - (Communications Lead)
+61 417 667 042 / rebecca@klickx.co
MEET A BY ADINA 
While every A by Adina location has been thoughtfully chosen to blend seamlessly within its surroundings, there's always a contemporary Australian twist at the heart of every stay. Here, architectural finishes meet thoughtfully designed interiors. Team members are known as Curators, treating each guest visit as another opportunity to surprise and delight. 
A fresh take on evening lobby drinks, The Daily Pause promises 60 minutes of seriously special lounging. There's even an Amenities on Demand concept, which allows guests to purchase their favourite hotel items ranging from mini bar snacks and Hunter Lab beauty products, through to exclusive Dreamcatcher Beds. And for those guests who want to take their experience to the next level? They're invited to come on up to Destination A, located on the top floors of the hotels and featuring a range of special inclusions especially designed to amplify any stay.
MORE ABOUT HOTEL LIVING
With the launch of the new A by Adina brand in 2021, TFE Hotels has also carved out an entirely category within the premium hotel category, known simply as; Hotel Living. 
Different to the existing concepts of Apartment Hotels, Hotel Residences or All Suites commonly seen with mainstream hotel chains, the premium A by Adina guest experience offers a curated approach that allows corporate and lifestyle travellers to enjoy the best of the city – on their terms. Think the luxe-factor of included designer amenities and hotel services, combined with a laidback approach that gives guests all the freedom and flexibility to enjoy (what feels like) their own stylish city pad for as little, or as long as they like.
WHO ARE TFE HOTELS?
TFE Hotels (Toga Far East Hotels) is an international hotel group headquartered in Sydney and operating in Australia, New Zealand, Germany, Denmark, and Hungary. It has a portfolio of five established hotel brands - Adina Hotels, Vibe Hotels, Travelodge Hotels, Rendezvous Hotels and TFE Hotels Collection and is pleased to debut A by Adina and introduce Quincy Hotels to Australia in 2021.