Chef Andrew Gunn joins The Calile Hotel as Lobby Bar's Head Chef
BRISBANE: Former Urbane and The Euro Head Chef Andrew Gunn brings his vast international experience to Lobby Bar with a new menu taking inspiration from Japan, Spain, France and Columbia.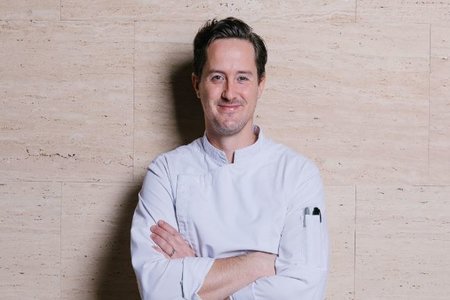 Hailing from Brisbane, Gunn began his career locally at Isis Brasserie, then in Sydney at Bécasse under Justin North before relocating to France. He worked in Paris for six years within a number of Michelin-starred restaurants including Les Ambassadeurs at Hôtel de Crillon, Le Taillevent with Michelin-starred Alain Solivérès, and Le Cinq at Hotel George V with Michelin-starred Christian Le Squer.
Upon Gunn's return to Brisbane, he assumed the role of Executive Chef at acclaimed restaurants The Euro and Urbane working alongside Head Chef and now wife, Amélie Gunn.
I've spent a long time in Europe training in 1 to 3 Michelin starred restaurants and learning about food all around the world and have come back to Brisbane wanting to share that unique knowledge and experience with locals and visitors alike! Our cuisine focuses on locally sourced Queensland produce that speaks for itself on the plate," says Gunn. "I believe cooking the food you love is what makes you the best version of yourself and that's what we've done here at Lobby Bar."  
Gunn has revamped The Lobby Bar's menus, which now consists of a hearty breakfast menu, a considered array of fresh light-lunch options and an evening tapas menu. This new seasonal menu will be paired with Lobby Bar's updated cocktail menu, wine list and local award-winning signature coffee. 
Working closely with local suppliers and producers, Gunn has spent some time getting to really understand what will be available and when to allow for the best in-season produce to craft the freshest and most diverse menu for Lobby Bar. The kitchen will serve up some of the freshest local fruit and veggies thanks to local owner-operated Suncoast Fresh, where Gunn worked for 6 months prior to taking the role at Lobby Bar. Some other favourites include Brisbane Valley Quail, which is farmed just one hour from Brisbane and Baby Squid that are fished off Moreton Bay. 
Everything on Gunn's menu is made inhouse from these fresh, local and premium quality ingredients.
Some of Chef's favourite dishes include the Shakshuka for breakfast, with its red pepper and tomato ragout taking its inspiration from his Mums kasundi – a real crowd-pleaser, the Buckwheat Risotto which is vegan, gluten and dairy-free and made with a whole lot of love and from the dinner tasters menu the Baby Squid that is stuffed with a spicy chorizo mix and sits on a chorizo crumb, finished with a Spanish pil-pil sauce - the perfect complement to the dish.
The new menu will be refined and updated seasonally and keeping with the fresh local trend, there's also plans to utilise the rooftop of The Calile Hotel and build a culinary garden and beehive – to service the Lobby Bar kitchen. Other special events, chef collaboration dinners and special menus to be announced throughout the year. 
Lobby Bar is open for breakfast, lunch and dinner seven days a week. 
Ends.
Menu
Download images.

FOR MORE INFORMATION CONTACT:

Lauren Cowan, Klick X
+61 431 550 466 / lc@klickx.co
Kristie Mancell, The Calile Hotel
+61 432 707 722 / kmancell@thecalilehotel.com
Jodi Clark
Head of PR – TFE Hotels
+61 499 900 658 / jclark@tfehotels.com