Premium 'A by Adina' Hotel Brand Makes its Global Debut
AUSTRALIA: TFE Hotels has officially launched their premium A by Adina hotel brand today, and with it the concept of 'hotel living', both of which are set to elevate TFE Hotels' beloved Adina Hotels brand into a class of its own.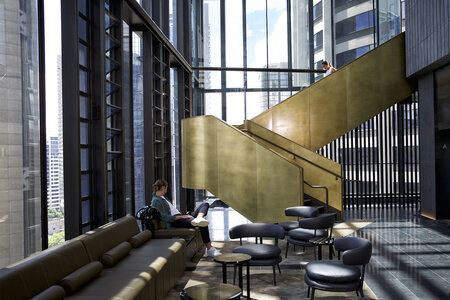 As TFE Hotels CEO Antony Ritch explains, the flagship brand's groundbreaking new story – unveiled on the cusp of Adina Hotel's 40th birthday with the launch of its first premium address, A by Adina Canberra – purposely side-steps any hotel category currently on the market. Instead, promising stunning form and function across the private, upscale apartment-style rooms in tandem with everything expected of a premium, full-service hotel and hotel featured design.
According to Antony, A by Adina's brand promise and 'sophisticated coming of age' evolved as TFE Senior Executives saw an opportunity in the market and moved to fill it.
"Traditionally apartment hotels have been built with a residential feel, but that's changing," Antony said. "What was missing was the "underlying experience" for those chasing a premium stay – that feeling you get when you stay in a place where people know you and, most importantly, know how you like to stay."
And thus, the concept of 'hotel living' was born.
"A by Adina hotels will appeal to those confident travellers who appreciate incredible design and quality of finishes as well as impeccable, personalised hospitality when they receive it," he said. 
"And, when you step inside an A by Adina, you'll find that perfectly suited balance between a hotel and a private apartment," he said. "We want the entire experience to be understated, but impactful."
A by Adina's bold brand promises are underpinned by three brand pillars – Contemporary Australian, Detailed Simplicity and Quiet Confidence – so it comes as no surprise that emotional intelligence is at the cornerstone of the brand's intuitive service.  
According to Antony, the notion of "EQ" is applied during the A by Adina recruitment and onboarding process, so that hotel teams understand their guests, what motivates them and what they need to have to ensure the best stay possible.
"We do things well, in a subtle but sophisticated way," says Antony. "You'll see touches of finer detail at every turn and touch point. And, for guests, everything will feel intuitively right."
Excitingly, the A by Adina brand is set to embrace the contemporary Australian feel – from naturally feelgood skin and hair care products by Melbourne's sought-after Hunter Lab to the Australian sophistication behind the architecture and interior design.
Guests at A by Adina Sydney, the brand's second hotel scheduled to open near Australia Square in Sydney's CBD in April, will sample contemporary Australian cuisine, with Executive Chef Jane Strode at the helm of the hotel's culinary experience. In an exciting move, A by Adina Sydney has also partnered with some of the city's most exciting food talents - including legendary restaurateur Maurice Terzini, of Bondi Icebergs, and global award winning Maybe Sammy's team: Vince Lombardo, Stefano Cantino and Andrea Gualdi.
Each A by Adina hotel will embrace its location and its own identity, but all will have the same service traits and the same warm welcome on arrival.
The evolution of a brand: 
For TFE Hotels, the evolution of the A by Adina dream – anchored to contemporary Australian quality and quiet confidence – started in 1982, when Australia's first 'Medina' serviced apartment opened its doors in Randwick. Over the next four decades, the Adina brand launched and expanded to more than 36 locations in five countries and counting, with a further 12 properties in development and two new countries. 
"TFE Hotels is historically a global leader in the apartment hotel space and we understand the needs of guests who want to stay a little or stay a while," says TFE Chairman, Allan Vidor. "So, it's incredibly meaningful and exciting to evolve and elevate the Adina brand to a timeless offering that's just the right fit and feel for guests who want to 'arrive expected' and enjoy the best of both worlds." 

"Quality is something Australia is respected for on the world stage. Natural, products; sophisticated and local cuisine; wide open spaces; and innovative design," Allan said. 
Like the feel of a high-end private apartment, where you are greeted on arrival. Only better.  
"Not forgetting the fact that, as a nation, we're generally laidback and don't take ourselves too seriously. And that's the feeling we want to flow through A by Adina.}
What's more, hotel guests have the option to seek 'a little bit more' at A by Adina through the brand's curated experiences. 
All rooms (studios, one or two-bedroom apartments) can be elevated to 'Destination A' encounters, providing the highest level of 'curated guest experience' and surprise perks. Everything from complimentary 'pillow menus' to movies and classic cocktails served each evening from a vintage drinks trolley in the lobby, delightfully dubbed 'The Daily Pause'.
Importantly, 'Destination A' experiences deliberately formed part of A by Adina's focus on placemaking and belonging, allowing individual guests to choose the level of interaction, while ensuring all generations, personalities, group size and travel style (business or leisure) are catered to.
 "Our dream is for A by Adina to be a space that feels right to each guest, where you can stay as little or as long as you like. Your way," Allan said.  "If you want to grab the key and treat it like a private apartment, that's absolutely fine, because you'll have the space and every facility and amenity in your room. But what we're also offering is seamless hotel living. Anytime, day or night."
Ends.
EDITOR'S NOTES
Download Word Doc
A by Adina Brand Images (feat. A by Adina Sydney): https://spaces.hightail.com/receive/29a9Tn410E
What's in a name: A by Adina cannot be shortened to 'A'. The hotels are upscale with high end finishes and design. This brand should not be referred to as 5-star.  Please do not refer to the hotel team as the 'A' team.
FOR MORE INFORMATION CONTACT:
Jodi Clark
TFE Hotels (Director of Communications)
+61 499 900 658 / jclark@tfehotels.com

Rebecca Astier
Klick X - (Communications Lead)
+61 417 667 042 / rebecca@klickx.co
MEET A BY ADINA.
While every A by Adina location has been thoughtfully chosen to blend seamlessly within its surroundings, there's always a contemporary Australian twist at the heart of every stay. Here, architectural finishes meet thoughtfully designed interiors. Team members are known as Curators, treating each guest visit as another opportunity to surprise and delight. 
A fresh take on evening lobby drinks, The Daily Pause promises 60 minutes of seriously special lounging. There's even an Amenities on Demand concept, which allows guests to purchase their favourite hotel items ranging from mini bar snacks and Hunter Lab beauty products, through to exclusive Dreamcatcher Beds. And for those guests who want to take their experience to the next level? They're invited to come on up to Destination A, located on the top floors of the hotels and featuring a range of special inclusions especially designed to amplify any stay.
Fast Facts: A by Adina Canberra – now open 
•    130 apartments 
•    The Bates Smart-designed hotel is the centrepiece of Capital Property Group's much-anticipated $300m mixed-use precinct, Constitution Place.
 
Fast Facts: A by Adina Sydney – opening April 2021
•    194 apartments with onsite bars and restaurants
•    Central George Street CBD location
•    Owned by TFE Hotels, A by Adina Sydney is set to become a landmark feature on Sydney's skyline with the 21st floor Sky Lobby sitting within the building's architecturally designed golden crown.
More about Hotel Living
With the launch of the new A by Adina brand in 2021, TFE Hotels has also carved out an entirely new category within the premium hotel category, known simply as; Hotel Living.  Different to the existing concepts of Apartment Hotels, Hotel Residences or All Suites, the premium A by Adina guest experience offers high design, and a curated approach that allows corporate and lifestyle travellers to enjoy the best of the city – on their terms. 
Think the luxe factor of included designer amenities and hotel services, combined with a laidback approach that gives guests all the freedom and flexibility to enjoy (what feels like) their own stylish city pad for as little, or as long as they like.
WHO ARE TFE HOTELS?
TFE Hotels (Toga Far East Hotels) is an international hotel group headquartered in Sydney and operating in Australia, New Zealand, Germany, Denmark, and Hungary. It has a portfolio of five established hotel brands - Adina Hotels, Vibe Hotels, Travelodge Hotels, Rendezvous Hotels and TFE Hotels Collection and is pleased to debut A by Adina and introduce Quincy Hotels to Australia in 2021.