Home  >  Dreamcatcher Bed
DREAM A LITTLE DREAM WITH DREAMCATCHER
We're in the business of providing a comfortable place for you to rest your head when you're away, and we want to give you the chance to take one of our custom-made beds home. You deserve to enjoy a lifetime of sensational shut eye, so treat yourself to a bed that has given an ever-growing number of guests a good night's sleep.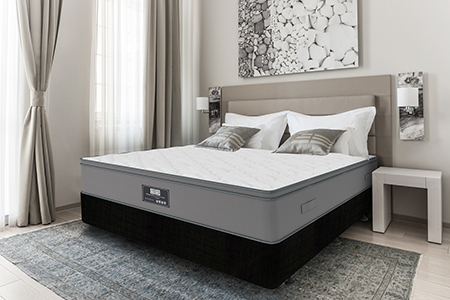 The secret? The Dreamcatcher bed by TFE Hotels  is fully equipped with the state-of-the-art SleepMaker Miracoil® technology, including Comfort Edge for edge to edge support, a Climatex Quilt for heavenly cosiness and comfort whilst the advanced 5-Zone system provides excellent back support while you relax and recharge . You can also rely on a 30cm Pillowtop Top Mattress, an Australian-made Premium Grade comfort layer and a relaxing felt pad spring insulation to send you into the sweetest of dreams.
The Dreamcatcher bed by TFE Hotels will also blend into your current home décor, coming in a wide range of shades and sizes. No matter your colour scheme, the variety of base-palette fabrics can be mixed and matched to any home with a range of Classic borders – try an edgy Ebony or keep it casual with Natural light grey. From a simple Single to a sprawl-out style King, there's a bed size for each member of the family to enjoy.
It's time you dreamed a little dream with your very own Dreamcatcher bed, ensuring every night feels like a restful holiday.