2019: A Golden Year For TFE Hotels
2019 has proven to be a golden year for TFE Hotels with an unprecedented number of awards received across the Australian-based hotel group's international network.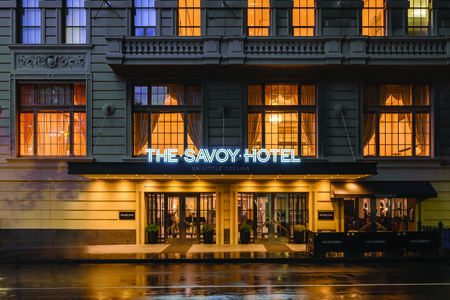 Kicking off the start of the awards season, Trip Advisor presented 44 TFE properties with the highly coveted Certificate of Excellence, an accolade achieved by only 10% of businesses on the renowned travel website.  
An additional 21 TFE hotels were inducted into Trip Advisor's Hall of Fame after five consecutive years of high achievement. TFE was recognised across all brands, with stand-out hotels celebrated for their unrivalled guest experience. This includes Hotel Kurrajong Canberra, Gambaro Hotel, Brisbane and Savoy Hotel on Little Collins, Melbourne from the TFE Hotels Collection, 29 certificates across the stylish Adina Apartment Hotels portfolio, five for Travelodge Hotels, four for Vibe Hotels and three for Rendezvous.
This year, a record 35 nominations were received in the 2019 HM Awards including Best Boutique Property for Gambaro Hotel (Brisbane) and Best Business Hotel for Vibe North Sydney.  Both the Adina Hotels and Travelodge Hotels Brands were finalists in the Best Hotel Brand of the Year whilst The Calile was a finalist in the Australasian Hotel of the Year.
The Calile Brisbane has lead the way for 2019 with nominations in the World Travel Awards (Oceania's Leading Hotel 2019); The Urban Developer Award (Hotel and Accommodation Development of the Year); The Travel Awards (Hotel of the Year), and wins for Hellenika (their onsite Greek Restaurant partner) for Restaurant of the Year, Best Service and The Australian Newspaper's 50 Hottest  Restaurants in the country. 
Australia's first urban resort also won Best New Business Hotel and Best New Venue for A Business Meeting in the Qantas Travel Awards; Best New Hotel and Highly Commended for interior design in the HM Awards; Best New Hotel in Australia in Conde Nast's annual hot list and made the Top Ten Hotels in Australia and New Zealand for 2019 (as voted by Conde Nast Readers). 
The Richards & Spence designed property also took out the prestigious 'Development of the Year' gong at the HICAP Awards; Best Restaurant Design for Hellenika at the Gourmet Traveller Awards; and was highly commended in the 2019 Think Brick Awards.
As we near the end of the season, The Calile has finished strong with a nomination for Best Hotel in the Eat Drink Design Awards for 2019 alongside Brisbane's Black Hide Steakhouse (Gambaro Hotel) and Sydney's Green Moustache (Vibe North Sydney), whilst Adina Apartment Hotels Bondi Beach cemented its place as Australia's Best Apartment Hotel with its third consecutive win in the HM Awards – Serviced Apartment Category and a nomination for Hotel of the Year in the Travel Awards 2019.
In Canberra, Hotel Kurrajong – part of the TFE Hotels Collection – won a Diner's Choice Award for Chifley's Bar and Grill and was named Best 4-4.5 Wedding Venue in Canberra at the Bride's Choice Award. Our Event Planner, Jessica Dunn, was also recognised with the Best Wedding Planner gong.
Adina Apartment Hotel Bondi Beach, Adina-Vibe Darwin Waterfront, Adina Hotel Melbourne, Adina Hotel Melbourne Northbank and Hotel Kurrajong Canberra were recognised on Star Ratings Australia's 2019 Gold Achiever list. And, in the Northern Territory, the Adina-Vibe Darwin picked up an Expert's Choice award and Rendezvous Perth Scarborough was highly commended for their commitment to community service at the recent HM Awards.  
We're proud to say TFE Hotel's golden glow has also spread across the globe with both Adina Frankfurt Westend and Adina Hamburg Speicherstadt were nominated for the So!APART awards this year. 
Ends.
ABOUT TFE HOTELS
TFE Hotels (Toga Far East Hotels) is an international hotel group operating in Australia, New Zealand, Germany, Denmark and Hungary. It has a portfolio of five established hotel brands - Adina Hotels, Vibe Hotels, Travelodge Hotels, Rendezvous Hotels and TFE Hotels Collection.
FOR MORE INFORMATION CONTACT:
Jodi Clark – Head of PR
TFE Hotels 
(02) 9356 1048 / jclark@tfehotels.com
https://www.tfehotels.com/en/about/media-lounge/