A Dramatic New Look For The Savoy Hotel On Little Collins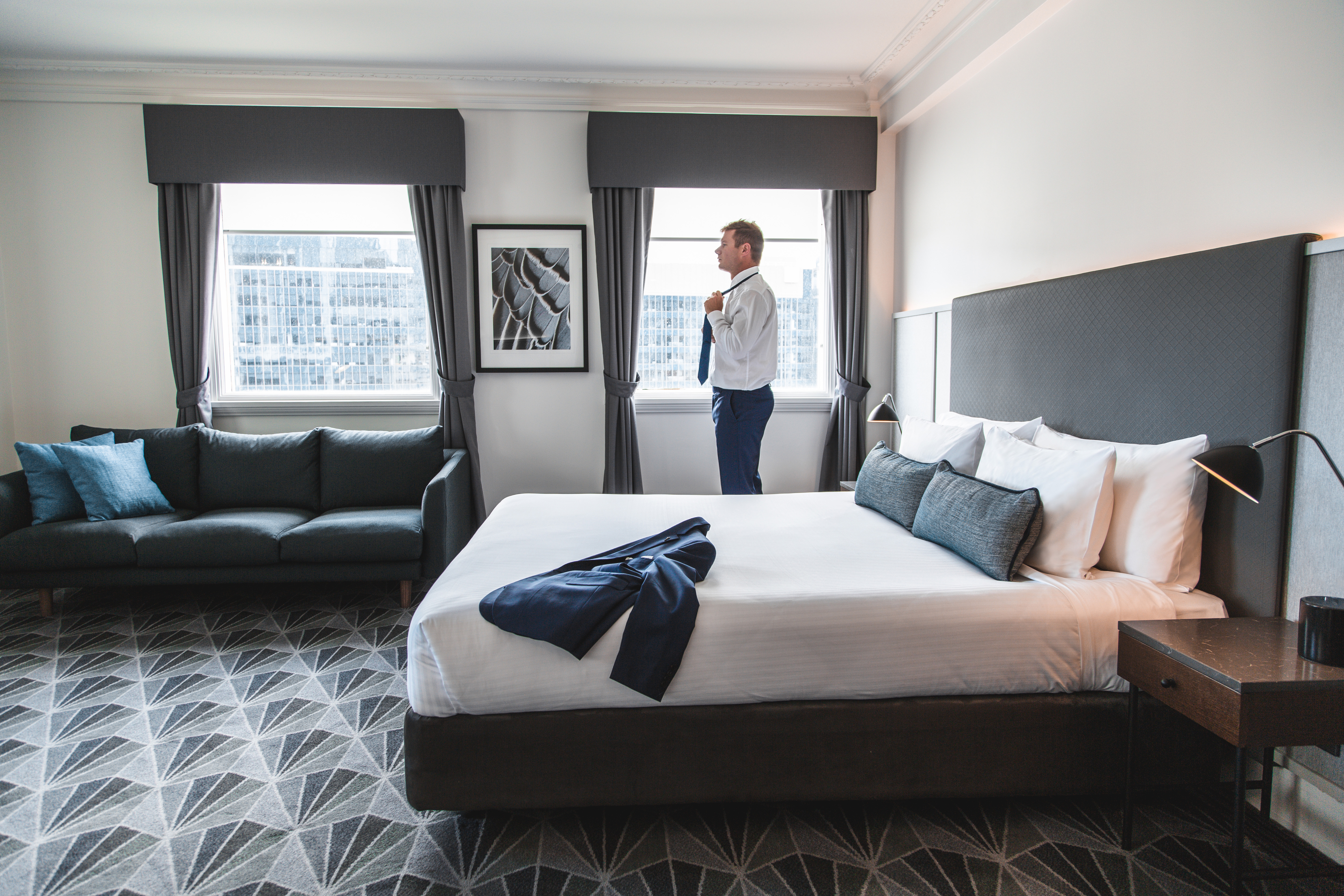 The grand hotel at the corner of Spencer and Little Collins Street has been reborn this week as The Savoy Hotel on Little Collins, Melbourne, following a multi-million-dollar refurbishment of the former Vibe Savoy Hotel Melbourne which TOGA has managed since 2004. The hotel now falls under the TFE Hotels Collection brand – a portfolio of beautiful discovery hotels with a sense of story, place and purpose. 
Previously known as the Vibe Savoy Hotel Melbourne, the iconic hotel has been relaunched as The Savoy Hotel on Little Collins with a stunning new design by Woods Bagot.  
The new design has a modern and inviting appeal that pays tribute to the Art Deco era of the original Hotel Alexander built on the site in 1928. The sophisticated address is in the heart of cosmopolitan Melbourne, with the city's best boutiques, cool laneways and bars on its doorstep. 
The Savoy Hotel on Little Collins has 163 beautiful guest rooms with plush furnishings in a classic palette of dove grey, blue, white and charcoal, with full-length mirrors and custom carpet featuring period motifs. Each bathroom has white subway tiles and chequerboard black and white tiled floors, contrasting with chrome tapware that reflect the heritage elements of the building. 
The sophisticated lobby creates an inviting sense of arrival with its warm timber, smoked mirror and brass elements complemented by luxurious soft furnishings with colourful custom rugs. The Alexander Bar is now the elegant ground floor attraction, a cosy yet stylish space providing the perfect place to catch up with friends, meet a business contact or simply sit back and relax. Throughout the day, the bar is open for drinks and in-house dining.
 The level two restaurant will have new-look interiors, playing on a spectacular 10-storey atrium, which fills the space with natural light and is complemented by magnificent chandeliers. The Boardroom's rich palette of timber, leather and stone provides an elegant space ideal for a private dining experience or a business meeting. The original ballroom is ideal for sophisticated weddings. 
TFE Hotels Chairman Allan Vidor said the refurbishment, combined with the hotel's unbeatable location, would position it as the most desirable stay in the heart of Melbourne.
"This hotel has such a wonderful story, in its history, and in its place in the Melbourne psyche – which makes it a perfect fit for the TFE Hotels Collection brand," he said. "This is the most exciting unveil of the year. This magnificent hotel will reclaim its position as a grand hotel of Melbourne, as it was when it opened in 1928." 
Woods Bagot is famous for remarkable hotels world-wide and lifestyle and commercial projects such as Sydney's The Ivy complex and Melbourne Convention & Exhibition Centre. 
Woods Bagot senior associate Sarah Alessi said, "The contemporary aesthetic of this design enhances the heritage of the building, while retaining a truth and authenticity relevant to its history. Drawing on elements of the Art Deco period, the space is bold and confident and the design detailing references that of the era." 
THE BUILDING'S HISTORY
The site on the corner of Spencer and Little Collins streets is one of Melbourne's most significant, having first operated as a hotel in 1866, when Charles Alexander built a three-storey brick structure known as Alexander's Family Hotel, opposite Spencer Street Station. In 1926, new owner James Richardson started construction of the first 20th-century American-style hotel in Victoria, advertising it as the first in Australia to have ensuite bathrooms and a controlled-temperature interior environment. It was designed by Leslie M. Perrott, who later designed the Chevron Hotel, built for Melbourne's Centennial celebrations, and Hotel Australia, which became the social epicentre of Melbourne in the 1940s. 

Richardson and Perrott spent five months touring the USA in 1924 for new ideas to inform the hotel design, and the usually frugal Richardson lavished £300,000 on the building and another £50,000 on furniture and fittings. The hotel's magnificent lobby, entered by a wide flight of stairs from Spencer Street and filled with light through tall windows, occupied the entire first floor. On 31 January 1928, Premier Hogan officially opened the 200-room Hotel Alexander with a formal dinner.
Richardson moved into a top-floor suite in the Alexander in 1948. After his death three years later, the Federal Hotel group bought the hotel for £450,000 and renamed it the Savoy-Plaza. Its Rainbow Room, and maître d', Albert Argenti, became renowned in Melbourne over the next decade, hosting a who's who of international show business including Louis Armstrong, Nat King Cole and Ella Fitzgerald. Several young Australians, including John Farnham, Rolf Harris and the Seekers, began their careers there. Frank Sinatra, performing at nearby Festival Hall, was a guest, as were Ava Gardner, Fred Astaire, Anthony Perkins and others during the filming of On the Beach.
The Victorian Government bought the hotel in 1974 and turned it into the Police Cadet Training Academy. In 1987 the Nauruan-owned company Spencer Investments bought it and spent $46 million restoring the Savoy Park Plaza Hotel to its former glory, reopening it in May 1991. In 2004,  TOGA Hospitality opened it as Vibe Savoy Hotel Melbourne. It continues to be operated by TFE Hotels. 

Download word document
Ends.
ABOUT TFE HOTELS COLLECTION
TFE Hotels Collection is a portfolio of unique and beautiful discovery hotels with a sense of story, place and purpose. These are hotels hall marked by authenticity and provenance, captivating in their individual character and charm. Engaging teams deliver signature dining offerings, promising memorable experiences. With TFE Hotels Collection, from the moment you step inside, you will be captivated by the place's charm and inspired by its stories. Each hotel lives and breathes its location, offering experiences tailored to the guest, allowing them to immerse themselves in the destination. They offer stylish restaurants and sophisticated cocktail lounges, well-equipped gyms, attentive concierges and spacious guest rooms.  
Tfehotels.com 

ABOUT TFE HOTELS
TFE Hotels (Toga Far East Hotels) is an international hotel group operating in Australia, New Zealand, Germany, Denmark and Hungary. It has a portfolio of five established hotel brands - Adina Hotels, Vibe Hotels, Travelodge Hotels, Rendezvous Hotels and TFE Hotels Collection.
FOR MORE INFORMATION CONTACT
Courtney Raine
FRANK PR (on behalf of TFE Hotels)
tfehotels@frankpr.com.au 
(02) 8202 0555