A Melbourne Stay That's Quintessentially You
VICTORIA: Earlier this year TFE Hotels unveiled Australia's inaugural Quincy-branded property, bringing the exotic colour and zing of Southeast Asia to Melbourne's most iconic and 'original' laneway, Flinders Lane.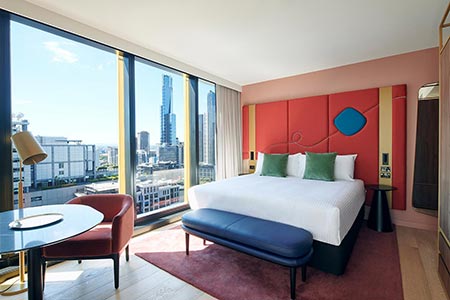 Rolling out a vibrant, red carpet welcome to the most curious of social urbanites, Quincy Hotel Melbourne raises the bar on accessible high-end luxe, infused with just the right amount of quirk-factor in the nation's hip-and-happening capital.
According to TFE Hotels Group COO, Chris Sedgwick, the 'long-wished-for Aussie metamorphosis' of Far East Hospitality's Quincy brand – out of Singapore – signals a welcome new normal anchored to 'anticipatory hospitality'.
Something he says unabashedly celebrates guests' individuality, delivering unique and 'surprisingly bespoke' service before demand. Anything and everything, from DIY bubble tea kits to 'pillow menus' or even tickets held for bucket list festivals and events.
"We're delighted to let the Quincy genie out of the bottle and there's no going back," said Chris, adding there was also no better time, than in the aftermath of Melbourne's colourful Chinese New Year celebrations, to launch the upbeat – and delightfully offbeat – brand.
"Melbourne is one of the world's great cities and the ideal location for the birth of Quincy Hotels Australia and the Quincy laneway precinct with Salted Egg, the 'hidden' rooftop Q Bar and SingSong restaurants marrying best of Aussie lifestyle with the intoxicating sights, sounds and flavours' of Southeast Asia."
Best described as an experiential nirvana – perfectly positioned in the upper midscale hotel category, while incorporating exclusive club levels and amenities expected of five-star properties – Quincy Melbourne celebrates the city's laneways and rooftop bars and promises a feast for the senses, at every turn.
True to brand, the 241-room boutique property – complete with lively laneway and rooftop bars – purposely invites meaningful connection via thoughtful spatial design, playful interiors, tactile artwork, and an extraordinary focus on 'out-of-the-ordinary' foodie adventures.
The kind you'd normally expect to trek far and wide through places like Thailand, Vietnam, Laos, and Cambodia to discover. Think, hawker-inspired grazing at SingSong eatery, flowing through the Lobby to outdoor laneway dining; zesty rooftop bites and cocktails with 360-degree views of Melbourne CBD at The Q on Level 28 (shared by a glistening lap pool); and, for the pièce de resistance, Salted Egg, a satellite restaurant, peppered with a bespoke bar and communal areas, spanning the whole of Level 1.
Celebrating Quincy's antipodean evolution, Far East Hospitality CEO, Arthur Kiong, said there was no question Quincy Melbourne guests will 'feel like they've just been teleported into a world of colour and spice', without needing to leave one of the world's most celebrated cities. Magically, enjoying the best of both worlds, all in one stay.
Looking forward to an expanded footprint in Australia, he said Quincy's success was not only inspired by, but, importantly, a credit to millennial changemakers'. A generation motivated by meaningful connection and belonging; experience over things; social good; clean living; fun over fuss; convenience; and fairness in all things, not least being value for money.
"The hospitality industry has had to take a step back and re-evaluate what luxury accommodation means to a highly-informed generation 'on the go' – something we should all be eternally grateful for," Mir Kiong said. "Millennials are more in touch with what they want and what they stand for, driving positive change and a focus on authentic service in a highly competitive market."
Quincy Melbourne Hotel General Manager, Christian Price, is one of the 'changemakers', proudly leading a team of spirited 'Q-urators' who authentically embody the brand's positive energy.
"Our goal is to make the Quincy experience fun for everyone– like an entertainment complex with rooms attached, where people can enjoy themselves and truly be themselves," said Christian.
"For guests, nothing will ever be too hard – and that's because at Quincy Melbourne, every member of the team shares in the responsibility of ensuring needs are met before demand. It's why we're all called Q-urators!
"There's no separation of roles. The front desk is trained in F&B and vice versa. We're all about exceeding expectations and being there to create little moments where guests go 'yep, that's exactly what I wanted without having to ask for it'."
Are you ready to 'Make yourself at Quincy'? Book now: https://quincymelbourne.com/
Ends.
What's in a name: Quincy Hotel Melbourne can be shortened to Quincy Melbourne after first use.
Images: available on request.
Website: https://quincymelbourne.com/
Lead in Rate: Rooms start from $250
Opening Special: 20% off Best Available Rate.

FOR MORE INFORMATION CONTACT:
Jodi Clark
TFE Hotels (Director of Communications)
+61 499 900 658 / jclark@tfehotels.com
 
MORE ABOUT QUINCY
The Quincy brand by Far East Hospitality curates service offerings and exceptional experiences for curious urbanites that cater to the quirky sense of individuality within modern travellers of today.

The Quincy experience begins the moment each guest arrives – but has been planned even before they leave home. Our team had a keen understanding of the kind of guest most likely to be drawn to Quincy and goes the extra mile to register each guest's individual preferences. The result is a dose of 'anticipatory hospitality' – the art of discerning and meeting your needs before they are raised – and a stay unlike any other: One where the senses are engaged and memories are minted, in signature properties located in popular lifestyle districts.
WHO ARE TFE HOTELS?
TFE Hotels (Toga Far East Hotels) is an international hotel group headquartered in Sydney and operating in Australia, New Zealand, Germany, Denmark, and Hungary. It has a portfolio of five established hotel brands - Adina Hotels, Vibe Hotels, Travelodge Hotels, Rendezvous Hotels and TFE Hotels Collection and is pleased to debut A by Adina and introduce Quincy Hotels to Australia in 2021.