Adelaide's Newest Vibe Hotel Boasts Country's First Suspended Bridge Swimming Pool
ADELAIDE: Construction has begun on South Australia's newest upscale lifestyle hotel, Vibe Hotel Adelaide, which is set to become the flagship landmark hotel for the 'Paris end' of Adelaide in the Flinders East precinct.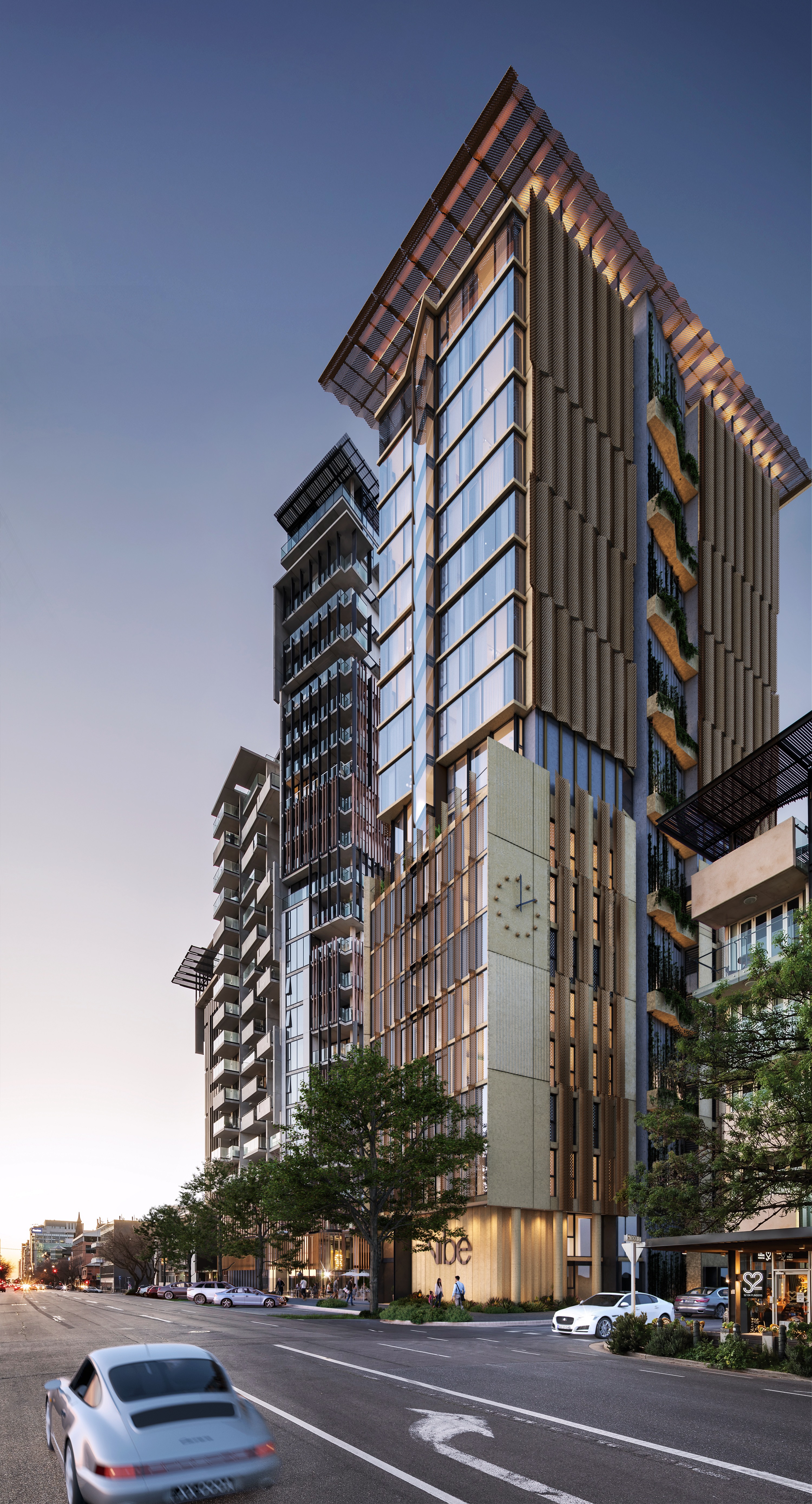 The 18-storey upscale hotel - the first Vibe in South Australia - will feature 123 luxuriously appointed guest rooms, a pool deck, spa, sauna, and plaza designed by multi-award winning Loucas Zahos Architects.  Vibe Adelaide will also be the first in Australia with a suspended bridge pool that allows guests to "swim" between the hotel and the neighboring ONE Apartments.
Principal Architect and Director, Con Zahos, said the hotel would be the anchor of Flinders East, completing GuavaLime's 20-year development of the precinct.
"The Vibe Hotel is the final jewel in the crown of 10 projects in the Flinders Street Precinct," Mr Zahos said.
"It will be the focal point and springboard for visitors experiencing and doing business in Adelaide. Vibe Hotel Adelaide will set the standard in the worldwide movement to modern and relevant millennial stays.
"Hotel guests can choose to retreat to thoughtfully-designed rooms or be part of a vibrant, inner-city community at street level with restaurants, bars and culture."
TFE Hotels' Group Chief Operating Officer, Chris Sedgwick, said TFE Hotels was looking forward to expanding their footprint in South Australia and to opening their very first Vibe Hotel in Adelaide next November.
"This hotel's design-focused style will offer a vibrant, inner-city community vibe at ground level with lively restaurants and bars," he said. "On the higher hotel floors, the open-plan bathrooms and floor to ceiling windows will frame city views that extend all the way to the beautiful Adelaide Hills."
The $45 million project is set to create 80 full-time jobs during peak construction, and 108 full-time jobs during hotel operation, providing a substantial boost to local tourism.
Vibe will be the sister hotel to TFE Adina the historic Adina Apartment Hotel Adelaide Treasury and is expected to begin trading in November 2022.
Ends.
What's in a name? Vibe Hotel Adelaide (can be shortened to Vibe Adelaide after first use)
Images:  https://spaces.hightail.com/receive/t4whl0j2XE
Website: https://vibehotels.com/
Lead in Rate: From $209
Opening Special: 20% OFF fully flexible rate. Room only.
FOR MORE INFORMATION CONTACT:
Donna ConnollyDevelopment Coordinator - GuavaLime
08 8290 3200 / donna@guavalime.com.au
Jodi Clark
Director of Communications - TFE Hotels
+61 499 900 658 / jclark@tfehotels.com

ABOUT GUAVALIME
GuavaLime has been creating innovative, conceptually visionary projects in Australia since 2002.
ABOUT VIBE HOTELS
Vibe Hotels are hotels designed to connect guests to their work, their fellow guests and the local area. Each has spaces and experiences that allow guests to be inspired, with innovative interior design in bright rooms and cool communal areas. Drink and dining offerings emphasise fresh and local, allowing guests to connect with their inner foodie. www.vibehotels.com
WHO ARE TFE HOTELS?
TFE Hotels (Toga Far East Hotels) is an international hotel group headquartered in Sydney and operating in Australia, New Zealand, Germany, Denmark and Hungary. It has a portfolio of five established hotel brands - Adina Hotels, Vibe Hotels, Travelodge Hotels, Rendezvous Hotels and TFE Hotels Collection and is pleased to introduce A by Adina and Quincy Hotels to Australia in 2020/21.