Adina Brings Australian Flair to the Bavarian Capital
GERMANY: TFE Hotels continues its European expansion with the opening of their largest Adina Apartment Hotel, the 234-key Adina Hotel Munich, this October.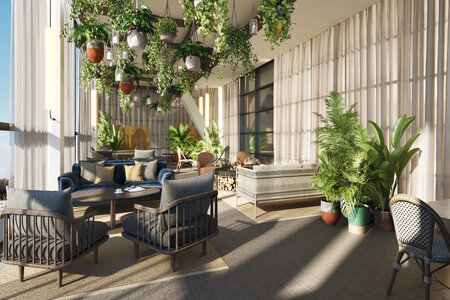 Part of a massive urban regeneration plan in the city's contemporary new Werksviertel-Mitte district, the apartment-style hotel will occupy floors nine to 24 of a striking mixed-use tower, making it the highest located hotel in the city and affording breath taking views of the city and alpine surrounds. And, in a TFE first, Adina Munich's guests will also be views of flocks of sheep grazing on the grassy rooftops of neighbouring businesses.
AFK design studio has designed the generous, yet cosy, rooms whilst designer Michaelis Boyd's vision for the hotel's public spaces includes high-end timber, marble, terrazzo, soft fabric, and leather finishes to complement the raw concrete columns and steel façade.  The hotel also features a stylish conservatory filled with lush greenery, an open-air terrace and bar on the 15th floor, as well as a wellness area complete with a sauna, fitness room, a twelve-metre-long indoor pool with terrace.
TFE Hotels' Group Chief Operating Officer, Chris Sedgwick, says the Adina Hotel Munich build was unprecedented, and the completed hotel would be a welcome addition to the company's global portfolio when it opened in October.
"The existing potato silo building - a part of the old Pfanni potato dumpling plant that was on the site - has been integrated into the overall design of the precinct, and the Adina, which sits on top of the old silo, stands over 86 metres high," Sedgwick said. 
The Werksviertel district is a former industrial area adjacent to the Munich east station that has been transformed into a contemporary business, residential and leisure quarter, with more than 1,000 people - including corporates, concert hall guests and tourists - expected to visit daily. 
Sedgwick said the mixed-use concept of the building was typical of the district's redevelopment.
"The fact that this Adina Hotel has been built on top of a climbing hall in a former silo is certainly unique and will definitely be a talking point for guests," he said.
Hotelier Benno Vogel has been appointed as General Manager following stints with the Rilano Group in Munich; a shared living start-up called The Stay; and at Courtyard by Marriott.
Ends.
What's in a name: Adina Apartment Hotel Munich can be shorted to Adina Munich after first use.
Images: https://spaces.hightail.com/receive/2VywzB4oFd
Website: www.adinahotels.com/en 
Opening Special: Bookings open from 15 July with stays available from 139 euros.
For more about Adina Apartment Hotels in Europe: https://press.adinahotels.com/all-information-about-our-hotels-at-a-glance
FOR MORE INFORMATION CONTACT:
Jodi Clark
TFE Hotels (Director of Communications)
+61 499 900 658 / jclark@tfehotels.com

Julia Fernandez-Pola
Adina Europe (Regional Marketing Manager) 
Tel: +49 (0)30 863 298 650 / jfernandez-pola@adina.eu

ABOUT ADINA APARTMENT HOTELS
The Adina brand comprises more than 40 Adina Apartment Hotels and Adina Serviced Apartments in Australia, New Zealand, and Europe. The former offers stylish apartment living with the services and amenities you'd expect from a hotel property including 24-hour reception, pools, free WiFi, intimate meeting spaces or gym facilities. By contrast, Adina Serviced Apartments offer fully equipped serviced apartments and offer on-call service, homely comforts, and comfortable living. Serviced Apartments are the ideal choice for those wanting a home away from home that's a perfect fit for one or more. 
WHO ARE TFE HOTELS?
TFE Hotels (Toga Far East Hotels) is an international hotel group headquartered in Sydney and operating in Australia, New Zealand, Germany, Denmark, and Hungary. It has a portfolio of five established hotel brands - Adina Hotels, Vibe Hotels, Travelodge Hotels, Rendezvous Hotels and TFE Hotels Collection and is pleased to debut A by Adina and introduce Quincy Hotels to Australia in 2021.