Adina Europe Appoints New CEO as part of Long Term Growth Strategy
BERLIN: Following a global search, TFE (Toga Far East) Hotels has announced the appointment of Simon Betty to the newly created position of Chief Executive Officer, Adina Europe.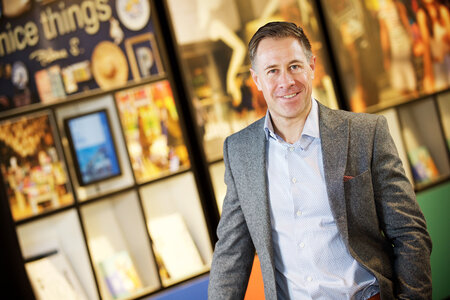 The appointment comes as the Australian-owned Adina Hotels brand continues its European expansion with eight new hotel openings already confirmed for the next three years. These include openings in new markets: Vienna in Austria and Geneva in Switzerland the first time.
TFE Hotels Chief Executive Officer, Antony Ritch, said TFE had significant growth ambitions for Adina Hotels, with plans for more than 50 hotels across Europe, including new markets and new countries.  
"Europe has an independence in the way it operates within the broader TFE family," Ritch said. "And we wanted to recognise the geographical differences the region has and ensure that strategic decisions for our future were embedded in a strong local leadership team."
Ritch said Simon Betty - currently Managing Director of City Quarters and Developments for UK-based commercial property developer, Hammerson - brought extensive experience in property development, expertise in large investment financial restructuring, and solid relationships across the investment and finance sectors to the table.
"In his prior role as Hammerson Ireland's Director, Simon was an integral member of the Group Executive Committee and also managed the Irish arm of the business, which he developed from scratch," Ritch said. "During his 14-year tenure with Hammerson, he was also responsible for the management of more than 2.5 billion-euro, capital allocation and corporate strategy." 
"With Simon's appointment, we are solidifying our strong leadership base in Europe and are currently actively pursuing new opportunities," he said. "And I am confident that his skillset and experience, together with the combined expertise of the current Adina team, will set solid foundations for strong growth."
Ritch said as the Adina Europe Leadership Team, Matthias Niemeyer would continue to spearhead growth as the Director of Development, Europe and Georgios Ganitis would continue to oversee the European hotel operations as Director of Operations - Europe, both reporting to Betty, and working alongside himself and Sydney-based Group Chief Operating Officer, Chris Sedgwick.
TFE (Toga Far East) Hotels Chairman, Allan Vidor, echoed Ritch's sentiments, saying that with the growth opportunities in the pipeline and plans to introduce a new brand into Europe, the Board and TFE Hotels' CEO Antony Ritch had sought a Chief Executive Officer for Adina Europe to drive growth, further develop the strong team and guest service culture, and bring together new strategic and entrepreneurial opportunities for the European business. 
 "We're incredibly excited to welcome Simon Betty to the Adina Europe Leadership team and look forward to him playing a critical role within TFE Hotels' Global Executive Team," Mr Vidor said. 
Simon Betty says he was attracted to the CEO role because of the significant opportunity to continue the growth of the Adina Hotel portfolio across Europe. 
"This company has an exciting future," he said. "And a key aspect of my role will be to build on its impressive track record and to position Adina Hotels as the operator of choice for developers and owners of hospitality assets." 
Betty will relocate from Dublin to Berlin and is expected to start his new role in early 2021.
Ends.
Download word doc
Download images
FOR MORE INFORMATION CONTACT:
Julia Fernandez-Pola
Adina Europe (Regional Sales and Marketing; interviews with Simon Betty)
+49 30 863 298 650 / jfernandez-pola@adina.eu
https://press.adinahotels.com/en
Jodi ClarkmTFE Hotels (Head of PR – ANZ; interviews with Chairman or CEO)
+61 499 900 658 / jclark@tfehotels.com
https://www.tfehotels.com/en/about/media-lounge/
 
ABOUT ADINA HOTELS
The Adina brand comprises 36 Adina Apartment Hotels and Adina Serviced Apartments in Australia, New Zealand, and Europe. The former offers stylish apartment living with the services and amenities you'd expect from a hotel property including 24-hour reception, pools, free WiFi, intimate meeting spaces or gym facilities. By contrast, Adina Serviced Apartments offer fully equipped serviced apartments and offer on-call service, homely comforts, and comfortable living. Serviced Apartments are the ideal choice for those wanting a home away from home that's a perfect fit for one or more. 
WHO ARE TFE HOTELS?
TFE Hotels (Toga Far East Hotels) is an international hotel group headquartered in Sydney and operating in Australia, New Zealand, Germany, Denmark and Hungary. TFE has a portfolio of five established hotel brands - Adina Hotels, Vibe Hotels, Travelodge Hotels, Rendezvous Hotels and TFE Hotels Collection and is pleased to introduce Quincy Hotels to Australia in 2020.