New Year, New Look: Adina Melbourne on Flinders Sports Fresh New Look
VICTORIA: Does it get any more Melbourne than staying in a converted warehouse in an iconic laneway? The perennially popular Adina Apartment Hotel Melbourne on Flinders - and its six adjoining warehouse-style apartments on Malthouse Lane - are sporting a fresh look that has been unveiled just in time for The Australian Open and the bustling 2023 Victorian events season.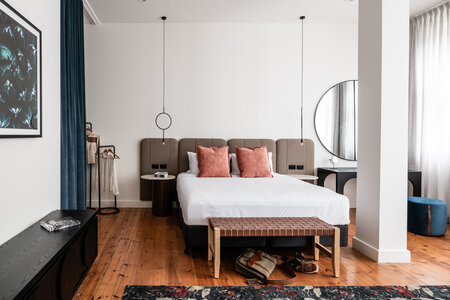 With a brief to showcase the vibrant personality of inner-city Melbourne – from art, fashion, colour, and the city's famous gardens – the interior design team set out to create little eclectic pockets of differentiation. Central to the design is the transformation of the two and three-bedroom Penthouses and Suites and the warehouse-style accommodation. All 59 of the hotel's apartments are incredibly spacious and range from 75sqm for a one-bedroom up to 150sqm for the three-bedroom penthouse, making them excellent for families or groups of friends.  
"This hotel is perfect for big families or friends travelling together," says Group Chief Operating Officer, Chris Sedgwick. "It's actually the perfect way to activate some of the huge balconies with terrific views over the city or botanical gardens." 
The design of the apartments is inspired by the nostalgia of Malthouse Lane's history – with a borrowed edginess from an industrial era, which comes through via black metal fittings, aged brass finishes and sooty charcoal tones. 
All rooms offer kitchen and laundry facilities. Plus, there is a subtle nod to Melbourne's street art, with a striking coffee table book personally signed by Rone – whose exhibition is currently showing at Flinders Street station until April and is across the road 150m away from the hotel entry – on display. 
The lobby, with its new Rosso Levanto marble reception desk, is also a standout thanks to the Mooi flocked wallpaper, which extends to the ceiling and is flanked by a second wallpaper pattern. Interior Designers, Studio Del Castillo, say they also made a conscientious decision to retain the existing flooring and incorporate the original timber-lined walls around the reception area. 
But it's not just the interior design that is turning heads, it's also the hotel's showstopping views, and its proximity to Federation Square, the top end of Flinders Lane with its bustling restaurant and bar scene, and all the major attractions. 
For those wanting a romantic getaway; accommodation that will suit small groups in a buy-out scenario; or a short-stay business trip with character, the six converted warehouse apartments are worth a look. In fact, Interior Designer, Penny Del Castillo, likens the warehouse accommodation as an "almost off the grid" experience. 
 
"Adina's warehouse-style accommodation has its own separate entrance on Malthouse Lane, just a few metres down from Eau de Vie's hidden bar, so it's a bit of an arrival experience," she said. "The six open plan warehouses really are an inspirational space to retreat to and feature three variations to room layouts, each with fabulously high ceilings, original floorboards from the 1920s, views down the laneways and access to some of Melbourne's finest restaurants and bars." 
"There was a strong desire for design to remain authentic to what one would come to expect in a warehouse, and I think the guests will be delighted with the results," she said. 
In addition to the multi-million-dollar makeover, this family friendly hotel also sports a rockstar location - central not only to the mighty MCG but also to some of the city's best restaurants, iconic arcades and laneways and hidden bars. It's also walking distance or just a quick tram ride to all the amenities you would ever want to go to, with iconic Flinders Street Station just a short stroll away.  
According to Group Chief Operating Officer, Chris Sedgwick, with the transformation of the Adina Hotels brand over the past few years, the interior design team had creative licence to reinvent. 

"Think of it as a sort of welcome back to Melbourne after a long period of lock down." 
Sedgwick says the Flinders Street facelift is part a rolling refurbishment program to reinvigorate first generation hotels that will see Sydney's Adina Darling Harbour and Adina Town Hall transformed, alongside Adina Adelaide Treasury, in the not-too-distant future. 
For more information visit adinahotels.com. 
Ends. 
Editor's Notes: 
Malthouse Lane, which is located on the south side of Flinders Lane between Exhibition and Russell Streets, is a namesake from 1869, when Samuel Burston's five-storey steam and gas-powered malt house produced malt for brewing. 
What's in a name: Adina Apartment Hotel Melbourne on Flinders can be shortened to Adina Melbourne Flinders after first use.
Website:https://www.adinahotels.com/
Download images here.
FOR MORE INFORMATION CONTACT: 
Jodi Clark - TFE Hotels (Director of Communications) 
+61 499 900 658 / jclark@tfehotels.com 

ABOUT ADINA APARTMENT HOTELS 
The Adina brand comprises 40 Adina Apartment Hotels and Adina Serviced Apartments in Australia, New Zealand, Singapore and in Europe. The former offers stylish apartment living with the services and amenities you'd expect from a hotel property including 24-hour reception, pools, free WiFi, intimate meeting spaces or gym facilities. By contrast, Adina Serviced Apartments offer fully equipped serviced apartments and offer on-call service, homely comforts, and comfortable living. Serviced Apartments are the ideal choice for those wanting a home away from home that's a perfect fit for one or more. www.adinahotels.com 

Adina Hotels is a proud sponsor of Australia's Hockeyroos and Kookaburras. "We are committed to bringing Australian style of hospitality to the world and supporting Australian talent," CEO Antony Ritch said. "We couldn't be prouder to have literally backed the Kookaburras and Hockeyroos in the lead up to the Commonwealth Games and beyond." 
Where in the world? Our newest Adina, Adina Apartment Hotel Pentridge Melbourne will open February 2023. 
WHO ARE TFE HOTELS?  
TFE Hotels (TOGA Far East Hotels) is Australia's International Hotel Group - headquartered in Sydney and operating in Australia, New Zealand, Germany, Denmark, Hungary, Austria, Singapore… and opening in Switzerland in 2023. TFE has a portfolio of seven hotel brands - A by Adina, Adina Hotels, Vibe Hotels, Quincy Hotels, Travelodge Hotels, Rendezvous Hotels and Collection by TFE Hotels which includes The Calile Hotel, The Hotel Britomart, Hotel Kurrajong and The Savoy Hotel on Little Collins, with more in the development pipeline. 
TFE Hotels acknowledges the traditional owners of the lands we conduct business upon and pays our respects to Elders past, present and emerging. We respect the Country itself, including its trees, animals, spirits, waters, skies, stars, and special sites. https://www.tfehotels.com/.