Adina Secures Prime Location in Austria's Tallest Residential Tower
AUSTRIA: Vienna's skyline is getting a new landmark and a brand-new Adina Apartment Hotel with construction underway on the 48-storey DANUBEFLATS - Austria's tallest residential tower, standing 180 metres high. And, come 2024, Adina will be moving into the New Danube precinct with a fresh and elegant design concept, that sets a new standard for luxury short-term apartment style accommodation.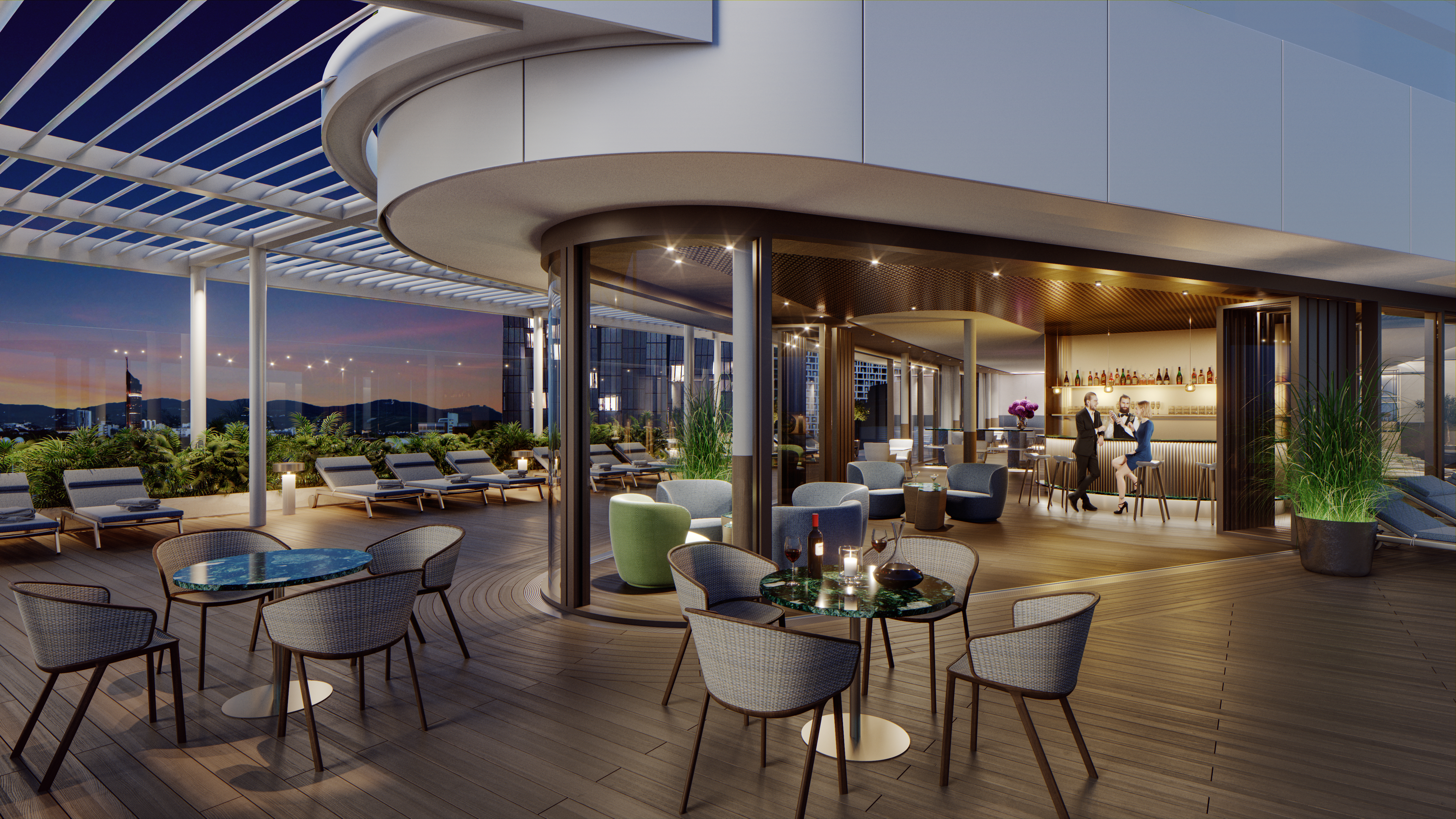 Adina Danube will offer 108 apartments from the first to third floors of the impressive DANUBEFLATS building, with apartments ranging from 23 square metres to 64 square metres across a range of studios, one- and two-bedroom room types. Adina Europe will also operate a fourth-floor wellness area and a panoramic heated pool for year-round use. 

Hotel guests will also have access to a business lounge with meeting rooms and a casual pantry kitchen offering snacks and beverages. In addition to Adina, the building will house 500 privately financed residential units. 
A restaurant and a supermarket are planned for the ground floor and parking will be available in the spacious underground garage.
"Introducing Adina into DANUBEFLATS in Vienna is going to be extremely exciting," says Adina Europe CEO, Simon Betty.  "Not only are we continuing our expansion into Austria but also reinforcing our position as the premium apartment hotel company in Vienna."
Adina's design-oriented, spacious apartment-style accommodation, with fully equipped kitchens, washer-dryers, and stylish living areas, appeals to either short or long stay guests who value independence and flexibility, but still appreciate luxurious touches and personalised service. Whether staying for a few nights or a few weeks, Adina adapts to the needs of its clientele and offers travellers a cosy atmosphere with the highest standards of accommodation and service.

With DANUBEFLATS, Adina has chosen a sensational location and spectacular property. Developed by internationally renowned developers, S+B Group and SORAVIA, the residential tower, which aspires to the highest standards of architecture and design, will shape the Vienna skyline with its bold look and become a new landmark for the city. 

The development is located on the banks of the Danube at the centre of D-City, which boasts a captivating international environment and extensive recreational facilities. The United Nations campus is in the immediate vicinity, and the Danube promenade can be reached directly. Plus, Vienna's Old Town is easily accessible thanks to the nearby underground station.  A doorman attentively waits in the elegant lobby to welcome residents and guests 

"The spirit of innovation with this construction project is extraordinary and we're very proud to be part of it," says Matthias Niemeyer, Director Development at Adina Europe. "For us, this is the perfect location to introduce the next iteration of Adina to Vienna. Exceptional design, entrepreneurial spirit, and a unique quality of life blend perfectly here."
Ends.
What's in a name: The hotel is yet to be named.
Website: www.adinahotels.com/en 
For more about Adina Apartment Hotels in Europe: https://press.adinahotels.com/all-information-about-our-hotels-at-a-glance
Want to know more about DANUBEFLATS? Visit http://www.danubeflats.at

FOR MORE INFORMATION CONTACT:
Jodi Clark
TFE Hotels (Director of Communications)
+61 499 900 658 / jclark@tfehotels.com

Julia Fernandez-Pola
Adina Europe (Regional Marketing Manager) 
Tel: +49 (0)30 863 298 650 / jfernandez-pola@adina.eu

ABOUT ADINA APARTMENT HOTELS
The Adina brand comprises 40 Adina Apartment Hotels and Adina Serviced Apartments in Australia, New Zealand, and Europe. The former offers stylish apartment living with the services and amenities you'd expect from a hotel property including 24-hour reception, pools, free WiFi, intimate meeting spaces or gym facilities. By contrast, Adina Serviced Apartments offer fully equipped serviced apartments and offer on-call service, homely comforts, and comfortable living. Serviced Apartments are the ideal choice for those wanting a home away from home that's a perfect fit for one or more. 

WHO ARE TFE HOTELS?
TFE Hotels (Toga Far East Hotels) is an international hotel group headquartered in Sydney and operating in Australia, New Zealand, Germany, Denmark, Hungary, Austria… and opening in Switzerland in 2023. It has a portfolio of five established hotel brands - Adina Hotels, Vibe Hotels, Travelodge Hotels, Rendezvous Hotels and Collection by TFE Hotels including The Calile Hotel, The Hotel Britomart, Hotel Kurrajong and The Savoy Hotel on Little Collins, and debuted A by Adina and Quincy Hotels in Australia in 2021.