Arrive Expected in Australia's Cultural Capital
CANBERRA: TFE Hotels proudly raises the flag on an elevated premium suite of Adina Hotels – A by Adina - aptly starting in the nation's capital.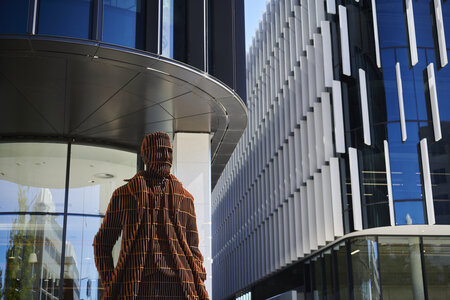 A by Adina Canberra, which opened last month, describes itself as a hotel living experience – a quietly confident supporting act – perched on the doorstep of the famed Parliamentary Triangle, Lake Burley Griffin, and a buzzing line-up of 'must experience' landmarks. Step inside and you'll find that perfectly suited balance between a hotel and a premium apartment experience.
For TFE Hotels Regional General Manager for ACT, Emma Hynes, the Bates Smart-designed apartment hotel – and centrepiece of Capital Property Group's much-anticipated $300m mixed-use precinct, Constitution Place, complete with its own Melburnian-style laneway (connecting to Canberra Theatre Centre) – wins her vote on show-stopping location and style. 
"The thing I love most about this hotel is its intuitive design, followed closely by location," says Emma of a city that defines Australia's cultural DNA, filled with a treasure-trove of iconic museums, galleries, and institutions, including the National Gallery of Australia, National Portrait Gallery, National Museum of Australia, National Arboretum, Australian War Memorial, Questacon Science Museum, and Royal Australian Mint... to name just a few.
"Canberra offers so much more. It's more than a place where the country's decisions get made, more than a place you come for great food and wine experiences, and definitely more than most people expect! It's seriously got something for everyone."
A self-confessed Canberra convert, having moved from Melbourne (via the Whitsundays and Perth), one of Emma's favourite local haunts is Snapper on the Lake, aka Canberra Southern Cross Yacht Club's legendary fish 'n' chippery (which, on weekends, serves up live music on the banks of Lake Burley Griffin). 
Australia's capital city is also renowned for its eclectic markets; farm-gate produce; a wine region sprouting with 140 vineyards and more than 30 cellar doors; lip-smacking microbreweries and distilleries; two acres of blooming marvellous parklands that burst into life each Spring during the Floriade festival; no end of mountain hiking trails; truffle hunting; and even a NASA base (Canberra Deep Space Communication Complex).
What's more, A by Adina Canberra's own neighbourhood, Constitution Place – which spans 9,000sqm on the illustrious Vernon Circle side of Canberra's arts and cultural hub, London Circuit – breathes new life into the city as a vibrant epicentre for business, politics, culture, dining and socialising.
The precinct's cleverly-designed twinset of striking glass-fronted buildings – a 12-storey tower shared by the hotel and blue-chip commercial tenants, and neighbouring five-storey ACT Legislative Assembly building – create a dynamic theatre laneway, packed with retail and foodie offerings*. Notably including the introduction of acclaimed Meat and Wine Co. to Canberra.
Best of all, Emma knows A by Adina Canberra, under the watchful eye of Hotel Manager Jelena Bojanic, is destined to quietly exceed guests' expectations as a 'home away from home', within walking – or cycling – distance of everything required for business or leisure. Not forgetting, easy access to the National Convention Centre and Canberra Casino. 
"I think this elegantly simple hotel will be a drawcard for long-stay guests," she said. "Perhaps cast and crew from blockbuster productions at Canberra Theatre Centre, looking for a place to call home for a month or more, with the bonus of a 24/7 hotel concierge and convenience of an in-house gym."
According to TFE Hotel CEO Antony Ritch, A by Adina Canberra – imagined by the same developer and architect as multi award-winning Vibe Hotel Canberra – sets a new precedent when it comes to exceptional room design and use of space. 
"Different stays shouldn't need a different hotel each time," says Ritch. "So, our A by Adinas bring to life the idea of 'hotel living' by embracing the duality of a premium hotel stay with the familiarity that comes from an elevated away-from-home experience." 
Design, space, and personalised service all have their role to play and guests won't feel like they are living out of a suitcase during the stay. And deliberately so.
"Guests can expect thoughtful contemporary Australian design, the quiet confidence of intuitive service that make every day a bit more special, details in the detail and, above all, the freedom to stay their own way" he said.  
"All of the apartments (studio, one and two-bedrooms) are beautifully designed – in my opinion, some of the best Adina hotel rooms we have released to date," Antony said. 
Walk through robes are just the start of surprises in store at A by Adina Canberra, where all apartments are, by design, democratically beautiful, says Bates Smart Associate Director, Amelia Donald. 
Think functional beauty (including sofa beds, dining tables that moonlight as desks with hidden power/USB compartments, and ingenious sliding/stackable wall panels that expand or contain living areas) and exquisite style. Everything from plush loop carpet to stunning precast concrete feature walls, floor-to-ceiling windows, and bathrooms best described as destinations in their own right.
"The bathrooms are designed like jewels," Amelia said. "In the two-bedroom apartments, the master bedrooms have expansive walk-through robes that lead into bathtub areas and onto standard bathrooms, which can be sectioned off with sliding, frosted panels. The end shower wall features Irish Marble, which is beautifully lit (white with green striations), so it glows like a jewel."
While A by Adina Canberra's lobby heroes a head-turning, curved ribbon wall of travertine, the most dramatic sense of arrival occurs once guests step into any one of 130 apartments. 
"The external corridors which flow around the building's illuminated core, are deliberately dark and moody," Amelia explained. "The walls are covered in a dark woven fabric, the apartment doors are black, the ceiling is black and so is the floor. 
"So, it's quite calming, stepping out of the lifts into this moody space, before that moment of walking into light-filled apartments."
Ends.
What's in a name: A by Adina Canberra (Can be shorted to A by Adina after first use. Please do not shorten to 'A' nor refer to the hotel team as the 'A' team).
A by Adina Canberra images: https://spaces.hightail.com/receive/TTSBudTjzY
Download word doc
Jelena Bojanic headshots: https://spaces.hightail.com/receive/toenvWlj22
Website: https://abyadina.com/
Opening Special – Stay Your Way: Exclusive saving of 15% when you book direct on https://abyadina.com/ Your experience includes delicious chocolates, a bottle of wine ready for your arrival and a 1pm sleep-in on check out day. You also have the flexibility to change or chance your booking one day before arrival.
FOR MORE INFORMATION CONTACT:
Jodi Clark
TFE Hotels (Director of Communications)
+61 499 900 658 / jclark@tfehotels.com

Rebecca Astier
Klick X - (Communications Lead)
+61 417 667 042 / rebecca@klickx.co
Jemma Delamont
Canberra Airport - (Property and Aviation Marketing Manager)
+61 2 6175 3314 / +61 406 950 790 / j.delamont@canberraairport.com.au
*For more information on Constitution Place, tenants, and restaurants. 
WHO ARE TFE HOTELS?
TFE Hotels (Toga Far East Hotels) is an international hotel group headquartered in Sydney and operating in Australia, New Zealand, Germany, Denmark, and Hungary. It has a portfolio of five established hotel brands - Adina Hotels, Vibe Hotels, Travelodge Hotels, Rendezvous Hotels and TFE Hotels Collection and is pleased to debut A by Adina and introduce Quincy Hotels to Australia in 2021.
MEET A BY ADINA.
While every A by Adina location has been thoughtfully chosen to blend seamlessly within its surroundings, there's always a contemporary Australian twist at the heart of every stay. Here, architectural finishes meet thoughtfully designed interiors. Team members are known as Curators, treating each guest visit as another opportunity to surprise and delight. 
A fresh take on evening lobby drinks, The Daily Pause promises 60 minutes of seriously special lounging. There's even an Amenities on Demand concept, which allows guests to purchase their favourite hotel items ranging from mini bar snacks and Hunter Lab beauty products, through to exclusive Dreamcatcher Beds. And for those guests who want to take their experience to the next level? They're invited to come on up to Destination A, located on the top floors of the hotels and featuring a range of special inclusions especially designed to amplify any stay.
#perfectlysuited
#abyadinacanberra
@abyadinacanberra
MORE ABOUT CANBERRA'S CONSTITUTION PLACE
Constitution Place was inspired by Walter Burley Griffin's design for the capital, and stands as a 12-level vibrant precinct, centrally located with a hotel and dining amenities. Home to the ACT Government, commercial institutions and some of Canberra's best dining and retail options. The Constitution Place development includes two iconic commercial buildings, with a 130-room A by Adina Hotel and a distinctive retail laneway connecting Constitution Avenue with the Canberra Theatre. 
Constitution Place is a 5-star NABERS energy rated building, with 200kw roof-mounted solar and is one of the first WELL-rated buildings in Canberra. The environmentally friendly mixed-use precinct is home to the ACT Government, top commercial institutions and some of Canberra's best dining and retail options.