Auckland's Travelodge Hotel Wynyard Quarter Opens 30 October
AUCKLAND WATERFRONT:  TFE Hotels and Developer/Owner Infratil have announced New Zealand's newest Travelodge Hotel, will open for business in Auckland's bustling waterfront district on October 30, just as the world's yachting elite, due to descend on the City of Sails, starting December, to contest events in the lead-up to the 36th showdown of the America's Cup (March 2021).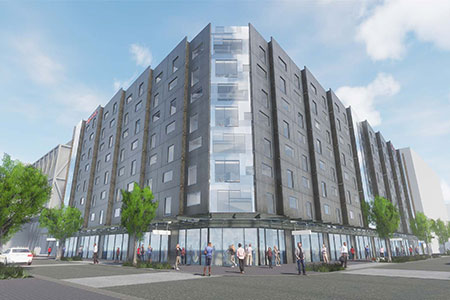 According to Manuel Diaz, Associate Director of Peddlethorp –  the award-winning architects behind Travelodge Hotel Auckland Wynyard Quarter – the seven-storey, 154-room hotel is already turning heads as a trendsetter in Auckland's hip-and-happening new precinct; hailed as one of the biggest and most exciting urban regeneration projects in New Zealand. 
"If you've never been to Auckland before, you wouldn't want to be anywhere else," said Manuel. 
"Wynyard Quarter is the gateway to everything and Auckland's first taste of a funky, bohemian, industrial-chic neighbourhood… the likes of which have never been seen here before.
"Travelodge Wynyard Quarter is exceptionally located at the heart of it all and, we think, a catalyst for the whole area's future development."
Making a bold statement on the corner of Halsey and Pakenham streets – footsteps from North Wharf's ASB Waterfront Theatre; Auckland's historic working fish market; and Zen Silo Park, complete with open air 'silo' cinema screens – the hotel is the first of six new buildings under development as part of a mixed-use commercial/residential block owned by transport and infrastructure investor, Infratil. 
Giving a nod to the inner-city precinct's industrial past, it features a sawtooth roof and stunning patchwork façade of exposed steel, shimmering glass and precast charcoal concrete panels. Internally, the hotel's cavernous, warehouse-like lobby also kicks goals when it comes to delivering a dramatic sense of arrival for guests, via its double-height, 4.5m ceiling. 
"That's high enough to easily accommodate goal posts in a rugby-mad nation," jokes Travelodge Wynyard Quarter Hotel General Manager and proud Aucklander, Nick Mannion. 
In another unexpected twist, the hotel's L-shape design cleverly forms a sleeve around a new, seven-storey car park (which all rooms look out and away from). Not just any car park. Wrapped in a stainless-steel mesh, crafted in Spain, it forms the face of a future laneway, buzzing with cafes, street art and bars – with the bonus of park and check-in convenience for hotel guests.
Did you know? Pillows and duvets at Travelodge Wynyard Quarter are locally sourced and sustainably made from luxury microfibre derived from plastic bottles. A reminder for guests that protecting oceans is everyone's business, particularly when the World Economic Forum warns of more plastic in oceans than fish by 2050.
Ends.

What's in a name: Travelodge Hotel Auckland Wynyard Quarter (can be shortened to Travelodge Wynyard Quarter after first use)
Opening Special: From $191 NZD (20% OFF fully flexible rate. Room only.)
Download word doc
Download images

FOR MORE INFORMATION CONTACT:
Beau Kassas
Communications Lead – Klick X 
+61 488027 555 / beau@klickx.co
Lauren Cowan
Communications Lead – Klick X 
+61 431 550 466 / lc@klickx.co
Jodi Clark
TFE Hotels (PR and Communications)
+61 499 900 658 / jclark@tfehotels.com

ABOUT TRAVELODGE HOTELS 
Travelodge Hotels makes a hotel stay Refreshingly Simple. Hotels in city locations around Australia and New Zealand offer great accommodation, high speed Wi-Fi and a relaxed feel with all the essential comforts. Guests will find a warm and honest sense of humour in everything Travelodge Hotels does. These are places where people enjoy exceptional locations and options to enhance their stay.  travelodge.com.au 
WHO ARE TFE HOTELS?
TFE Hotels (Toga Far East Hotels) is an international hotel group headquartered in Sydney and operating in Australia, New Zealand, Germany, Denmark and Hungary. It has a portfolio of five established hotel brands - Adina Hotels, Vibe Hotels, Travelodge Hotels, Rendezvous Hotels and TFE Hotels Collection and is pleased to introduce Quincy Hotels to Australia in 2020.