Destination A Takes Premium Stays to the Next Level
AUSTRALIA: Forget destination unknown these summer holidays, Australia's newest premium hotel brand, A by Adina, says 'Destination A' should be a must-do for city stays in Sydney and Canberra during summer.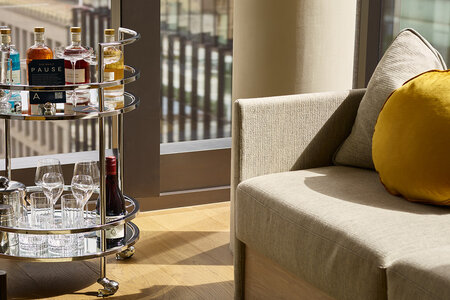 According to A by Adina Sydney General Manager and Brand Experience Manager, Amanda Cottome, Destination A guests take their hotel experience to the next level, quite literally, with rooms that showcase the best views, tailored amenities, and signature service. 
"A by Adina hotels are, by design, absolutely beautiful hotels with contemporary Australian design inside and out," she said. "But Destination A elevates the stay further with detail in the detail." 
Destination A guests can expect designer amenities, clever use of interior design, flexible check-in and out, and smart speakers - complete with an A by Adina curated playlist - and luxurious robes in the apartments as standard, but there are also little surprises that make every day a bit more luxe.
The reimagining of the nightly Daily Pause, for example, sees a stunning grazing box served around dusk, along with a $25pp credit per person, per night to indulge in cocktails or snacks from the extensive in-room A-bar.
"When the light dims and the hour strikes five, you know you're in for a treat," Amanda says. "This is the time for our guests to take a breath and to relax and unwind in their own private pad in the city."
This extended happy hour - complete with in-room bar cart, an elevated minbar offering with pre-batched Maybe Sammy cocktails and all the tools to create your perfect beverage - rounds out the Destination A offering which also includes nightly turn-down service, complimentary in-room movies, and unlimited access to high-speed Wi-Fi.  
Amenities on demand mean A by Adina guests have everything they need at their fingertips.
And, in a challenging period where local artists are calling on Australian businesses to better represent Australian content, A by Adina has taken the lead with this sophisticated collection of classic and contemporary Australian artists as the perfect accompaniment to their a la carte breakfast offering.
But what really sets Destination A apart, is that guests can access to A by Adina's experience makers - curators that use their knowledge of the city to give guests new and exciting ideas to make their stay.
In New South Wales this could mean access to the best seats at the hottest bar in town right now, Dean & Nancy on 22 at A by Adina Sydney. Whilst in Canberra, General Manager Jelena Bojanic could arrange tickets to a sold-out art-show or a reservation at Constitution Place foodie darling, The Meat & Wine Co.
Destination A views, unsurprisingly, are also showstoppers.
"Destination A rooms are not simply rooms on the highest floors," Amanda says. "They're the rooms with the absolute best views.  This could be on the sixth floor in Sydney with views that pop as the city lights up or a corner room in Canberra where you can see hot air balloons rise with the morning sun."
A by Adina and the Destination Experience are the city staycations Australians didn't know they needed and the pampering that they deserve after life on pause.
"Now's the time to leave that outside world at the door and join us at Destination A," she says. "And we'll be waiting to welcome you with open arms."
Ends.
FOR MORE INFORMATION CONTACT:
Jodi Clark
TFE Hotels (Director of Communications)
+61 499 900 658 / jclark@tfehotels.com
EDITOR'S NOTES
What's in a name: A by Adina cannot be shortened to 'A'. The hotels are upscale with high end finishes and design. This brand should not be referred to as 5-star.  Please do not refer to the hotel team as the 'A' team.
Images: Destination A.  Additional hotel images available on request.
Website: https://abyadina.com/
MEET A BY ADINA
While every A by Adina location has been thoughtfully chosen to blend seamlessly within its surroundings, there's always a contemporary Australian twist at the heart of every stay. Here, architectural finishes meet thoughtfully designed interiors. Team members are known as Curators, treating each guest visit as another opportunity to surprise and delight. 
A fresh take on evening lobby drinks, The Daily Pause promises seriously special lounging. There's even an Amenities on Demand concept, which allows guests to purchase their favourite hotel items ranging from mini bar snacks and Hunter Lab beauty products, through to exclusive Dreamcatcher Beds. And for those guests who want to take their experience to the next level? They're invited to come on up to Destination A, located on the top floors of the hotels and featuring a range of special inclusions especially designed to amplify any stay.
Fast Fact: A by Adina Canberra 
The 130-room Bates Smart-designed hotel is the centrepiece of Capital Property Group's much-anticipated $300m mixed-use precinct, Constitution Place.
 
Fast Facts: A by Adina Sydney 
The 194-room A by Adina Sydney has become a landmark feature on Sydney's skyline with the 21st floor Sky Lobby and world-class views from the building's architecturally designed golden crown.
More about Hotel Living
With the launch of the new A by Adina brand in 2021, TFE Hotels has also carved out an entirely new category within the premium hotel category, known simply as; Hotel Living.  Different to the existing concepts of Apartment Hotels, Hotel Residences or All Suites, the premium A by Adina guest experience offers high design, and a curated approach that allows corporate and lifestyle travellers to enjoy the best of the city – on their terms. 
Think the luxe factor of included designer amenities and hotel services, combined with a laidback approach that gives guests all the freedom and flexibility to enjoy (what feels like) their own stylish city pad for as little, or as long as they like.
Our Curated Playlists
Australian Breakfast Chill: 100% Australian, Breakfast Chill includes a combination of electronic, urban, and coastal sounds with a relaxed, positive, and familiar tone, this list captures the flavour of Australia with a global elegance. Featured artists include Miiesha, Jarryd James and Wafia. 
Night Sounds: After the sun dips, it's time to get sleek, cheeky, and adventurous with a combination of silky-smooth RnB, rare groove, and contemporary electronic beats. Feature artists include Mayer Hawthorne, Nageires and Tom Misch.
Dean & Nancy: Reflects the simple yet bold ethos of one Sydney's best bars - Dean & Nancy on 22. Expect moody soul and jazz mixed with timeless classics. While you know a lot of the artists like Otis Redding, Etta James and Sam Cooke, there are some new surprises in there like Dojo Cuts, Leon Bridges and Celeste.