New Celebrity Chef Restaurant and Bar open at Adina Apartment Hotel Brisbane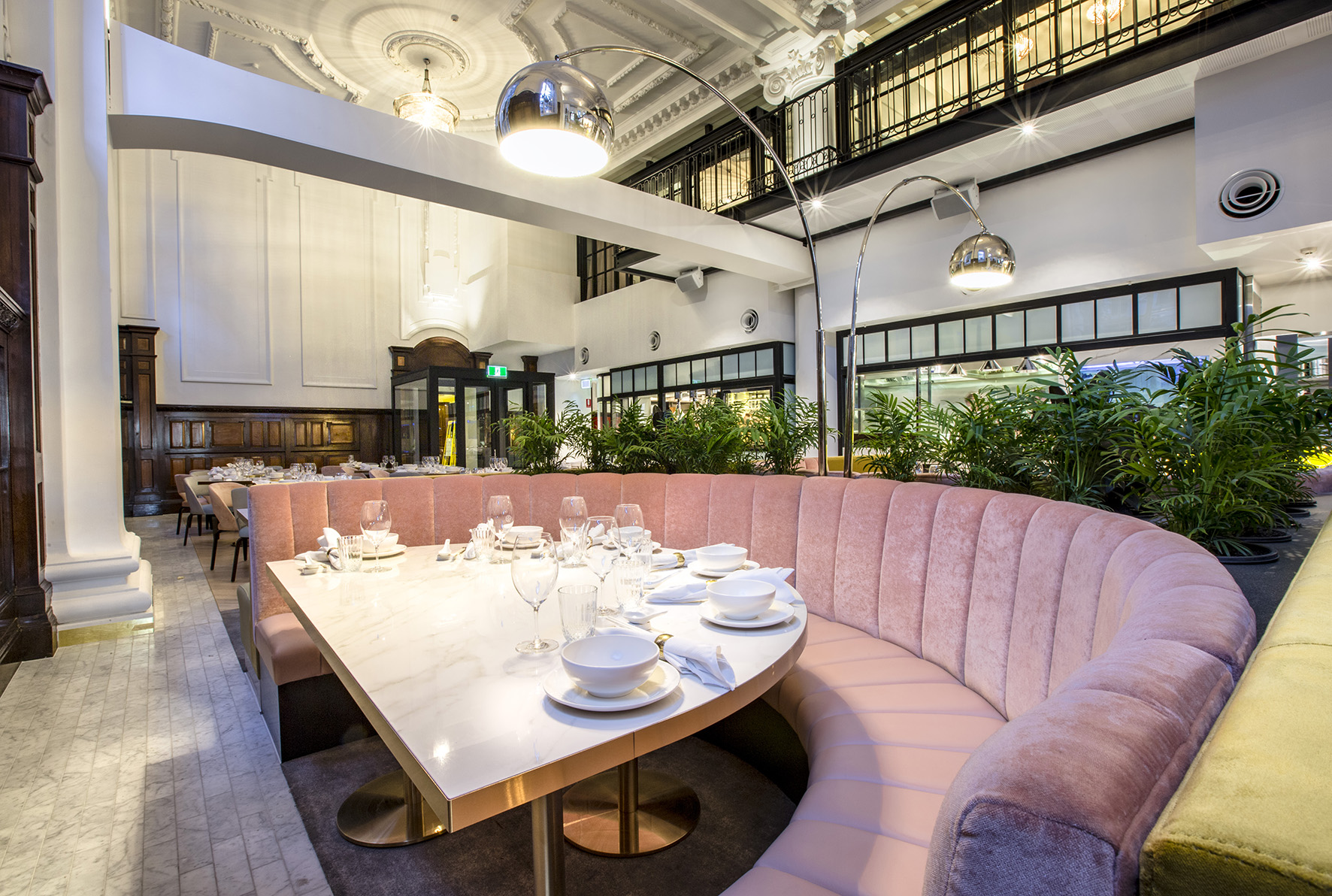 Brisbane's most exciting restaurant and bar are now open at the spectacular new Adina Apartment Hotel Brisbane at 171 George Street. The much anticipated opening of Donna Chang and The Boom Boom Room is led by Ghanem Group, the team behind the famed Blackbird Bar & Grill Brisbane, Byblos Bar & Restaurant Melbourne and Lord of the Wings.
Donna Chang brings together a stellar line-up of industry leaders, spearheaded by Executive Chef Jake Nicolson (formerly of The Lakehouse in Victoria, Spain's El Bulli and The Ledbury in London), Head Chef Jason Margaritis (formerly Spice Temple, Melbourne) and 2014 Good Food Guide Sommelier of the Year, Penny Grant.
The 120-seat restaurant with its opulent interiors takes pride of place on the ground floor of the hotel. Three luxe private dining rooms are on a mezzanine level that overlooks the vast lobby. The building opened in 1920 as the Queensland Government Savings Bank and still features its original double-height timber-panelled walls and magnificent ceiling roses.
Donna Chang is described as a "dining experience for the senses" that gives a gentle nod to Sichuan flavours and authentic Cantonese cuisine. The name is a tongue-in-cheek reference to an episode of the TV show Seinfeld.
Below the restaurant, at basement level, is the space where the bank's vaults once were. A bar called The Boom Boom Room now occupies that space, fusing avant-garde design with an inspired cocktail list a visually dramatic lounge setting. It has capacity for 250 people and private rooms inside the former vaults.    
TFE Hotels Chairman Allan Vidor said the venues added sophisticated and novel dining and bar offerings to the city's rapidly growing hospitality scene.
"This will be an international talking point for visitors to Brisbane and offers a real point of difference for the local dining space," he said. "Guests and visitors to the hotel will love the combination of history and exciting contemporary cuisine, brought to us by Australia's top chefs and sommelier."
Nehme Ghanem said he was thrilled to expand the group's offering with these two exciting new venues.
"Donna Chang and The Boom Boom Room offer dining and bar experiences unlike anything Brisbane has seen before – from the high end food and beverage offering, through to the extravagant exteriors – the venues will bring food to life in ways we have previously only imagined," Mr Ghanem said.
"Queensland's climate lends itself perfectly to the vibrant, aromatic flavours of various Chinese cuisines. Coupling traditional Chinese cooking techniques with native Australian ingredient, and a nod to Cantonese and Sichuan flavours, Donna Chang will be the new way to enjoy Chinese cuisine in Brisbane."
Diners and bar patrons can overnight at Adina Apartment Hotel Brisbane, which offers 220 luxurious rooms and suites over 12 levels, many with stunning views over the Brisbane River. The apartments are spacious and contemporary, providing guests with the comforts of home. Each has its own kitchen, laundry and living room and offers the ease of full hotel services including 24-hour reception.
Rooms are available at 25% off introductory rate, starting from $135.
To book a room visit https://www.adinahotels.com/hotel/brisbane/