Doors Open at Vibe Hotel Adelaide Just in Time for Mad March
ADELAIDE: TFE Hotels officially opened the doors at its newest South Australian address, the Vibe Hotel Adelaide, today.  The launch of the 123-room, design-led Vibe Hotel signifies the completion of the Flinders East precinct, more than twenty years in the making by its South Australian developers, GuavaLime and Loucas Zahos Architects.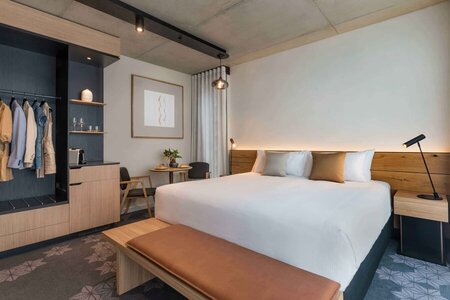 TFE Hotels' Group Chief Operating Officer, Chris Sedgwick, said he was proud to bring Vibe Hotels' distinctive style of Australian hospitality to Adelaide and to the Flinders East Precinct.
"Today, we are excited to debut our newest Vibe and we're thrilled that the launch coincides with one of the busiest and most exciting times for the city," Sedgwick said. "Adelaide shines during their festival season… and it's precisely that vibrancy and sense of character that we've tried to capture at the hotel and aim to deliver 365 days of the year."
"What I particularly like about this property, is that our local owner/developers GuavaLime and Loucas Zahos Architects have infused a distinctly South Australian flavour into the fabric of the hotel. From a stunning serpentine chandelier suspended from a raw concrete ceiling in the lobby to pressed metal artwork – sourced, designed, and printed in South Australia - to a colour palette infused with Australian colours."
Sedgwick says he has no doubt the hotel will be a great support as South Australia continues to grow its economy and local industry in the coming years.
"With its distinctly South Australian vibe, we are confident this hotel will provide a substantial boost to the incredible local tourism experiences already available in Adelaide's CBD." 
Vibe Adelaide is the homegrown hotel brand's fourth opening in as many years, following on from the Vibe Darling Hotel Harbour (New South Wales), Vibe Hotel Hobart (Tasmania), and Vibe Hotel Subiaco (Western Australia). 
With today's launch, Vibe now has a hotel address in each state and territory in Australia, with plans to further extend the brand. Significantly, the brand also went offshore for the first time in 2022, with the opening of Vibe Singapore Orchard. 
Located opposite the leafy fringe of the Adelaide parklands, the hotel incorporates thoughtful interiors. Room types, including Premier Suites, Urban Retreat Rooms, Deluxe Rooms, and lead in Guest Rooms, all feature in-room photography from local artist, Alex Frayne, which adds to the quintessential South Australian experience at Vibe. In addition, the level one pool deck features a pool, spa, and sauna; whilst on ground level, Storehouse Flinders East (restaurant and bar), will showcase local produce.
  
For those looking to explore beyond the hotel, Vibe Hotel Adelaide is located within walking distance to iconic Rundle Mall, Central Market, Botanic Gardens, Hutt Street and Vardon Avenue.  Superbly placed for events, the Vibe Hotel Adelaide is also in a prime location for guests to experience events such as Adelaide Fringe Festival, VALO Adelaide 500 and WOMAD.
Ends.
What's in a name: Vibe Hotel Adelaide 
Link to Book: https://www.tfehotels.com/en/hotels/vibe-hotels/adelaide/
Images: https://www.dropbox.com/scl/fo/ykxgxhfzv9jle0qal34fr/h?dl=0&rlkey=sneedyic98gwpc40dpszz8iqf 
Lead in Rate: from $279 AUD
Opening Special: 20% OFF the best available rate. Room only.
FOR MORE INFORMATION CONTACT:
Jodi Clark - TFE Hotels (Director of Communications)
+61 499 900 658 / jclark@tfehotels.com
Rebecca Astier - Glasshouse Communications (PR Consultant working with TFE on the launch of Vibe Adelaide)
+61 417 667 042 / rebecca@glasshousecommunications.com.au
ABOUT VIBE HOTELS
Vibe Hotels are hotels designed to connect guests to their work, their fellow guests and the local area. Each has spaces and experiences that allow guests to be inspired, with innovative interior design in bright rooms and cool communal areas. Drink and dining offerings feature fresh and local, allowing guests to connect with their inner foodie. www.vibehotels.com
It's a Vibe: Our newest Vibe, Vibe Hotel Westmead is being developed in Sydney's western suburbs as part of the multi-million-dollar West Grove development in Sydney's western suburbs.

WHO ARE TFE HOTELS? 
TFE Hotels (TOGA Far East Hotels) is Australia's International Hotel Group - headquartered in Sydney and operating in Australia, New Zealand, Germany, Denmark, Hungary, Austria, Singapore… and opening in Switzerland in 2023.  TFE has a portfolio of seven hotel brands - A by Adina, Adina Hotels, Vibe Hotels, Quincy Hotels, Travelodge Hotels, Rendezvous Hotels and Collection by TFE Hotels which includes The Calile Hotel, The Hotel Britomart, Hotel Kurrajong and The Savoy Hotel on Little Collins, with more in the development pipeline.
TFE Hotels acknowledges the traditional owners of the lands we conduct business upon and pays our respects to Elders past, present and emerging.  We respect the Country itself, including its trees, animals, spirits, waters, skies, stars, and special sites.