Doors Open on Austria's First Adina Hotel
EUROPE: TFE Hotels will open the doors on its very first hotel in Austria with the launch of the 134-room Adina Hotel Vienna Belvedere next month - the first of five new Adina Hotels set to open across Europe this year.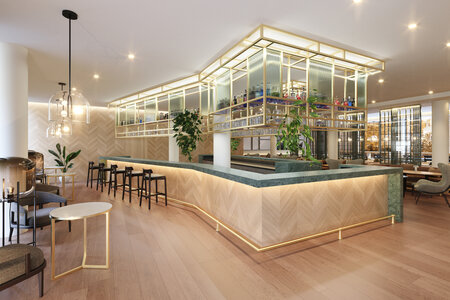 One of only seven hotels to offer a swimming pool in the historic Austrian capital, Adina Vienna Belvedere – developed by SIGNA Real Estate Management GmbH - will literally make a splash in Vienna's ultra-modern Quartier Belvedere when it opens on April 1.
"In recent years, we have invested extensively in increasing the experience, livability and design of our Adina Hotels," says Group Chief Operating Officer Chris Sedgwick.  "And, in the next 12 months, our guests can expect to see cutting-edge design and beautiful showpiece hotels opening across continental Europe including Cologne, Munich, Wiesbaden and Dusseldorf, followed by Stuttgart and Adina's debut in Switzerland in 2022," he said.
Adina Vienna Belvedere is close to Belvedere Palace and the new main railway station and boasts 115 studios, 17 one-bedroom apartments and two two-bedroom apartments over seven floors.  The ground floor of the hotel will feature public areas with ample natural light, including a lobby, bar, small shop and wellness area with a fitness room, sauna, and swimming pool. Business travellers will also have the option to access a lounge connected to a terrace for small meetings or events.
"TFE sees our Adina Hotel design concept as a decisive step towards diversifying the existing hotel market, offering discerning travellers a comfortable and stylish alternative to traditional hotels," Sedgwick said.
Roman Krüger announced as General Manager for Adina Hotel Vienna Belvedere
Drawing from more than ten years of experience in the Viennese hotel industry, Roman Krüger brings both a wealth of management experience and local knowledge to his role as GM at Adina Hotel Vienna Belvedere. Part of the Adina Europe family since November 2019, Krüger has previously held posts as Operations Manager at Max Brown Hotels and Front Office & Maintenance Manager at 25hours Hotels in Vienna.

"It is very exciting after weeks and months of planning and work to finally be able to welcome the first guests," he said. "My team and I are looking forward to establishing the Adina brand here in Vienna and successfully building up the hotel business." 

"With the addition of the studios and apartments, Adina offers the necessary security and freedom right now to be independent and flexible in self-catering, but at the same time to enjoy our service and comfort." 

Ends.
What's in a name: Adina Hotel Vienna Belvedere can be shorted to Adina Vienna Belvedere after first use.
Opening special: $109 EUR per night for stays in studio rooms between 1 April and 30 June 2021. This offer includes breakfast and a welcome gift on arrival.
Download word doc
Download Images
Website: www.adinahotels.com/en 
For more about Adina Apartment Hotels in Europe: https://press.adinahotels.com/all-information-about-our-hotels-at-a-glance
FOR MORE INFORMATION CONTACT:
Jodi Clark
TFE Hotels (Director of Communications)
+61 499 900 658 / jclark@tfehotels.com

Julia Fernandez-Pola
Adina Hotels Europe (Regional Marketing Manager)
+49 30 200 767 536 / jfernandez-pola@adina.eu

ABOUT ADINA APARTMENT HOTELS
The Adina brand comprises 36 Adina Apartment Hotels and Adina Serviced Apartments in Australia, New Zealand, and Europe. The former offers stylish apartment living with the services and amenities you'd expect from a hotel property including 24-hour reception, pools, free WiFi, intimate meeting spaces or gym facilities. By contrast, Adina Serviced Apartments offer fully equipped serviced apartments and offer on-call service, homely comforts, and comfortable living. Serviced Apartments are the ideal choice for those wanting a home away from home that's a perfect fit for one or more.