Feed Your Q-uriosity at Quincy Melbourne
MELBOURNE: Throwing open its doors on Melbourne's original laneway (aka the gastronomically famous Flinders Lane), Australia's first taste of the quirky-cool Quincy Hotel brand, out of Singapore – serves up sensory experiences for guests including an exclusive Antagonist Gin Dinner.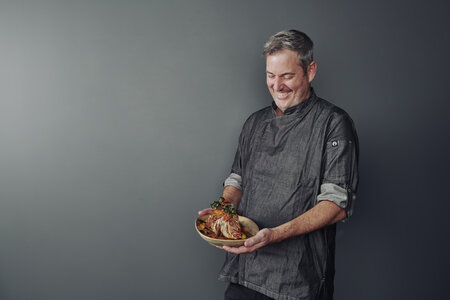 Built on individuality and fun, Quincy Melbourne fuses the eclectic buzz of Melbourne's laneway life with Southeast Asia's tantalising sights, sounds, and flavours under the watchful eye of Chef Adam Woodfield.
Truth be known, the food gods have long smiled on Chef Woodfield – recognised among Australia's most celebrated advocates and masters of Southeast Asian cuisine – now relishing in his 'dream role', heading up Quincy Melbourne's unique trio of foodie encounters. 
SingSong eatery offers bubble tea and coffee blends in the morning and Asian-inspired spritzes and bite-sized treats in the evening, flowing through the Lobby to outdoor laneway dining. You'll find zesty rooftop bites and cocktails with a lofty outlook over Melbourne's CBD at The Q bar and Club Lounge on Level 28 (shared by a glistening lap pool); and, for the pièce de resistance, Salted Egg, complete with bespoke bar and authentic South-East Asian menu, spanning the whole of Level one. 
Previously notching up accolades for venues of the ilk of Sydney's Jimmy Liks, Melbourne's Chin Chin and Hamilton Island's Coca Chu, Adam's on a mission to open hearts, minds and tastebuds to the power and provenance of 'life-changing' dishes he first fell in love with two decades ago.
The kind you'd normally expect to trek far and wide through places like Thailand, Vietnam, Laos, and Cambodia to discover – as he has, year after year, honing his skills in the creation of authentic, lip-smacking dishes. Minus the palate confusion of 'Asian fusion' or dumbed-down flavours.
"At Quincy Melbourne, we want to build a connection between immersive experiences, steeped in rich culture and tradition, and vibrant individuality of dishes that are true to origin," Adam said. 
"My dream is to bring back what Sydney was so famous for in the nineties and early 2000s. Authentic, fresh and deliciously robust cuisine, with its own story to tell. Something especially important for younger generations, who may never have experienced anything like the mind-blowing dishes I discovered – trying anything and everything – on travels through Southeast Asia.
"I'm super excited to get it in their mouths!"
Guaranteed to surprise and delight the most adventurous of palates, Adam's compiling his 'Hits & Classics', and a swag of new dishes he's itching to plate up – all made with fresh, locally-sourced and environmentally sustainable ingredients.
"Eel Betel Leaf is definitely going to be on every table," he said matter-of-factly. "This is a smokey-style dish, like you find near the lakes or rice paddies of Chiang Mai, where they catch and smoke fish themselves. Nice and fresh."
At Quincy Melbourne, what's equally extraordinary is the fact foodie adventures extend beyond dining experiences to bespoke in-house 'perks', matched to guests' individual tastes and dietary requirements… long before check-in. 
Everything from 'pillow menus' to DIY bubble tea kits and minibars stocked with kombucha, fresh coconut water and SE Asian flavoured chips. Nothing predictable or passé.
As Quincy Melbourne Hotel General Manager Christian Price explains, 'F&B surprises' season everything at the upper midscale property. 
For starters: arrival drinks that supersede check-in (requiring a simple QR scan); cooking and cocktail classes; fun kids' snacks (ask for a pool-side Magnum-inspired, choc-dipped calamansi ice cream!); and even gourmet dog treats, courtesy of SingSong, for laneway diners' 'best friends'. 
"We want every single person who walks through our doors to feel at home and have fun – to enjoy themselves and be themselves, without any expectations of them," Christian said.
"Perhaps you're waiting for a taxi in the laneway – I'll get you a little old-fashioned while you wait. It's about creating special moments and always delivering service before demand. Even, simple, off-the-cuff experiences."
For those who 'sleep over', another surprise awaits at Quincy Melbourne. Namely, room service with a twist or 'Tiffin service'! That is, the joy of indulging in three-course degustation dining, by the Salted Egg, delivered in a traditional three-tiered Tiffin box, finished off with a Quincy Sling. 
Dine 'your' way…
Salted Egg
Life is eternally sunny-side-up at this extraordinary dining den. Inspired by Quincy's focus on individuality, the Salted Egg revels in its own satellite footprint (and phone number), taking over the whole of Level 1.
'Q-uriously' accessed by a winding, golden staircase in the Lobby, the exclusively inclusive L-shaped restaurant (hint: L is for the 'Love' of authentically vibrant Southeast Asian dishes) features a wrap-around bar facing King Street (perfect for people watching), and 'comfort' grazing. Think blue velvet and leather couches, and orange chairs – all designed for comfort, so nothing detracts from the cuisine.
The Q
The Q earns a standing ovation as Quincy Melbourne's exclusive Club Lounge during the day, before turning up the glam as a publicly accessible rooftop terrace bar by night. 
Blessed with 360-degree views of Melbourne CBD, all the way to the Yarra River and Port Phillip Bay, The Q is all about embracing the city's rooftop culture (sharing Level 28 with a glistening lap pool), specialising in tongue-tingling cocktails (Quincy Sling* anyone?), bar bites and share plates. 
Think zesty, oh-so moreish teasers of what big sister, the Salted Egg, has in store.

*Quincy Melbourne's signature Quincy Sling is a luscious mix of gin, Dom Bénédictine, fresh lime juice, and a cherry on top. Guaranteed to leave you shaken and stirred!
SingSong
Two worlds deliciously collide at this eclectically upbeat eatery, combining Melbourne's café culture with the buzz of hawker markets found in Bangkok, Bali, or Ben Thanh. 
Flowing through the Lobby to outdoor laneway dining, complete with its own bar, SingSong promises something for everyone, anytime: breakfast/lunch/dinner, all-day grazing or grab-and-go.
Start your day right with a bubble tea, Vietnamese iced coffee, or gourmet Bánh Mì. 
Best of all, sweet tooths can indulge guilt-free in an array of unique Southeast Asian pastries, exclusively supplied to SingSong thanks to Quincy Melbourne's support of small ventures launched by 'visa workers' unable to access government assistance during COVID-19.
A Match Made in Gin Heaven
It's no secret that Melbournites love to shop local, so Quincy Melbourne, has teamed with local distillers, Antagonist Spirits, to create a full sensory experience – an exclusive gin that will be launched during a three-course dinner at Salted Egg in the city's newest entertainment precinct.
Devised and distilled in Brunswick using a wheat base produced by Australian farmers, the gin exhibits a SE Asian flavour profile - a nod to Quincy's Singaporean heritage and the colourful style of the brand.  
Gin lovers can expect a drink that's bright, fragrant, easy drinking and delicious with a blend of softer botanicals – Lotus Flower, Lemon Myrtle, Orris Root, Angelica, Coriander Seed, Calamus Root, Cassia Bark and Orange peels – and a stronger juniper backing.
"Just like wine, gin tends to be able to display a 'sense of place and attitude' ultimately providing consumers with a story to experience along with a great product," says Chef Adam Woodfield. 
He and his talented team have crafted a mouth-watering Asian-inspired menu to show the gin to its best advantage and will unveil it during a three-course dinner on June 11 at Salted Egg, on level 1 of the Quincy hotel.
According to the Chief Antagonist, Darren Ivey, the collaboration with Quincy was born out of a shared passion for gin and a desire for local businesses to support each other during the pandemic.
"We saw an amazing opportunity to create a drink inspired by the venue and the atmosphere," he said. "So, we crafted a gin to provide a seamless fit between atmosphere, views, flavours, food and drink." 
"Quite simply, the only way to taste the gin is to enjoy it in the place it was made to be enjoyed." 
Tickets to the tasting and dinner are priced at $95 per person. Guests will enjoy a G&T on arrival followed by a tasting of local Antagonist gins, plus a three-course dinner experience perfectly matched with gin cocktails. Doors open from 6pm. Purchase tickets here.
Kol Gin Launch with Antagonist Spirits
Event Images: https://spaces.hightail.com/receive/Bjnxzk7yfy
What's in a name: Quincy Hotel Melbourne can be shortened to Quincy Melbourne after first use.
Images: https://spaces.hightail.com/receive/TMOxZp9g8u/amNsYXJrQHRmZWhvdGVscy5jb20=\
Website: https://quincymelbourne.com/
Lead in Rate: Rooms start from $250
Opening Special: 20% off Best Available Rate.
FOR MORE INFORMATION CONTACT:
Jodi Clark
TFE Hotels (Director of Communications)
+61 499 900 658 / jclark@tfehotels.com

MORE ABOUT QUINCY
The Quincy brand by Far East Hospitality curates service offerings and exceptional experiences for curious urbanites that cater to the quirky sense of individuality within modern travellers of today.
The Quincy experience begins the moment each guest arrives – but has been planned even before they leave home. Our team had a keen understanding of the kind of guest most likely to be drawn to Quincy and goes the extra mile to register each guest's individual preferences. The result is a dose of 'anticipatory hospitality' – the art of discerning and meeting your needs before they are raised – and a stay unlike any other: One where the senses are engaged and memories are minted, in signature properties located in popular lifestyle districts.
WHO ARE TFE HOTELS?
TFE Hotels (Toga Far East Hotels) is an international hotel group headquartered in Sydney and operating in Australia, New Zealand, Germany, Denmark, and Hungary. It has a portfolio of five established hotel brands - Adina Hotels, Vibe Hotels, Travelodge Hotels, Rendezvous Hotels and TFE Hotels Collection and is pleased to debut A by Adina and introduce Quincy Hotels to Australia in 2021.