Floral Art Masterclass with Azumi and Salted Egg - Saturday, August 27
MELBOURNE: If there was a positive to the pandemic, it was that the lockdowns led many people to discover the joy of creative expression, in everything from crochet to ceramics, watercolour to woodwork.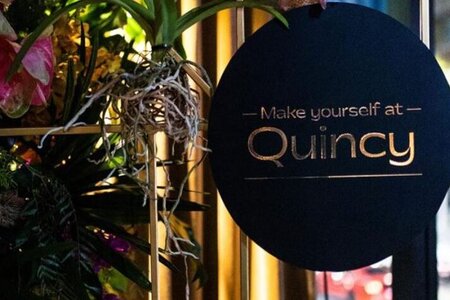 Quincy Melbourne's 'lunch and learn' afternoon on Saturday August 27 invites guests to explore another - the noble Japanese art of Ikebana, floral arrangements traditionally used to decorate temples and the tokonoma (alcove) of a Japanese home.
Born in Osaka, the daughter of a master of the ancient art, your teacher for the day is Azumi Ishikawa, owner of bespoke floral studio byAzumi in South Yarra. Azumi's mission is to gently guide our guests through the principles of Ikebana: finding form, movement, balance, and harmony via the elements of line, colour, and mass. 
Over one enchanting, relaxed afternoon, guests will be provided with all the flowers and materials to make their own stunning, contemporary arrangement and learn the skills to continue designing and creating impressive Ikebana at home.
Lunch will be provided by the equally creative Salted Egg team, with a Thai-inspired tasting menu by Executive Chef Adam Woodfield. Dishes include pomelo betel leaf with caramelised coconut, chilli, and mint; Yellow curry of spiced pumpkin with shallot, Thai basil, and pickled ginger; Raw kingfish with green nahm jim, taro chips, finger lime and shiso; Roasted duck stir fry with crispy egg noodle; and Chef's special son-in-law eggs with yellow bean sauce, green mango, and herb salad.
Join us at Quincy for this deliciously creative afternoon with Azumi Ishikawa and Wildflower Wines and learn a new artform that's both inspiring and useful.  Free-flowing Prosecco, from the aptly named Wildflower Wines from Western Australia, will keep things sparkling.
To find more about this and other Quincy events, visit https://quincymelbourne.com/whats-on-melbourne/.
THE DETAILS:
When: 27th August from 12pm for 2.5 hours
Price: $169pp includes a two-hour master class with free-flowing bubbles and tasting menu.  All flowers and materials needed to make your arrangements and written materials.
The workshops are perfect for both beginners and experienced students, who have attended other floristry or plant care classes and are looking to further their experience in the field.
How to Book: Via Open Table. 
Ends.
FOR MORE INFORMATION CONTACT:
Jodi Clark - TFE Hotels (Director of Communications)
+61 499 900 658 / jclark@tfehotels.com
MORE ABOUT QUINCY
The Quincy brand by Far East Hospitality curates service offerings and exceptional experiences for curious urbanites that cater to the quirky sense of individuality within modern travellers of today.
The Quincy experience begins the moment each guest arrives – but has been planned even before they leave home. Our team had a keen understanding of the kind of guest most likely to be drawn to Quincy and goes the extra mile to register each guest's individual preferences. The result is a dose of 'anticipatory hospitality' – the art of discerning and meeting your needs before they are raised – and a stay unlike any other: One where the senses are engaged and memories are minted, in signature properties located in popular lifestyle districts.
WHO ARE TFE HOTELS? 
TFE Hotels (TOGA Far East Hotels) is Australia's International Hotel Group - headquartered in Sydney and operating in Australia, New Zealand, Germany, Denmark, Hungary, Austria, Singapore… and opening in Switzerland in 2023.  TFE has a portfolio of seven hotel brands - A by Adina, Adina Hotels, Vibe Hotels, Quincy Hotels, Travelodge Hotels, Rendezvous Hotels and Collection by TFE Hotels which includes The Calile Hotel, The Hotel Britomart, Hotel Kurrajong and The Savoy Hotel on Little Collins, with more in the development pipeline.