G'day, Wiesbaden! Adina to open in Popular German Spa Town
GERMANY: TFE Hotels' 126-key Adina Apartment Hotel Wiesbaden will throw open its doors on November 4. The hotel is the first Adina property in the greater Frankfurt spa region and one of four new Adinas to open in Europe this year.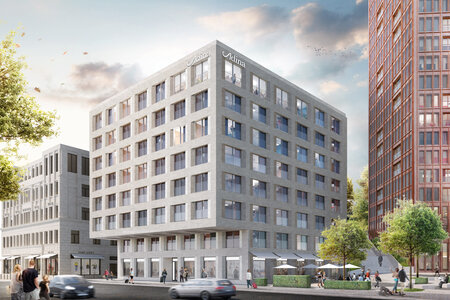 TFE Hotels' Group Chief Operating Officer, Chris Sedgwick, said the new Adina Wiesbaden was also the first apartment-style hotel to open in the Wiesbaden region - one of the oldest health spa destinations in Germany - and a welcome addition to the growing European portfolio.

"As the first hotel to feature fully equipped apartments in Wiesbaden, Adina offers holidaymakers an attractive mix of activities - the active thermal springs and the Rheingau vineyard area - alongside all hallmarks of the Adina brand like comfort and space to stretch out," he said. "The city is also an important trade fair and business location which makes the market mix perfect for an apartment-style hotel."

Centrally located on the prestigious Wilhelmstraße and near the Kurhaus Wiesbaden (the social centre of the spa town), the Adina Wiesbaden features 126 studios and apartments each with fully equipped kitchens, washer-dryers, and a separate living and working area. 
In addition to the Cloud 7 rooftop bar on the seventh floor, the wellness area with fitness room, pool, sauna, and experience shower will offer plenty of relaxation options.

"Adina Wiesbaden is the third Adina Hotel in the Rhine-Main area, joining our centrally located Adina Frankfurt Neue Oper and Adina Frankfurt Westend properties" Sedgwick said. "The property not only provides TFE with an attractive and strategic location in an economically significant area but offers a great alternative for those guests seeking apartment-style stays in the Greater Frankfurt region."

This year, TFE Hotels has opened four new Adinas - Vienna (April), Cologne (July), Munich (Oct), and Wiesbaden (Nov) - with plans to extend their footprint to Düsseldorf (2022), Stuttgart (2022) and Geneva (2023). Closer to home, the Australian-based company has launched A by Adina Canberra (January), Quincy Hotel Melbourne (March) and A by Adina Sydney (April). Travelodge Hurstville, in the greater Sydney area, is slated to open in Q4 this year.

Ends.
What's in a name: Adina Apartment Hotel Wiesbaden can be shorted to Adina Wiesbaden after first use.
Images: https://spaces.hightail.com/receive/ayKbHj6Pds
Website: https://www.adinahotels.com/en 
Opening Special: Stays available from 99 euros in a Studio Apartment. Conditions apply.
For more about Adina Apartment Hotels in Europe: https://press.adinahotels.com/all-information-about-our-hotels-at-a-glance
FOR MORE INFORMATION CONTACT:
Jodi Clark
TFE Hotels (Director of Communications)
+61 499 900 658 / jclark@tfehotels.com

Julia Fernandez-Pola
Adina Europe (Regional Marketing Manager) 
Tel: +49 (0)30 863 298 650 / jfernandez-pola@adina.eu
www.adinahotels.com/en
ABOUT ADINA APARTMENT HOTELS
The Adina brand comprises more than 40 Adina Apartment Hotels and Adina Serviced Apartments in Australia, New Zealand, and Europe. The former offers stylish apartment living with the services and amenities you'd expect from a hotel property including 24-hour reception, pools, free WiFi, intimate meeting spaces or gym facilities. By contrast, Adina Serviced Apartments offer fully equipped serviced apartments and offer on-call service, homely comforts, and comfortable living. Serviced Apartments are the ideal choice for those wanting a home away from home that's a perfect fit for one or more. 
WHO ARE TFE HOTELS?
TFE Hotels (Toga Far East Hotels) is an international hotel group headquartered in Sydney and operating in Australia, New Zealand, Germany, Denmark, and Hungary. It has a portfolio of five established hotel brands - Adina Hotels, Vibe Hotels, Travelodge Hotels, Rendezvous Hotels and TFE Hotels Collection and is pleased to debut A by Adina and introduce Quincy Hotels to Australia in 2021.