Global Debut of 'And...Breathe' Campaign
SYDNEY: TFE Hotels has cemented its positioning of A by Adina as a premium brand with the release of a new high-end marketing campaign designed to evoke an emotional connection with guests.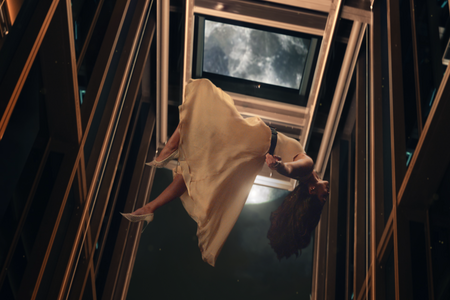 The 'And...breathe' campaign – designed by We Are Unity in collaboration with TFE Hotels – launches this morning  and offers a glimpse into the world of A by Adina and brings to life the feeling of staying at the hotel - the lightness of step and the experience of everything around you falling seamlessly into place. 
TFE Hotels Director of Marketing, Katia Giurtalis, said the brand film, which was shot on location in Australia's first hotel sky lobby at A by Adina Sydney, aims to position A by Adina firmly in the premium brand space.
"This premium apartment hotel brand marks the evolution of our much-loved Adina Master brand," she said. "Our guests are looking for experiences, not just transactional stays, and we wanted to convey the emotions - the feeling of lightness and escapism when you leave the hectic world behind and arrive at an A by Adina, rather than showcasing the product itself."
"And for our very first campaign for this brand, we wanted to signal that A by Adina is something new for travel and for TFE Hotels… and I think we've done that."
Sydney based, We Are Unity, developed the A by Adina brand in a highly collaborative process with TFE Hotels' senior executives who, in the process, saw an opportunity to define a new market category of 'Hotel Living'* for the premium brand that explained the perfect balance between a hotel and residential experience.
"Traditionally apartment hotels have been built with a residential feel, but that's changing," TFE Hotels CEO, Antony Ritch said. "What was missing was the "underlying experience" for those chasing a premium stay – that feeling you get when you stay in a place where people know you and, most importantly, know how you like to stay." 
"That's hotel living and what you can expect when you stay at an A by Adina property in Sydney or Canberra."
The brand campaign features 15 and 30 second edits of the film that will run on television, digital, social media, Qantas Inflight entertainment, Westfield premium floors and across TFE Hotels' owned channels including abyadina.com. A print campaign will also run nationally.
Ends.
FOR MORE INFORMATION CONTACT:
Jodi Clark - TFE Hotels (Director of Communications)
+61 499 900 658 / jclark@tfehotels.com
Campaign Images
A by Adina Sydney and A by Adina Canberra Hotel Images
Campaign Video on YouTube
MEET A BY ADINA
While every A by Adina location has been thoughtfully chosen to blend seamlessly within its surroundings, there's always a contemporary Australian twist at the heart of every stay. Here, architectural finishes meet thoughtfully designed interiors. Team members are known as Curators, treating each guest visit as another opportunity to surprise and delight. 
Destination A takes the hotel guest experience to the next level with the best views in-house and not necessarily on the highest floor. Here, guests can expect designer amenities, clever use of interior design, flexible check-in and out, and smart speakers - complete with an A by Adina curated playlist – and luxurious robes in the apartments as standard, but there are also little surprises that make every day a bit more luxe. The reimagining of the nightly Daily Pause sees a stunning grazing box served in-room around dusk, along with a $25pp credit per person from the in-room mini bar.
There's even an Amenities on Demand concept, which allows guests to purchase and take home loved items or borrow during their stay. Whether you'd like to try a softer pillow from the menu, or you've forgotten your bow tie for that special occasion, Destination A is designed to amplify any stay.  https://abyadina.com/
Fast Facts: A by Adina Canberra – opened February 2021 
130 apartments 
The Bates Smart-designed hotel is the centrepiece of Capital Property Group's much-anticipated $300m mixed-use precinct, Constitution Place.
Fast Facts: A by Adina Sydney – opened April 2021
194 apartments with onsite bars and restaurants
Central George Street CBD location
Owned by TFE Hotels, A by Adina Sydney has become a landmark feature on Sydney's skyline with the 21st floor Sky Lobby sitting within the building's golden crown.
*MORE ABOUT HOTEL LIVING
With the launch of the new A by Adina brand in 2021, TFE Hotels has also carved out an entire category 
within the premium hotel category, known simply as, Hotel Living. Different to the existing concepts of Apartment Hotels, Hotel Residences or All Suites, the premium A by Adina guest experience offers a curated approach that allows corporate and lifestyle travellers to enjoy the best of the city – on their terms. Think the luxe factor of included designer amenities and hotel services, combined with a laid-back approach that gives guests all the freedom and flexibility to enjoy (what feels like) their own stylish city pad for as little, or as long as they like.
ABOUT TFE HOTELS
TFE Hotels (Toga Far East Hotels) is an international hotel group headquartered in Sydney and operating in Australia, New Zealand, Germany, Denmark, Hungary, Austria… and opening in Switzerland in 2023. It has a portfolio of five established hotel brands - Adina Hotels, Vibe Hotels, Travelodge Hotels, Rendezvous Hotels and Collection by TFE Hotels including The Calile Hotel, The Hotel Britomart, Hotel Kurrajong and The Savoy Hotel on Little Collins, and debuted A by Adina and Quincy Hotels in Australia in 2021.