Hot Hotel Openings in 2020
AUSTRALIA AND NEW ZEALAND: As we begin the downward march towards the end of the year and 2020, TFE Hotels has rounded up Australia and New Zealand's hottest hotel openings for 2020. 
SLIPPING IN FOR 2019
VIBE HOTEL DARLING HARBOUR, 319 Sussex Street, Sydney CBD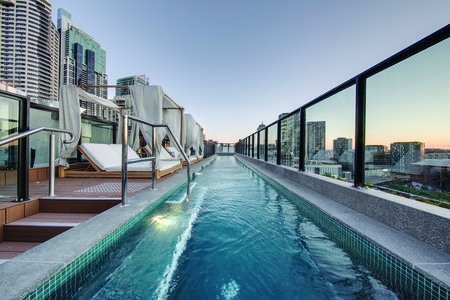 The newly opened Vibe Hotel Darling Harbour, complete with New York-style interior design across its 145 guest rooms and suites, is making a splash on the upper end of Sydney's Chinatown and in Darling Quarter, due in part to its rooftop sunset pool and to the Manhattan-inspired design.
Architects and interior designers WMK drew inspiration from the history and architecture of the surrounding neighbourhood in their contemporary design. The rooms feature an array of lifestyle features including curved rainfall showers, embedded window day lounges and retro bathroom fixtures. 
The hotel is already adding to the growing vibe of the area, with an all-day dining restaurant, fully equipped gym, meeting rooms, rooftop pool, restaurant and bar, and an urban-styled grand facade entry. 
ADINA APARTMENT HOTEL BRISBANE, 171 George Street, Brisbane CBD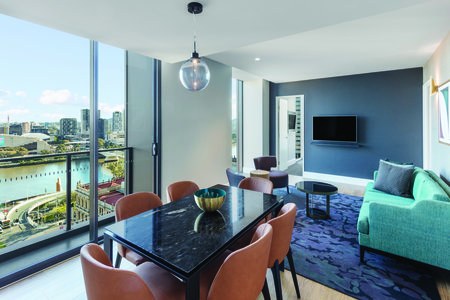 The Adina Apartment Hotel Brisbane has taken its rightful place amongst Brisbane's best and brightest.  In a sea of new hotels in the river city, this stunning flagship property offers a real point of difference in Brisbane with its heritage features, and contemporary and comfortable apartments, many with full views of the Brisbane River.
•    Nestled in the Heritage-listed former Queensland Government Savings Bank building, The Adina Brisbane has 220 rooms and suites and includes an extra five levels designed to complement the historic building with expansive views and balconies.
•    There are very few heritage interiors like the ground floor of the Adina Brisbane that can boast such a high level of original fabric and careful restoration. The building was the first high rise government office building in the city; one of the first steel framed buildings in Brisbane and was one of the tallest buildings in the city when first constructed.
•    TFE Hotels and TKD Architects maintained the integrity of the building through a respectful four-year restoration process from 2014. Collectively, they have paid tribute to its history and stunning architecture, which formed the inspiration and influence for internal features and furnishings. 
•    The gym sits alongside a heated pool, which is a vision on its own - enclosed on each side but open to the sub-tropical Brisbane climate.
From the moment guests step inside this hotel, they will be struck by the impressive double height decorative ceilings with ornate ceiling roses, and the original timber panelled walls that reflect the opulence of the building that was first constructed more than a century ago.   
You can bank on a good night's sleep once you've checked in, after all the hotel's reception is the original banking chamber!  Then, it's simply a matter of following the marble checkerboard floors to the apartment hotel, which is accessed by elegant lifts. 
Spacious apartments on the upper levels boast stunning views over the Brisbane River, each with a kitchen and all the essentials to cook delicious meals like you do at home while  full hotel services including a 24-hour reception and fitness centre offer added convenience.
The decadence continues when it comes to dining in.  With recent nominations in The Courier Mail 'Restaurant of the Year' awards, the stylish Donna Chang restaurant (on reception level) gives a gentle nod to Sichuan flavours and authentic Cantonese cuisine, and the Boom Boom Room, on the lower level, draws inspiration from bygone musical eras and soulful acoustics to deliver another striking experience. 
Located on the corner of George and Elizabeth Streets, the Adina Brisbane is  within easy walking distance to the Brisbane Convention and Exhibition Centre, the Queensland Performing Arts Centre in Southbank and the Queen Street Mall; is well positioned for easy access to the $3 billion Queen's Wharf redevelopment; and is ideally located for both business and leisure stays.

HOT HOTELS TO EAT, STAY, PLAY AND MEET IN - 2020
VIBE HOTEL MELBOURNE, Flinders Street, Melbourne CBD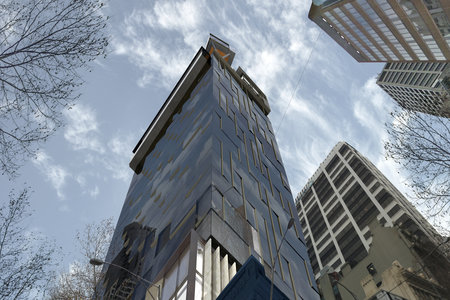 Caydon Property Group's new Vibe Melbourne Hotel blends metal accents and raw materials to create a dramatic but inviting feel on entry and the hotel's architectural eras blend seamlessly, allowing an immediate connection between past and the future.
The stunning new 24-storey glass fronted hotel and accommodation tower boasts 206 hotel rooms, an indoor heated swimming pool and gym, ground floor lobby and restaurant, plus 200 square metres of conference facilities. The building offers uninterrupted Yarra River and Southbank all the way to Port Phillip Bay and is within walking distance to Flinders Street Station, the Crown complex and Southbank.  The property's dual frontage offers also offers city views northwards and to the south east of the city. 
The original building was built in 1873 in the Renaissance Revival style and was called the Cobden Building, serving as offices for the maritime trade. In 1955 clothing manufacturer and retailer Fletcher Jones bought the building and it became an iconic fixture for Melbourne shoppers. With the launch of Vibe Hotel Melbourne, the building because a please to eat, stay, play, meet and shop!
ADINA APARTMENT HOTEL MELBOURNE SOUTHBANK, 55 Southbank Boulevard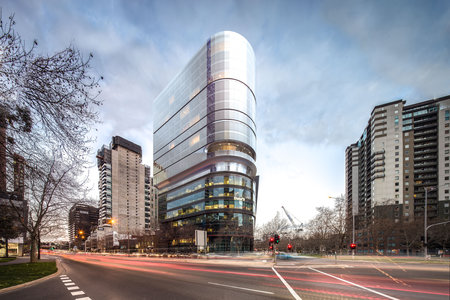 The striking Bates Smart design of the Adina Apartment Hotel Melbourne Southbank - with its ground-breaking construction technology and sleek curved glass curtain facade - will fast become a landmark for Melbourne's Southbank precinct. 
The hotel's vast curved balcony will provide views from a spectacular pool area and gym area towards the Melbourne CBD. In true Adina style, spacious, contemporary apartments will provide an ample living space that's ideal for travellers who enjoy city living and memorable dining, arts and sporting experiences. 
Hume Partners Property (formerly Bennelong Property) will add 10 new floors to an existing six-storey office building to form this 220-apartment hotel, using relatively new mass timber construction technology that will see the project attain new levels in sustainable design. On opening, the Adina Southbank Melbourne will be one of Australia's tallest timber buildings. 
The site at 55 Southbank Boulevard nestles between the CBD, vibrant St Kilda Road, and the parklands surrounding Royal Botanic Gardens.
THE HOTEL BRITOMART AUCKLAND, Corner of Gore Street and Galway, Auckland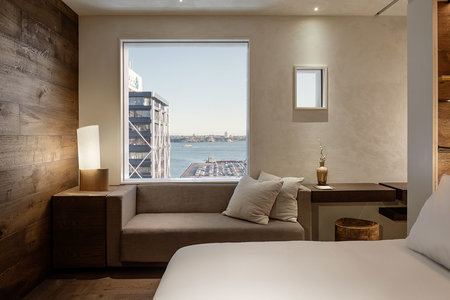 New Zealand is about to open its first 5 Green Star Design hotel - the aptly named Hotel Britomart Auckland. Warm, tactile and thoughtfully crafted, The Hotel Britomart is at the heart of Auckland's most vibrant downtown waterfront neighbourhood, a nine-block precinct bustling with energy and contrasts.
An unforgettable structure designed inside and out by Cheshire Architects, The Hotel Britomart offers guests a full immersion in the best of Auckland from the moment they check in: all of it is just a few easy steps from the front door. 
The project will include the refurbishment and restoration of the adjoining Masonic and Buckland heritage buildings. The finished Hotel Britomart Auckland will boast 99 rooms and five "Landing Suites" offering some of the city's most luxe accommodation. Three of these will boast generous outdoor sky gardens.
ADINA APARTMENT HOTEL SYDNEY, 280 George Street Sydney CBD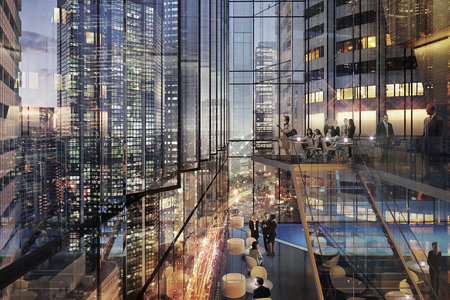 ABOVE AND BEYOND:  Sydney will have a new drawcard attraction when a stunning new JPW Architect-designed apartment-style hotel opens in 2020. With interiors by the Carr Design Group, The Adina Apartment Hotel Sydney will take in the lights of the city from a restaurant and bar on Level 22 while a sky lobby and reception will be on Level 21, alongside a gym and pool area. 
Located at 280 George St, next to Australia Square, the hotel will boast 194 keys, comprising eight two-bedroom apartments, 104 one-bedroom and 82 studio apartments and easy access to Sydney's laneway communities.
ADINA APARTMENT HOTEL CANBERRA, Constitution Place and London Circuit, Canberra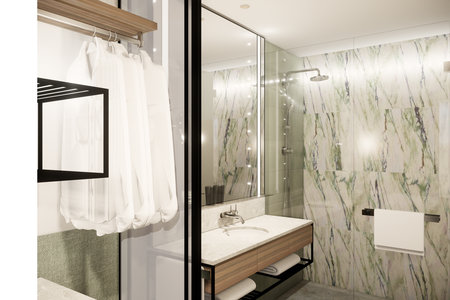 When it comes to contemporary design, the Adina Apartment Hotel Canberra leads the pack with 132 apartments forming part of an exciting $300 million development by Capital Property Group. 
Two purpose-built buildings will set a new standard for the Capital in environmental design, combining offices, cafes, restaurants and retail outlets at the corner of Constitution Place and London Circuit. A "Theatre Lane" will form a new foodie and retail lifestyle precinct set to enhance the city centre. The hotel was designed by Bates Smart, who have won multiple awards from Master Builders Association and Architects Institute of Australia for TFE Hotels' Vibe Hotel Canberra Airport. 
Typical of Adina Hotels, the new hotel will combine spacious apartment living with 24-hour reception, room service, service provided by knowledgeable concierges and a well-equipped gym.
ADINA APARTMENT HOTEL WEST MELBOURNE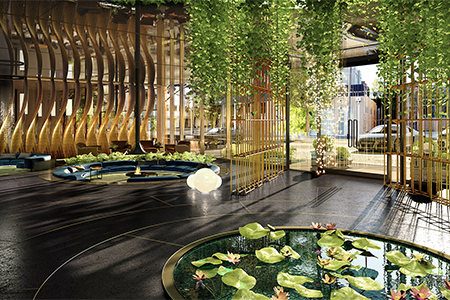 Trenerry Property is creating a new concept in luxury urban hotels with a $350 million development that is set to become the new "hub and heart" of Melbourne's redeveloping West End, with five buildings among sculpted parklands.
The 92-apartment Adina Apartment Hotel West Melbourne will occupy seven levels in one of the buildings with an exquisite design that incorporates elements of the rainforest and the moon, plus neon stylings of a futuristic Tron setting. The wellness centre will have space for a massage studio, yoga pod, spa, beauty parlour and treatment pods for wellness innovations, while an outdoor spa has resort style seating among the nature and meditation garden. 
A 25-metre glass-backed indoor lap pool and spa will have its own lounge area with food and drinks service. Guests and residents will be able to design their own lifestyle, combining shopping with visits to West End's day spa, 50-seat cinema or its nine bars and restaurants – all without leaving the precinct.
 
VIBE HOTEL HOBART, Argyle Street, Hobart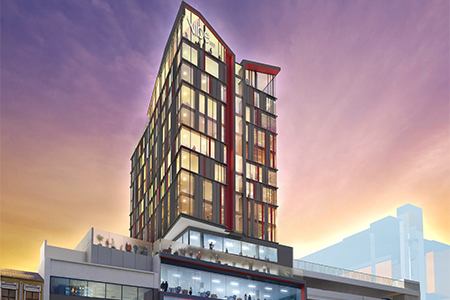 A new hotel is set to open its doors in the centre of Tasmania's capital, as part of a mixed-use development by Raadas Property and designed by Hobart firm Xsquared Architects. The Vibe Hotel Hobart will be located on prime position on Argyle Street, which leads down to Hobart's historic waterfront and Salamanca Place, and is close to the city's retail and business centre. 
The new development will incorporate retail and hospitality space on the ground floor and will have four floors dedicated to commercial offices and ten floors comprising 142 hotel rooms and suites, with a pool, gym, restaurant and bar and conferencing space. 
The hotel is close to the State and Federal government departments and some of Hobart's largest corporate premises and opposite Hobart's main public and private hospitals. The hotel will be well placed to take advantage of Tasmania's tourism boom and its surge of tourism developments to meet the demand from the ever-increasing number of domestic and international visitors.
TRAVELODGE HOTEL WYNYARD QUARTER, Auckland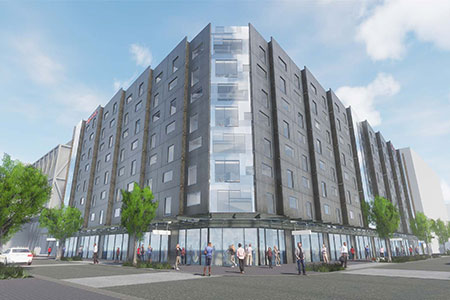 Auckland's fast-developing Wynyard Quarter is home to one of New Zealand's largest urban regeneration projects, with the striking Travelodge Hotel Wynyard Quarter Auckland part of a modern development of six new buildings by energy, transport and infrastructure investor Infratil.
The six-story, L-shaped hotel will offer travellers 154 rooms at this state-of-the-art property, bringing guests closer to the must-do-, must-see and must-eat places of central Auckland. On-site facilities include a café/restaurant, allowing guests to enjoy a meal only steps away from their room. Those wanting to venture out to explore New Zealand's largest city will have a variety of choices – the elegant North Wharf drinking and dining precinct is only a stone's throw away. 
The hotel's interior will feature a range of textures and colours, with a stylish mosaic in the reception and a carefully curated mixture of grey glass, brass and drift feather drapery throughout the hotel to add a modern edge. This overall experience will be housed in the contemporary architecture of the hotel, bringing a fresh new property to the Auckland hospitality scene.
 
Ends.
Download Images here
Download Word Doc
FOR MORE INFORMATION CONTACT:
Jodi Clark
TFE Hotels (Public Relations and Communications)
(02) 9356 1048 / jclark@tfehotels.com
 
WHO ARE TFE HOTELS?
TFE Hotels (Toga Far East Hotels) is an international hotel group operating in Australia, New Zealand, Germany, Denmark and Hungary. It has a portfolio of five established hotel brands - Adina Apartment Hotels, Vibe Hotels, Travelodge Hotels, Rendezvous Hotels and TFE Hotels Collection.