Introducing TFE Hotels' Totally Tassie Vibe
HOBART: The brand-new Vibe Hotel Hobart promises a Tassie immersion like no other, feeding a growing global appetite for authentic experiential travel.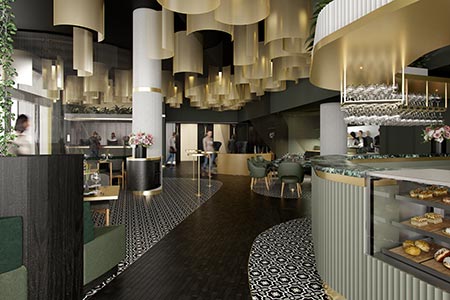 Opening its doors in November, TFE Hotels' first Vibe lifestyle property in Tasmania –  ranked high on the world's 'must-see' bucket list – is guaranteed to surprise and delight visitors and locals alike. 
Taking its cue from Tasmania's natural beauty, rich history, and global reputation as a deliciously pure and disarmingly avant-garde destination (home to hip winter festival Dark MOFO and New Year's drool-factor Taste of Tasmania), Vibe Hobart sets a precedent for experiential city breaks on two fronts.
First up, it leads the welcome revitalisation of Hobart's CBD; the oldest sector of Australia's second-oldest city, dating back to 1804. 
Ideally situated on Argyle Street – 500m from Hobart's iconic waterfront, packed with fish punts and, on Saturdays, the carnival atmosphere of world-famous Salamanca Markets – this upscale hotel is already turning heads for its striking façade. A 15-storey masterpiece, punctuated by dramatic floor-to-ceiling windows, colourful feature fins and random vertical panels.
In the words of Vibe Hobart's Hotel Manager, Hammond Cardon, the 142-room hotel provides an edgy addition to Hobart's skyline. It also doubles as the centrepiece of the city's first mixed-use development.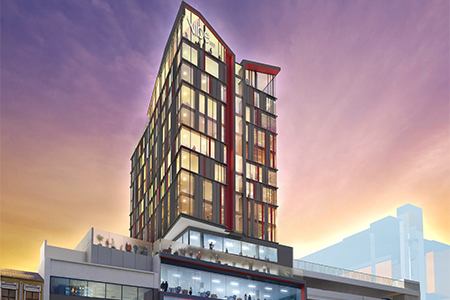 Inspired, in part, by London's architecturally acclaimed Bosideng building, Vibe Hobart's eclectic vibe is arguably more MONA (aka the world's most intriguing Museum of Old and New Art) than the old-world charm, echoed in Georgian sandstone warehouses on Salamanca Place. 
Truth be known, it is a bit of both. As owner and developer Annalisa Doedens explains, the second reason the hotel sets a precedent as a locally immersive destination stems from the fact it breathes new life into the city's past, reinvigorating memories otherwise lost to history.  
"An archaeological survey of the site had to be done and we soon realised it was the location of Hobart's very earliest homesteads," Annalisa says of the CBD plot, located 20m from the banks of the now subterranean Hobart Rivulet, which, until the 1860s, provided the main source of fresh water to the original colonial settlement. Today, intrepid wanderers can venture into the city's underbelly on a 2km Hobart Rivulet Walk.
In an unexpected twist, the survey revealed Vibe Hobart's site started life as the colonial house (circa 1820) of a man dubbed 'the father of Tasmania', Anthony Fenn Kemp. A merchant and former soldier, famed as a rascal, rebel, monopolist, acquaintance of George Washington, father of 18, and chronic stirrer – not least being for his involvement in Australia's only military coup, the 'Rum Rebellion' of 1808. 
To Annalisa's delight, the investigation also unearthed a tonne of old bricks, handmade by convicts and still bearing their thumbprints. "I genuinely love and feel a connection to those bricks," she said. "When you touch them, you feel like you're transported back to that world, and you know the last person who put their thumb in that brick lived all those years ago. How cool is that?"
So cool, in fact, that a column of convict bricks takes pride of place in Vibe Hobart's Lobby, framing one side of a log fireplace. Annalisa hopes guests will 'feel the need to touch the bricks and go back in time'.
In the drop-off laneway, outside, thought-provoking etched metal panels pay further testament to the site's past. Among them, an etching of Hobart Town in the early 1800s, alongside a portrait of Mr Kemp, who lived to the ripe age of 95, and is now buried at Battery Point. A heritage precinct filled with 19th century sandstone and weatherboard cottages, sharing laneways with some of the city's best cafes, reflecting Hobartians' obsession with coffee.
The colonial backstory serves as an entrée of sorts to the site's next incarnation as 'The Belvedere' – a beloved Art Deco dance hall that shaped the city's social fabric from the late 1930s.
"The Belvedere was hugely important to locals and a lot of people I've spoken to said their parents met there," Annalisa said of the dance hall on the upper level of Hobart's Metro Motors building; 
demolished in the mid-1950s. 
Paying homage to its memory, Vibe Hobart's Lobby heroes Art Deco touches, including green marble, brass trimmings, fluted columns, and, for its pièce de résistance, a high-end restaurant, aptly called 'The Belvedere'. 
Artfully signposted by chain art – featuring a 7.5m x 3m Kriskadecor panel, translated from a photo of patrons at The Belvedere – the restaurant has already set local tongues wagging with the promise of 'best of' Tasmania's paddock-to-plate culinary delights.
"Vibe Hobart, by its very design, gives a physical and emotive nod to everything people love about Tasmania's most exciting city," says TFE Hotels Area General Manager, Stephen Moore. "There's a powerful sense of arrival as soon you walk in. The WOW-factor of a full-service hotel that will never leave guests questioning where they are. This is Tasmania at every touch point."
Ends.
What's in a name: Vibe Hotel Hobart (Can be shortened to Vibe Hobart after first use)
Website: https://vibehotels.com/hotel/hobart
Images: https://spaces.hightail.com/receive/ugTTfSQwB6
Lead in Rate: $183 (with opening special)
Owner: Raadas Property 
FOR MORE INFORMATION CONTACT:
Jodi Clark
Head of PR – TFE Hotels
+61 499 900 658 / jclark@tfehotels.com
https://www.tfehotels.com/en/about/media-lounge 
Beau Kassas, Communications Lead – Klick X 
+61 488027 555 / beau@klickx.co
ABOUT VIBE HOTELS
Vibe Hotels are hotels designed to connect guests to their work, their fellow guests and the local area. Each has spaces and experiences that allow guests to be inspired, with innovative interior design in bright rooms and cool communal areas. Drink and dining offerings emphasise fresh and local, allowing guests to connect with their inner foodie. 
www.vibehotels.com
WHO ARE TFE HOTELS?
TFE Hotels (Toga Far East Hotels) is an international hotel group headquartered in Sydney and operating in Australia, New Zealand, Germany, Denmark and Hungary. It has a portfolio of five established hotel brands - Adina Hotels, Vibe Hotels, Travelodge Hotels, Rendezvous Hotels and TFE Hotels Collection and is pleased to introduce Quincy Hotels to Australia in 2020.