Join us for a Sky-High Tea at Quincy Melbourne on Saturday, July 23
MELBOURNE: It's part of Quincy Melbourne's DNA to do things a little differently and our approach to high tea is no exception.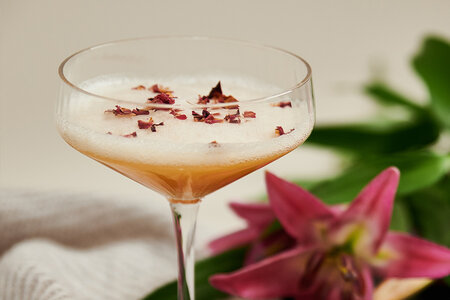 A quirky collaboration between Quincy and Tea Drop Tea, Quincy's Sky-High Tea on Saturday July 23 is a reimagining of the traditional high tea, drawing culinary inspiration from Thailand, Hong Kong, and Japan.
Chef Adam Woodfield has cleverly subbed the chicken-and-mayo triangles for "Aunt Tao's" nahm jim chicken skewers; egg and lettuce finger sandwiches for curried egg "sandos" with turmeric-cucumber pickles, swapped the lamingtons for chilli chocolate tart with coconut cream, and plain Jane black tea for sophisticated Tea Drop tea and free-flowing tea-inspired cocktails.
Served high on the 28th floor in The Q rooftop bar, Quincy's High Tea give guests a view of the Melbourne skyline they've probably not seen before, while they graze through a ying/yang menu of sweet and savoury; from the Hong Kong dim sum favourite, shu mai dumplings, to a silky pandan-scented white chocolate mousse.
Quincy's ever-creative bar staff have fashioned cocktails inspired by Tea Drop's novel range to complement the umami, spicy, sour, and sweet flavours of the Sky-High Tea menu.  Like a mandarin and Earl Grey caprioska, a Yuzu Kukicha Tom Collins and a  'Chai – skey' - a vegan milk-based whiskey cocktail.
And at the end of the afternoon, guests head home happy and with a goodie bag to serve as an aide memoire of a deliciously different high tea.  To find out about this and other events, visit our website.
THE MENU:
Pacific oyster with red nahm jim, coriander and fried shallot
Tuna and prawn sesame cups with chilli jam, nahm jim and lemongrass
Prawn shu mai with smoked salmon roe and chilli oil
auliflower and shiso fritter with green chilli dipping sauce
Curried egg sando with spinach and turmeric cucumber pickles
Grilled Aunt Tao's chicken skewers with green nahm jim
 Chilli chocolate tart with whipped coconut cream
Pandan and white chocolate mousse
Honey and lemongrass profiteroles.
THE DETAILS:
When: 23rd July @ 3 pm for 2 hours
Price: $69 per person, includes a special gift tea goodie bag
How to Book: Via Open Table.
Ends.
FOR MORE INFORMATION CONTACT:
Jodi Clark - TFE Hotels (Director of Communications)
+61 499 900 658 / jclark@tfehotels.com
MORE ABOUT THE Q
The Q earns a standing ovation as Quincy Melbourne's exclusive Club Lounge during the day, before turning up the glam as a publicly accessible rooftop terrace bar by night.  Blessed with 360-degree views of Melbourne CBD, all the way to the Yarra River and Port Phillip Bay, The Q is all about embracing the city's rooftop culture (sharing Level 28 with a glistening lap pool), specialising in tongue-tingling cocktails (Quincy Sling* anyone?), bar bites and share plates. Think zesty, oh-so moreish teasers of what big sister, the Salted Egg, has in store.
MORE ABOUT QUINCY
The Quincy brand by Far East Hospitality curates service offerings and exceptional experiences for curious urbanites that cater to the quirky sense of individuality within modern travellers of today.
The Quincy experience begins the moment each guest arrives – but has been planned even before they leave home. Our team had a keen understanding of the kind of guest most likely to be drawn to Quincy and goes the extra mile to register each guest's individual preferences. The result is a dose of 'anticipatory hospitality' – the art of discerning and meeting your needs before they are raised – and a stay unlike any other: One where the senses are engaged and memories are minted, in signature properties located in popular lifestyle districts.
WHO ARE TFE HOTELS?
TFE Hotels (TOGA Far East Hotels) is Australia's International Hotel Group - headquartered in Sydney and operating in Australia, New Zealand, Germany, Denmark, Hungary, Austria, Singapore… and opening in Switzerland in 2023.  TFE has a portfolio of seven hotel brands - A by Adina, Adina Hotels, Vibe Hotels, Quincy Hotels, Travelodge Hotels, Rendezvous Hotels and Collection by TFE Hotels which includes The Calile Hotel, The Hotel Britomart, Hotel Kurrajong and The Savoy Hotel on Little Collins, with more in the development pipeline.