Melbourne's Own West Side Story: Introducing Adina West Melbourne
MELBOURNE: Opening early December on the doorstep of everything Melbourne is famous for – art, culture, coffee, shopping, food, festivals, sport… and a whole lot more – Adina West Melbourne hands guests the keys to a WOW-factor new lifestyle precinct, where virtually every conceivable amenity rests at their fingertips.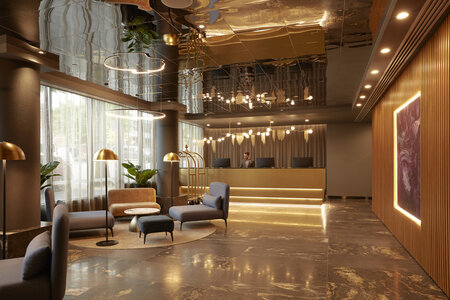 Welcome to Trenerry Property's West End precinct. A 9,200sqm inner-city oasis, wrapped in an industrial-chic neighbourhood on the CBD's western fringe. 
A mecca for edgy and immersive arts and cultural experiences, diverse foodie encounters, Zen-factor green space, and retail therapy suited to every style and budget. Just 500m from Melbourne's CBD and a stone's throw from Docklands lively waterfront hub (home to Australia's first immersive 'trick-art' gallery ArtVo; and world-renowned public art trail, featuring 25 acclaimed works of art, not least being 'Cow up a Tree').
That is, of course, if guests can pull themselves away from Adina West Melbourne's immediate vicinity, according to Adina West Melbourne Hotel General Manager Lucy Ockleston. 
"Guests will seriously want for nothing and have the freedom to design their 'dream lifestyle', thanks to the diversity of what's on offer in and around the hotel's immediate vicinity," Lucy said. "It's hard to think of another place quite like it."
More than a hotel, Adina West Melbourne creates a legacy as 'place maker' – providing a sanctuary and 24/7 concierge service for its guests and residents of four apartment buildings that share the $300-million mixed-use site – while helping to drive West Melbourne's wider urban regeneration. 
Not so much spoiled for choice, but inspired by it, hotel guests and West End residents will enjoy access to the precinct's 2,000sqm of Zen gardens; supermarket; 24/7 gym; coffee roastery; 10 drool-worthy eateries, including a Mediterranean-style restaurant/café/bar that shares Adina West Melbourne's lobby space. Not forgetting, access to a private outdoor retreat, opening out from Level 3, complete with three pools: a 25m lap pool, plunge pool and spa pool. #Nama-stay!
For TFE Hotels Director of Development ANZ, Michael Herman, Adina West Melbourne ticks all the boxes on accessibility and lifestyle for business travellers, couples and families. 
"Adina West Melbourne is in the middle of an incredible precinct and one-stop shop for… well, everything!" Michael said. "It has great accessibility to the city, to Docklands and, importantly, to the airport, via an easy off-ramp from the freeway, avoiding traffic into the CBD. All of which means, guests get to relax and enjoy everything on offer… faster!"
For those able to pull themselves away from West End precinct's chilled-out vibe, Adina West Melbourne is within easy walking distance of a line-up of Melbourne's biggest attractions: the largest open air market in the Southern Hemisphere, Queen Victoria Market (Tip: go behind the scenes on an Ultimate Foodie Tour); Australia's first public garden, Flagstaff Gardens (Tip: go barefoot bowling at City of Melbourne Bowls Club); the Southern Hemisphere's only giant observation wheel, Melbourne Star; sports superstar Marvel Stadium, blessed with a roof that can open or close in eight minutes (ideal for four seasons in one day); and iconic music venue Festival Hall (where everyone from The Beatles to Frank Sinatra, Judy Garland and even Liberace performed).
West Melbourne also bursts with local secrets waiting to be discovered. Not surprisingly, a foodie's haven sprouts around Flagstaff Gardens (located within West Melbourne's boundaries) and neighbouring Queen Victoria Market, particularly along Peel St and Victoria St. The place to fire-up your tastebuds at Mexican-Korean fusion eatery, Chimac (bulgogi 'fire meat' quesadillas, anyone?); juggle 'hand-pressed tacos, spicy sangrita and life-changing green sauce' at Hello José Taqueria; or indulge in hand-crafted Greek doughnuts (topped with Nutella, crushed Oreos or salted caramel) at Lukumades. 
While on Peel Street, have a craic at The Drunken Poet, by all accounts, Melbourne's best Irish pub, hosting live music six nights a week – making The Irish Times '10 Best Irish Pubs in The World (outside Ireland)'. 
Looking forward to welcoming guests to Adina West Melbourne, Lucy said the 'must-do' options are hard to list in full, when West Melbourne doubles as the springboard to pretty much every destination (and day trip) in Victoria – located at the epicentre of Melbourne's main road, rail and tram networks. Even North Melbourne railway station is located in West Melbourne! 
"Capping it all off, Adina West Melbourne promises the perfect 'home away from home' to flop and drop after a busy day exploring," Lucy said. "There's also the option of cooking up a storm and staying in. The choices really are endless."
Are you ready to live your 'dream' West Side Story? Book now: https://www.tfehotels.com/en/hotels/adina-apartment-hotels/west-melbourne/
Insider Tip: Hop on a train from North Melbourne railway station, 10-minutes to Yarraville, home of art deco treasure, Sun Theatre (circa 1938), where the laugh-out-loud date scene in Australian hit movie, The Dressmaker, was filmed (starring Liam Hemsworth and Judy Davis). The perfect place to watch Steven Spielberg's highly anticipated remake of West Side Story when it hits cinemas this December.
Ends.
What's in a name: Adina Apartment Hotel Melbourne West End (can be shortened to Adina West Melbourne after first use).
Website: https://www.adinahotels.com/en/apartments/west-melbourne/
Lead in rates: $191.20 (20% OFF fully flexible rate. Room only).
Download Images
Download Word Doc

Owner/Developer: Trenerry Property
Hotel Operator: TFE Hotels
FOR MORE INFORMATION CONTACT:
Jodi Clark
TFE Hotels – (Director of Communications)
+61 499 900 658 / jclark@tfehotels.com

Beau Kassas, Communications Lead – Klick X
+61 488027 555 / beau@klickx.co
ABOUT ADINA APARTMENT HOTELS
The Adina brand comprises 36 Adina Apartment Hotels and Adina Serviced Apartments in Australia, New Zealand, and Europe. The former offers stylish apartment living with the services and amenities you'd expect from a hotel property including 24-hour reception, pools, free WiFi, intimate meeting spaces or gym facilities. By contrast, Adina Serviced Apartments offer fully equipped serviced apartments and offer on-call service, homely comforts and comfortable living. Serviced Apartments are the ideal choice for those wanting a home away from home that's a perfect fit for one or more. 
WHO ARE TFE HOTELS?
TFE Hotels (Toga Far East Hotels) is an international hotel group headquartered in Sydney and operating in Australia, New Zealand, Germany, Denmark and Hungary. It has a portfolio of five established hotel brands - Adina Hotels, Vibe Hotels, Travelodge Hotels, Rendezvous Hotels and TFE Hotels Collection and is pleased to introduce Quincy Hotels to Australia in 2020.