Million Dollar Facelift for Brisbane's Adina Anzac Square
QUEENSLAND: The 96-room Adina Apartment Hotel Brisbane Anzac Square has thrown open its doors on a million-dollar-makeover, which has transformed the inner-city heritage gem into a sophisticated spot for CBD stays.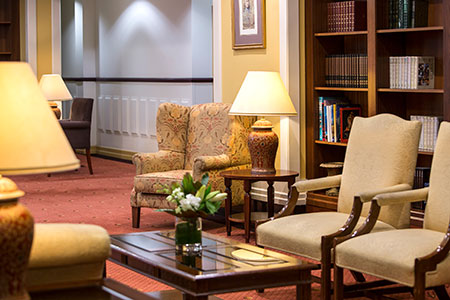 TFE Hotels' classic apartment-style hotel offers both heritage architecture and contemporary design, with dove greys and calming whites dominating the new in-room colour scheme.  Each of the 96 spacious studio, one or two bedroom apartments - equipped with all the amenities and features to make you feel at home while you're away, including full sized refrigerators, laundries and separate living space - boast a new kitchen fit out, new furniture and fixtures, and new flooring.
Anzac Square and the adjoining building, including the Adina, constitute the most important Queensland example of the Anzac memorial movement. Inside, classic white wainscoting panelled headboards and cabinetry dominate whilst gold accessories add a bold flash to the colour scheme. 
During the original build, emphasis was placed on the use of local products (in line with the government's "Queensland Made" policy at the time). Timbers such as silky oak, rose mahogany, maple, walnut bean were incorporated for parquetry flooring whilst public areas were lined with marble supplied from Rockhampton. These features and original fretwork can be seen throughout the hotel today. 
Popular with business, leisure and long-stay guests, The Adina Apartment Hotel Brisbane Anzac Square stands on the junction of Edward and Ann Streets - opposite Brisbane's Central Train Station – and offers beautiful views of the Anzac Square memorial garden. The hotel is also just a short walk to all of Brisbane's major CBD attractions including the Queen Street Mall, city Botanic Gardens and South Bank parklands.  Valet parking is available on request.
Ends.
Download word doc
Download image
hat's in a name? Adina Apartment Hotel Brisbane Anzac Square (can be shortened to Adina Anzac Square after first use)
Lead in rate: $134.10
Stay 3, Pay 2 Deal: https://www.tfehotels.com/en/deals/688/stay-3-pay-2
Book now: https://www.adinahotels.com/en/apartments/brisbane-anzac-square
FOR MORE INFORMATION CONTACT:
Jodi Clark
Head of PR – TFE Hotels
+61 499 900 658 / jclark@tfehotels.com 
Lauren Cowan
Communications Lead – Klick X 
+61 431 550 466 / lc@klickx.co
WHO ARE TFE HOTELS?
TFE Hotels (Toga Far East Hotels) Australia's International Hotel Company operating in Australia, New Zealand, Germany, Denmark and Hungary. It has a portfolio of five established hotel brands - Adina Hotels, Vibe Hotels, Travelodge Hotels, Rendezvous Hotels and TFE Hotels Collection with plans to launch a sixth brand into the Australian market in 2020. 
ABOUT ADINA APARTMENT HOTELS
The Adina brand comprises 36 Adina Apartment Hotels and Adina Serviced Apartments in Australia, New Zealand and Europe. The former offers stylish apartment living with the services and amenities you'd expect from a hotel property including 24-hour reception, pools, free WiFi, intimate meeting spaces or gym facilities. 
By contrast, Adina Serviced Apartments offer fully equipped serviced apartments and offer on-call service, homely comforts and comfortable living. Serviced Apartments are the ideal choice for those wanting a home away from home that's a perfect fit for one or more.