New Travelodge Hotel for Australia's Largest Health Precinct
WESTMEAD, SYDNEY: TFE Hotels and Drill Management Pty Ltd have today announced a new Travelodge Hotel will be built as part of the multi-million-dollar West Grove development in Sydney's western suburbs.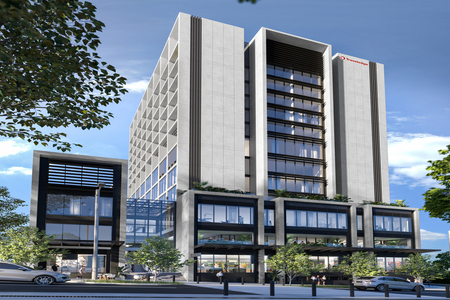 The 100-room hotel, which is expected to open in 2023, will sit at the gateway to Westmead's Health Precinct, and fill an important gap in the market – servicing both the hospital and medical industries as well as nearby corporates.
TFE Hotels' Chief Executive Officer, Antony Ritch, said TFE was proud to partner with Drill and introduce the Travelodge Hotels brand into Australia's largest health and innovation precinct.
 
"Not only will the Travelodge Westmead debut a fresh new interior design with warm timber and earthy tones," he said. "But, in partnership with the West Grove development, it will deliver long-term benefits as the thriving Westmead community continues to grow."
 
The hotel's proximity to the Westmead Hospital will also provide a comfortable and convenient midscale accommodation option for patients and their families at a time when they need it most.
 
According to Ritch, Travelodge guests can expect to see a contemporary-look and feel when it comes to design that will elevate Travelodge's traditional brand offering.  Led by one of the world's leading design studios, Chada, the hotel will feature simple yet stylish interiors throughout including the rooms, sixth level lobby, eatery and bar.
 
"Chada had studied the market mix and are committed to providing our guests with hotels rooms they'll want to spend time in, and flexible relaxation and workspaces for modern travellers," Ritch said.
According to Mark Hovey, CEO of Drill Pty Ltd, the Travelodge Hotel is a key component of the West Grove development. 
 
 "Drill are the first to introduce this option within the Westmead Health Precinct, so it fills an important gap within the overall district offering," he said. "At the moment, if you are family living outside Greater Sydney and your child or other family member is transferred to Westmead, your only options  for hotel accommodation are 15 minutes away. At West Grove you will be just metres away."
Hovey said West Grove would become the future heart of the Westmead Health and Innovation Precinct for health care professionals as well as local and regional visitors. Central design features include a lush landscaped courtyard space activated with restaurants, cafes and bars.
Construction on the hotel is expected to start in 2021.
Ends.
Download word doc
Download images
Owner/Developer: Drill Pty Ltd
About the development:
FOR MORE INFORMATION CONTACT:
Jodi Clark
TFE Hotels (Public Relations and Communications Manager)
+61 499 900 658 / jclark@tfehotels.com
ABOUT TRAVELODGE HOTELS 
Travelodge Hotels makes a hotel stay Refreshingly Simple. Hotels in city locations around Australia and New Zealand offer great accommodation, high speed Wi-Fi and a relaxed feel with all the essential comforts. Guests will find a warm and honest sense of humour in everything Travelodge Hotels does. These are places where people enjoy exceptional locations and options to enhance their stay.  
travelodge.com.au 
WHO ARE TFE HOTELS?
TFE Hotels (Toga Far East Hotels) is an international hotel group operating in Australia, New Zealand, Germany, Denmark and Hungary. It has a portfolio of five established hotel brands - Adina Apartment Hotels, Vibe Hotels, Travelodge Hotels, Rendezvous Hotels and TFE Hotels Collection.