Nuremberg: From The Middle Ages To The Future
GERMANY: The medieval city centre of Nuremberg, with its historic half-timbered houses and traditional Christmas market, is a popular destination for the Christmas holidays but this historic city in the north of Bavaria, is fast gaining a reputation as the place to be throughout the year.  Whether you're looking for a fix of culture, history or recreation, Nuremberg has you covered.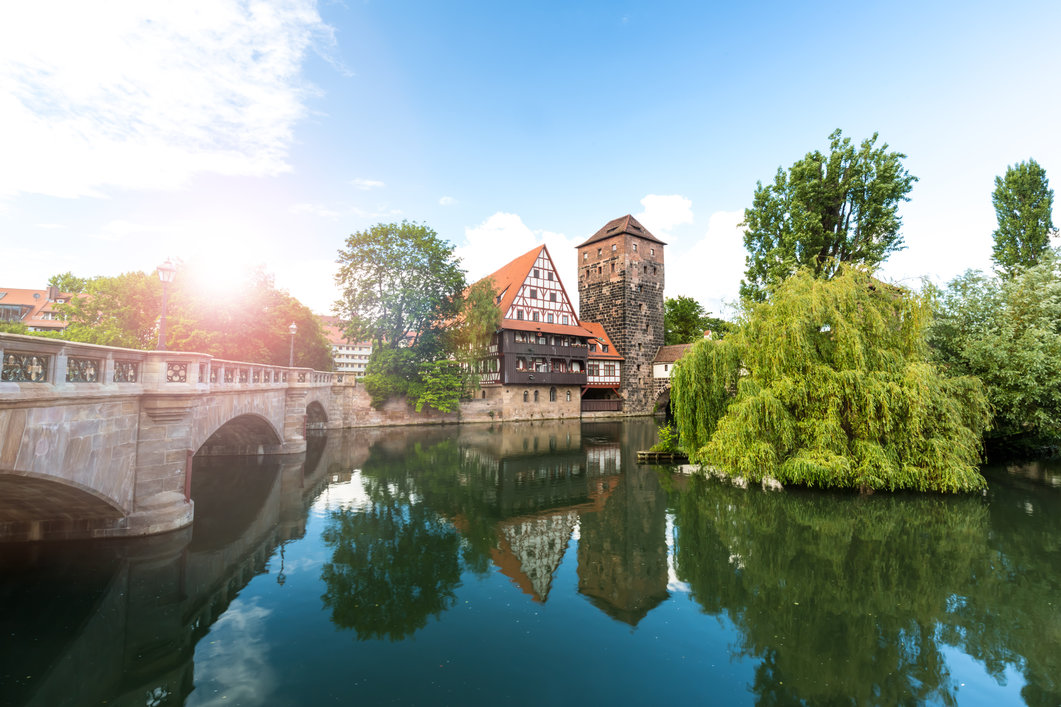 Time travel to the Middle Ages: Surrounded by a well-maintained city wall the historical city centre of Nuremberg, with its labyrinthine streets and picturesque half-timbered houses, sits at the foot of the Imperial Castle. 

If you're looking to explore, The Adina Apartment Hotel Nuremberg, centrally located at the Kornmarkt, is the ideal starting point. Located just a few minutes' walk from must-see attractions including the Imperial Castle (with its breathtaking view over the city), the Kettensteg or the church Frauenkirche with the Hauptmarkt (Main Market Square) and the historic old town.

Sharing pride of place with classic attractions, Nuremberg's infamous 'Nürnberger Felsengänge' offer a worm's eye view in tunnels beneath the historic city. This large labyrinth spans more than 25,000 square metres under the ground and can be explored on guided tours.  
Whilst not as famous as the historic old town, Nuremberg's underground vaults were first mentioned in documents back in 1380. At this time almost everyone brewed their own beer, but only on condition that the house had a cellar for maturation and storage. Thanks to a union of the residents, the solid rock cellar complex was created and is so strong it was able to withstand attacks during World War II and helped saved the lives of thousands. 

To add a bit of spice to the visit, tourists to Bavaria's second largest city can also take part in an Escape game inside the old rock passages – it's definitely a fun talking point when the sight-seeing is done.

A glimpse into the future at Deutsches Museum:  Starting next year, visitors of the medieval Nuremberg will be able to experience the future alongside the past when the 'Zukunftsmuseum' (Future Museum) - a branch of the Deutsches Museum - opens at the end of 2020.  
How will today's developments and technologies affect tomorrow's lives? The museum's interactive exhibition will be dedicated to this question and will cover various topics relating to mobility, energy, health, automation and communication. 
Live Like A Local: The 'Café Schnepperschütz' on the Hallerwiese next to the river Pegnitz is a popular spot for locals to enjoy sunny weather and a Franconian Riesling and local beer.  Another hidden secret - the small ice cream café 'Kleine Eismanufaktur' in the Weißgerbergasse in Nuremberg's old town - is also worth a stop. Here, you'll find unusual varieties of handmade organic ice-cream – and each flavour is as delicious as the last. 

From rustic to hip there is something for every taste in the alley ways, a plethora of small cafés, restaurants and bars offer a place to rest and to socialize with friends. In the evening the city's countless beer gardens beckon.

Feel right at home in a central location:  Adina Apartment Hotels offer an authentic local experience that allow guests to explore the neighbourhood with ease. With 138 spacious apartments, the Adina Apartment Hotel is perfect for a city trip with friends or family. One- and two-bedroom apartments, can comfortably accommodate up to six people in the one space and a kitchen, living/working area and even a washer-dryer offer all the comforts of home. In addition, guests can enjoy 24-hour reception, room service, restaurant and bar, as well as a wellness area with pool, sauna and gym area. During the Christmas season, evenings on the roof terrace are very popular and traditional mulled wine is served up alongside an unforgettable view of the city.

Stay longer and save up to 20 per cent: With plenty of space and comfortable facilities, the Adina Apartment Hotels are perfect for longer stays in beautiful cities. If you book three nights or more by 31 December 2019, you can save up to 20 per cent on your trip. The offer is valid for a stay until 1st January 2020. To book: https://www.adinahotels.com/en/offers/2/langer-bleiben-und-sparen.  
For more information visit www.adinahotels.com/en/.
Download images.
Ends.
ABOUT TFE HOTELS
TFE Hotels (Toga Far East Hotels) is an international hotel group operating in Australia, New Zealand, Germany, Denmark and Hungary. It has a portfolio of five established hotel brands - Adina Hotels, Vibe Hotels, Travelodge Hotels, Rendezvous Hotels and TFE Hotels Collection.
ABOUT ADINA
Adina Apartment Hotels are full-service hotels in the upmarket segment and offer space to stretch out and the comforts of home: Whether for a night, a week or longer – the modern, fully equipped studios and apartments with kitchen and living/work area are perfect for business travellers, holidaymakers and families.

Adina Apartment Hotels also offer important hotel facilities such as 24-hour reception, bar and restaurant, room service, conference rooms as well as a wellness area with pool, fitness area and sauna. Adina Apartment Hotels are currently located in 15 destinations in Australia, New Zealand and Europe (Berlin 3x, Frankfurt 2x, Hamburg 2x, Leipzig, Nuremberg, Copenhagen and Budapest). By 2025 Adina Apartment Hotels aim to grow to up to 50 hotels in Europe and will increase their footprint across Australia.
FOR MORE INFORMATION CONTACT:
Julia Fernandez-Pola
Regional Marketing Manager
Email: jfernandez-pola@adina.eu
Phone: +49 30 200 767 536