There's A Cool New Vibe In Darling Harbour
SYDNEY: What do you get when Manhattan design chic meets Sydney style?  TFE Hotels will throw open the doors on its fourth Vibe Hotel in the Sydney CBD next week with the arrival of the Vibe Hotel Sydney Darling Harbour onto the CBD's accommodation scene.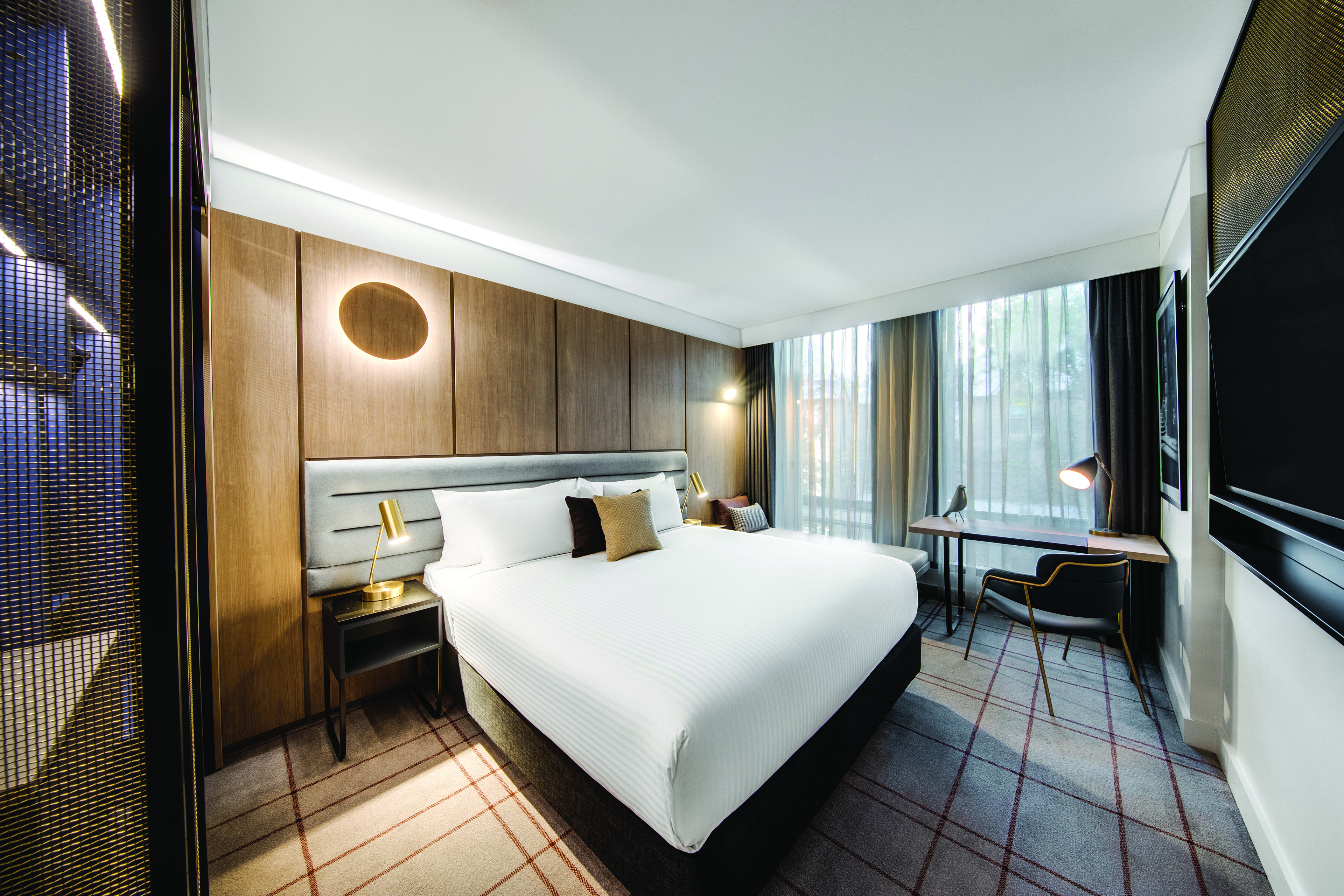 This new Vibe Hotel on historic Sussex Street features 145-rooms and playful design touches including a mesh wardrobe which references a Brownstone elevator to offer a New York Loft feel.  Semi-circular showers in each room create a sculptured corridor space that's unique to the property.  
The Vibe hotel is also home to Sydney's newest rooftop restaurant and bar, Above 319, which offers sunset views over Darling Harbour and the city's inner west. Hotel guests will enjoy the same views from the comfort of the hotel's heated rooftop pool, adjacent to the bar area.
TFE Hotels' Chief Operating Officer Chris Sedgwick says: "The opening marks a very exciting point in the ongoing refresh of our Vibe Hotels brand, which will soon have another three exciting contemporary new additions in Melbourne, Central Hobart and in Adelaide.
Sedgwick said Vibe Darling Harbour's development and design teams had drawn inspiration from the historic Sussex Street location and had incorporated international design elements for added character.
"Everywhere you look old and new meld together," he said. "Brickwork was chosen to fit the character of the street and, when you stand in some of the lower level rooms and look out of the enormous windows onto Sussex Street, it's this brickwork that frames the view and ties old and new together."
Thoughtfully designed spaces and services will also allow our guests to easily connect with each other, loved ones, their work, and the bustle of the Darling Quarter and Chinatown precinct. Double glazed windows ensure those in need of recharge and relaxation can find their Zen-time on the border of Chinatown.
The hotel's contemporary rooftop space, Above 319, and The Sussex Store restaurant on the  ground floor have both taken inspiration from nearby Chinatown in their Modern Australian menu, with an Asian twist and is open just in time for Melbourne Cup.
Chef Lynn Clemente, fresh from a stint at Sydney's Shangri-La Hotel, has taken inspiration in the cultural melting pot surrounding the hotel.
"For me, food is an art form," he said. "You must get the flavours perfect, but that perfection extends to the representation. It's a delicate balancing act, but you eat with your eyes before you have even tasted a mouthful of your dish." 
"I like to create drama with the flavours and colours and the flavours I create are from the cultures of the world, so I like it to look completely out of this world - so you can expect to see that in The Sussex Store restaurant." 
Visitors to the Harbour city or Sydneysiders looking for a CBD staycation will be able to enjoy a 20% discount off the fully flexible during the hotel's opening special. To book visit: https://vibehotels.com/hotel/sydney-darling-harbour.

Ends.
OWNER / ARCHITECT: Icon Oceania / WMK Architecture.
Opening Date: 14 October
What's in a name? Vibe Hotel Sydney Darling Harbour (Shortened to Vibe Darling Harbour)
Web: https://vibehotels.com/hotel/sydney-darling-harbour
Download Images.
Lead in rates: $215.20
Opening special: 20% OFF fully flexible rate. Room only.
Download word doc.
ABOUT VIBE HOTELS
Vibe Hotels are hotels designed to connect guests to their work, their fellow guests and the local area. Each has spaces and experiences that allow guests to be inspired, with innovative interior design in bright rooms and cool communal areas. Drink and dining offerings emphasise fresh and local, allowing guests to connect with their inner foodie. www.vibehotels.com
WHO ARE TFE HOTELS?
TFE Hotels (Toga Far East Hotels) is an international hotel group operating in Australia, New Zealand, Germany, Denmark and Hungary. It has a portfolio of five established hotel brands - Adina Apartment Hotels, Vibe Hotels, Travelodge Hotels, Rendezvous Hotels and TFE Hotels Collection. 

FOR MORE INFORMATION CONTACT:
Jodi Clark
Head of PR – TFE Hotels
jclark@tfehotels.com
+61 2 9356 1048
https://www.tfehotels.com/en/about/media-lounge/