Paint the Town Green at TFE Hotels' Eco-savvy Melbourne Southbank Escape
Image: Peter Clarke
MELBOURNE: Already turning heads and making headlines as Australia's first high-rise hotel to be 'built out of the sky'*, the Bates Smart-designed Adina Apartment Hotel Melbourne Southbank – owned and developed by independent investment house Hume Partners and operated by TFE Hotels – promises peace of mind for eco-savvy travellers seeking a city escape in the heart of Melbourne's 'other side', aka Southbank.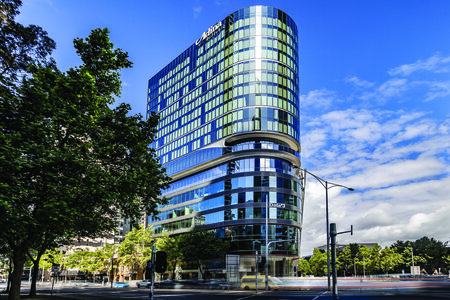 The hotel, which opens on 09 November, is ideally located in a buzzing entertainment and lifestyle precinct, and within walking distance of everything Melbourne is famous for: art, culture, coffee, shopping, food, festivals and sport.
Not forgetting 555ha of green space, including the city's historic Royal Botanic Gardens, home to lakes, lush lawns and 8,500 plant species, a short stroll from Adina Melbourne Southbank's door. Incredibly, all of which the hotel helps keep blooming, thanks to its ground-breaking 'clean and green' construction technology.
According to Bates Smart Director Julian Anderson, the 220-room property's green cross-laminated timber (CLT) tower punches well above its weight when it comes to boosting the city's lungs.
A fifth of the weight of concrete, the structure is believed to be the world's tallest engineered timber extension, cleverly built on top of an existing office building.
As Julian explains, the 5,300 tonnes of CLT used to build the 10-storey, 32m-tall extension tower act as a carbon sink, off-setting about 4,200 tonnes of carbon dioxide from the atmosphere.
"The environmental benefit of using CLT, wherever possible, in place of carbon-emitting materials like concrete and steel, represents best practice green design," he said. "What's really exciting is people will make a decision to stay at Adina Melbourne Southbank because it ticks all the boxes on location and experience, but also because of its commitment to sustainability."
Situated at the intersection of Southbank Boulevard and City Road, the ultra-modern apartment hotel capitalises on its position via a striking, curved 'glass curtain' façade, punctuated by floor-to-ceiling windows in every room. Crowning a total building height of 71.56m, it further enhances Melbourne's chart-topping skyline, ranked Australia's #1 and teetering high on the world's Top 100 list, ahead of Sydney, London and even Las Vegas (according to the internationally-recognised Emporis 'Skyline Ranking').
Looking forward to welcoming the hotel's first guests, Adina Melbourne Southbank Hotel General Manager Nigel Maxey knows they're in for quite a few surprises, not least being choice of rooms with striking views. Either north-facing city views across the Yarra River or, southwards, to Port Philip Bay, home to about 100 bottle-nosed dolphins known to venture into Melbourne's rivers for a CBD getaway about six times a year.
"The other WOW-factor is the spaciousness of rooms, particularly the 10 two-bedroom apartments, which hug the curve of the building on every level, covering 75 to 80 square metres," Nigel said of the hotel that also offers 70 studio apartments and 140 one-bedroom apartments. All with fully equipped kitchen and laundry facilities and lounge/dining areas.
"Guests will definitely enjoy being able to spread out and live like locals, with the benefit of full hotel services including 24-hour reception, meeting facilities and really impressive on-site leisure facilities. Ideal to entertain families or people staying on business."
Overlooking the Yarra River, the upscale apartment hotel's north-facing leisure facilities include a 20m indoor lap pool and gym, blessed with natural light and direct sunlight. Plus, access to a curved terrace, constructed as part of a steel transfer podium between 55 Southbank Boulevard's original office building and its new CLT extension. A space designed for the perfect wind down – or workout – any time of year, after a day exploring Southbank's many attractions.
In a neighbourhood catering to every passion or pastime, Adina Melbourne Southbank rubs shoulders with the Southern Hemisphere's highest public viewing platform (Eureka Skydeck) and biggest casino (Crown Melbourne); some of the city's finest restaurants (The Atlantic, Rockpool Bar & Grill, Nobu, Rosetta Ristorante and Spice Temple, to name just a few); and coveted Melbourne Arts Precinct, hailed for supporting one of the highest concentrations of arts, cultural and creative organisations anywhere on the planet.
The hotel is also just a 15-minute tram ride from St Kilda Beach or a few minutes' walk into Melbourne's CBD, across Southgate Footbridge (Evan Walker Bridge), which links Southbank to Flinders Street Station. Tip: for something different, pull up a seat at Ponyfish Island, a floating café/bar beneath the footbridge, or head off the main strip, to Victoria's largest independent gin distillery (Patient Wolf Distilling Co) housed in a red brick industrial warehouse on Market Street, where Southbank melds with South Melbourne.
In keeping with Adina Melbourne Southbank's 'green core', Nigel is busy overseeing final touches to the fit-out of a fresh food and beverage hub in the Lobby. Modelled on TFE Hotels' St Marks Road Co. dining concept, the F&B hub will retain the same neighbourhood buzz, only in a café/bar format as opposed to full-service restaurant.
Ends.
*https://www.treehugger.com/can-cross-laminated-timber-save-world-4857388
What's in a name: Adina Apartment Hotel Melbourne Southbank (Can be shortened to Adina Melbourne Southbank after first use)
Website: https://www.adinahotels.com/en/apartments/melbourne-southbank/
Download Images
Download word doc

Lead in Rate: From $159 (20% OFF fully flexible rate. Room only).
Owner: Hume Partners
FOR MORE INFORMATION CONTACT:
Jodi Clark
TFE Hotels – (Director of Communications)
+61 499 900 658 / jclark@tfehotels.com

Beau Kassas, Communications Lead – Klick X
+61 488027 555 / beau@klickx.co
Lauren Cowan, Communications Lead – Klick X
+61 431 550 466 / lc@klickx.co
ABOUT ADINA APARTMENT HOTELS
The Adina brand comprises 36 Adina Apartment Hotels and Adina Serviced Apartments in Australia, New Zealand and Europe. The former offers stylish apartment living with the services and amenities you'd expect from a hotel property including 24-hour reception, pools, free WiFi, intimate meeting spaces or gym facilities. By contrast, Adina Serviced Apartments offer fully equipped serviced apartments and offer on-call service, homely comforts and comfortable living. Serviced Apartments are the ideal choice for those wanting a home away from home that's a perfect fit for one or more.
WHO ARE TFE HOTELS?
TFE Hotels (Toga Far East Hotels) is an international hotel group headquartered in Sydney and operating in Australia, New Zealand, Germany, Denmark and Hungary. It has a portfolio of five established hotel brands - Adina Hotels, Vibe Hotels, Travelodge Hotels, Rendezvous Hotels and TFE Hotels Collection and is pleased to introduce Quincy Hotels to Australia in 2020.
ABOUT HUME PARTNERS
Hume Partners is an independent bespoke investment house borne out of the Peter Scanlon Family Office, its property expertise spans the commercial, hospitality, healthcare, childcare, retirement and broad-acre residential sub-division. Hume Partners currently have in excess of $1billion in investments, and manage portfolios on behalf of Charities and Foundations, as well as investments on behalf of a small number of like-minded families that are looking to create long-term wealth from one generation to the next.