Quincy's Winter Orchard in the Sky
MELBOURNE: Partnering with fruit liqueur makers, Marionette, whose ethos is: "Drink local, drink seasonal," Quincy Melbourne's Winter Orchard in The Sky will bring sunshine to the coldest, darkest months of the year.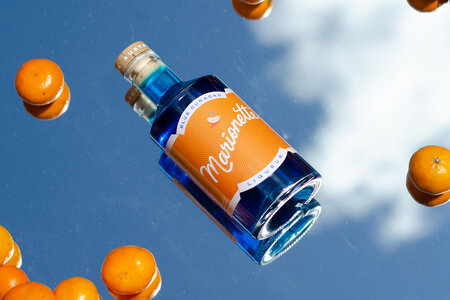 A foursome of Melbournites who wondered why, when there were so many local craft breweries and distilleries, imported European liqueurs continued to dominate bars, Marionette seized the opportunity to fill the gap, drawing on the availability of premium Australian fruit sourced directly from Aussie farmers, such as blackberries from Tasmania's lush Derwent Valley and oranges from the citrus capital, Mildura, to create classic fruit liqueurs with an Australian twist.
Quincy's The Q rooftop bar team have incorporated Marionette's unique liqueurs for their "Winter Orchard in the Sky," events, fashioning sophisticated cocktails that give fruit top billing – like "Mandarin," featuring Marionette's Blue Curacao, made from 5 different varieties of oranges, "Blackberry," with Marionette Mure, JimmyRum Silver, lemon, ginger and Vietnamese mint, and the Tequila-based 'Blackberry' with Marionette Cassis, tequila, lime and a splash of ginger beer.
If sipping's more their speed, guests can also choose to taste their way through the Marionette range; from Creme de Cassis to the walnut liqueur,' Nocino'– straight up or with ice. 
Whichever way you choose to imbibe, you'll discover Marionette's liqueurs are a serendipitous match with The Q's bar bites – from a moreish mouthful of pomelo betel leaf with caramelised coconut, chilli, and mint, to the more substantial Mekong chicken ribs with garlic chilli fish sauce, roasted rice, and lime.
Whether local or just visiting this beautiful city surrender to the inevitable and toast the early dusk falling over the Melbourne skyline, with glass of something that will evoke the summery days to come. To find more about this and other Quincy events visit our website.
THE DETAILS:
When: Each Thursday to Sunday from 4pm during July and August
Special Guest: Marionette Cofounder and Australian Bartender of the Year, Nick Tesar, will make a special guest appearance behind The Q bar on Friday, July 15 and Saturday, July 30 from 5-7pm as part of the Winter Orchard in the Sky celebrations.
How to Book: Via Open Table.
Ends.
FOR MORE INFORMATION CONTACT:
Jodi Clark - TFE Hotels (Director of Communications)
+61 499 900 658 / jclark@tfehotels.com
MORE ABOUT THE Q
The Q earns a standing ovation as Quincy Melbourne's exclusive Club Lounge during the day, before turning up the glam as a publicly accessible rooftop terrace bar by night.
Blessed with 360-degree views of Melbourne CBD, all the way to the Yarra River and Port Phillip Bay, The Q is all about embracing the city's rooftop culture (sharing Level 28 with a glistening lap pool), specialising in tongue-tingling cocktails (Quincy Sling* anyone?), bar bites and share plates. Think zesty, oh-so moreish teasers of what big sister, the Salted Egg, has in store.
MORE ABOUT QUINCY
The Quincy brand by Far East Hospitality curates service offerings and exceptional experiences for curious urbanites that cater to the quirky sense of individuality within modern travellers of today.

The Quincy experience begins the moment each guest arrives – but has been planned even before they leave home. Our team had a keen understanding of the kind of guest most likely to be drawn to Quincy and goes the extra mile to register each guest's individual preferences. The result is a dose of 'anticipatory hospitality' – the art of discerning and meeting your needs before they are raised – and a stay unlike any other: One where the senses are engaged and memories are minted, in signature properties located in popular lifestyle districts.
WHO ARE TFE HOTELS?
TFE Hotels (TOGA Far East Hotels) is Australia's International Hotel Group - headquartered in Sydney and operating in Australia, New Zealand, Germany, Denmark, Hungary, Austria, Singapore… and opening in Switzerland in 2023.  TFE has a portfolio of seven hotel brands - A by Adina, Adina Hotels, Vibe Hotels, Quincy Hotels, Travelodge Hotels, Rendezvous Hotels and Collection by TFE Hotels which includes The Calile Hotel, The Hotel Britomart, Hotel Kurrajong and The Savoy Hotel on Little Collins, with more in the development pipeline.