May 19: Salted Egg Hosts Exclusive Seven Dish Dinner Celebrating Native Ingredients
VICTORIA: In a bold move, Melbourne's Asian-inspired Salted Egg restaurant is paying homage to its Aussie roots by hosting a one-off exclusive Native Ingredient Dinner on May 19 with Richmond-based not-for-profit, small batch producer, Forward Drinking.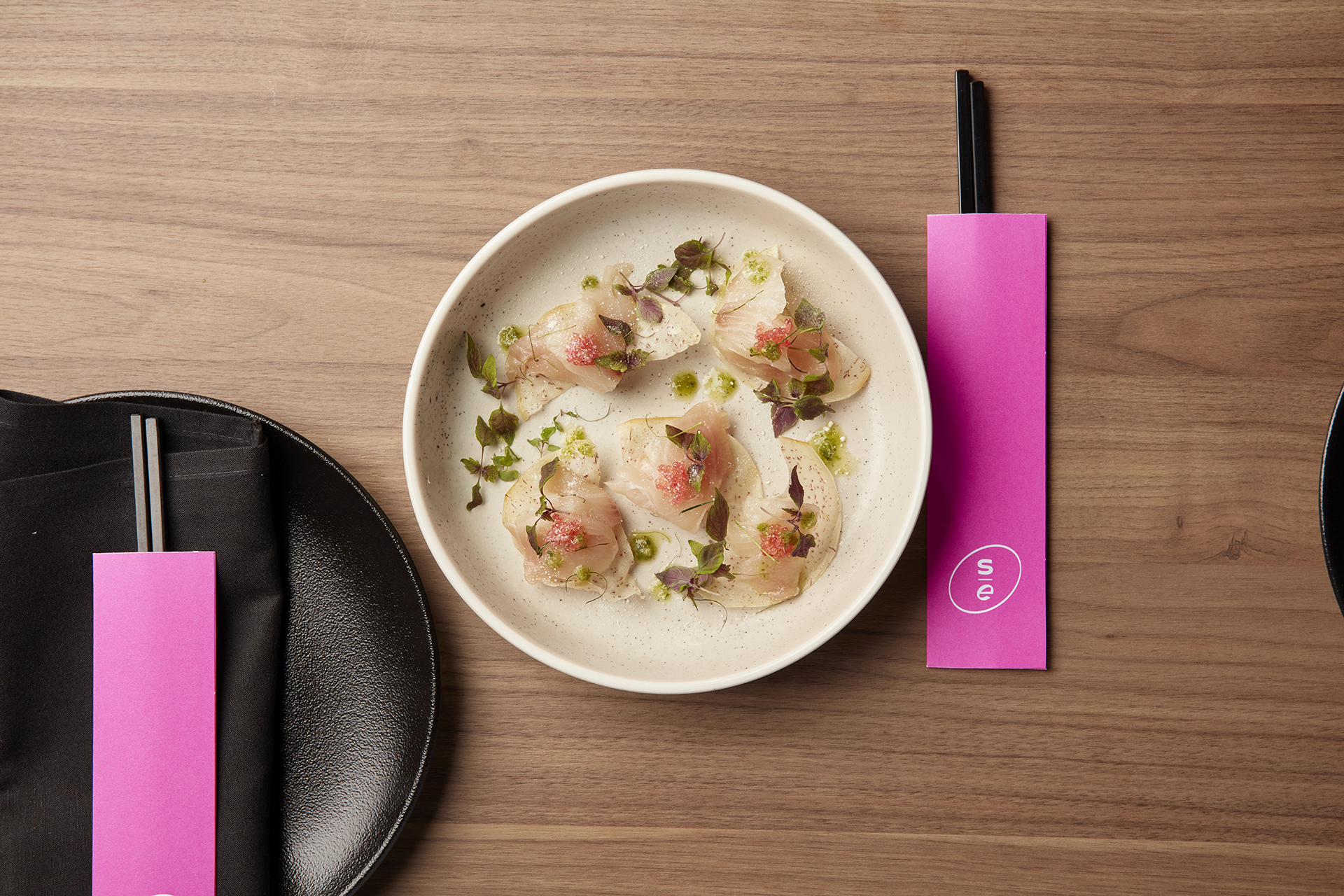 The handcrafted seven dish dinner will see Chef Adam Woodfield's trademark Southeast Asian cuisine take on a distinctly Australian twist as Samphire is added to his smoked ocean trout betel leaf with chilli jam nahm jim; lemon myrtle and finger lime caviar are added to his raw kingfish with green nahm jim and Davidson plum in perfectly paired with crispy pork, tamarind sauce and nahm pla prik.
The flavours on the plate will be perfectly paired with spirits by Melbourne's very own Forward Drinking with guests served a Micro Golden Kelp Martini and betel leaf canapes on arrival.
In talking about the menu, Chef Adam Woodfield said he and Luke Date from Forward Drinking had opted for the concept of what 'grows together goes together' when they paired the Golden Kelp & Wakame as an aperitif style beverage with a smoked ocean trout, chilli jam nahm jim and samphire canape.
"It really is a delicious flavour combination," he said.-  "As is my kingfish which is served raw with green nahm jim, lemon myrtle and finger lime caviar, and will be paired with the Golden Kelp Spirit on the night."
As the meal progresses Chef's grilled wagyu beef striploin salad with river mint, ice plant, hot and sour dressing paired is matched with a Native Australian Kakadu Plum cocktail. Inspired by Japanese Plum Wine, the woodiness, earthiness aromatics and sugar content were chosen to complement the hot and sour SE Asian spices used in the dish.
Forward Drinking's Macadamia spirit is a lighter, vegan take on a classic cream-based liqueur and is paired with Salted Egg's chocolate macadamia praline mousse w calamansi ganache and passionfruit sorbet.
"In this dish, the natural healthy fats and oils provide a creaminess which offsets the smoothness of dessert," Chef said.
Importantly, the team at Forward Drinking have undergone rigorous processes, sourcing from organisations who are positively impacting society, the environment and share similar values - suppliers like Australian Superfood who supply Kakadu Plums and support the production of native ingredients through their Native Harvest initiative. This selective sourcing creates a key focus driving financial revenue for both Indigenous and sustainability minded communities.
Quincy shares a similar philosophy and works with suppliers like Outback Pride, who oversee a network of native food production sites for remote Aboriginal communities.
"Not only are diners getting the Quincy zing with every tasty morsel, but you are also making a difference to Indigenous communities Australia wide," Chef Adam said.
Tickets to this exclusive dinner are priced at $129 per person and are selling fast. Guests will enjoy a martini and betel leave on arrival and a seven-dish native-inspired dinner served with an additional four Forward Drinking spirit-based drinks. Doors open at 6.30pm on May 19 and tickets can be purchased here.
Ends.
The Menu
Small plates
Smoked ocean trout betel leaf w chilli jam nahm jim and samphire paired with Micro Golden Kelp Martini – (MGC gin, Golden Kelp, and Samphire)
Large plates
Raw kingfish w green nahm jim, lemon myrtle and finger lime caviar paired with Golden Kelp Spirit.
Grilled wagyu beef striploin salad w river mint, ice plant, hot and sour dressing paired with a Kakadu Rapid (Kakadu Plum, Marionette Orange Curacao, Lemon, Orange, and Fizz).
Crispy pork w Davidson plum, tamarind sauce and nahm pla prik paired with an Outback Dreamtime tiki: (Kakadu Plum, Husk Botanic Rum, and Citrus).
Stir fry Moreton Bay bugs w XO sauce and sea parsley.
Stir fry warrigal greens w chilli and oyster sauce.
Steamed jasmine rice,
Dessert
Chocolate macadamia praline mousse w calamansi ganache and passionfruit sorbet paired with a Native Nutty Bee: (Starward 2-fold, macadamia, honeycomb, and macadamia crumble).
Salted Egg
What's in a name: Salted Egg is on Level 1 of the Quincy Hotel Melbourne precinct.
Images and Tasting notes:
Website: https://quincymelbourne.com/eat-drink/
Tickets via Open Table 
Quincy Hotel Melbourne
Lead in Rate: Rooms start from $209.79
Website: https://quincymelbourne.com/
FOR MORE INFORMATION CONTACT:
Jodi Clark
TFE Hotels (Director of Communications)
+61 499 900 658 / jclark@tfehotels.com

MORE ABOUT QUINCY
The Quincy brand by Far East Hospitality curates service offerings and exceptional experiences for curious urbanites that cater to the quirky sense of individuality within modern travellers of today.
The Quincy experience begins the moment each guest arrives – but has been planned even before they leave home. Our team had a keen understanding of the kind of guest most likely to be drawn to Quincy and goes the extra mile to register each guest's individual preferences. The result is a dose of 'anticipatory hospitality' – the art of discerning and meeting your needs before they are raised – and a stay unlike any other: One where the senses are engaged and memories are minted, in signature properties located in popular lifestyle districts.
MORE ABOUT FORWARD DRINKING
In 2017, whilst undertaking a Foundations of Cuisine subject during his studies, Luke Date was first introduced to the lack of documented history of native Australian foods. He says it was quite startling to learn that the foods grown in Australia for hundreds of generations had such little exposure.
"With a keen interest in product development, I began experimenting with Kakadu Plums. This took me on a four-year journey of exploration which was met with limited availability, wavering supply chain transparency and lack of general information surrounding Kakadu Plums. There was a need for a platform where native ingredients and their stories were highlighted, as well as a need for these ingredients to be more generally accessible to the wider Australian community.
In 2021, our first product - The Kakadu Plum Wine - was released and Forward Drinking was born. We are a profit for purpose spirit producer committed to encouraging forward thinking attitudes through products that inspire conversation." https://forwarddrinking.com.au/