TFE Hotels' Newest Adina Hotel Opens in Cologne
COLOGNE, GERMANY: TFE Hotels, will open its very first Adina branded apartment-style hotel in Germany's North Rhine-Westphalia region on July 15.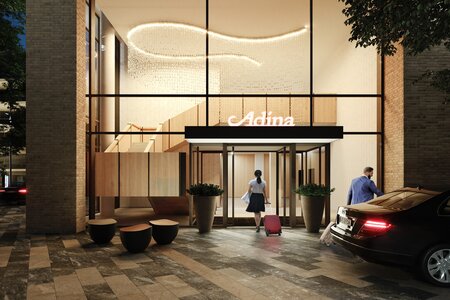 The 171-key new-build Adina Apartment Hotel Cologne features spacious studios and apartment-style rooms, smart design and all the amenities needed to turn a hotel into a home away from home.  Located on the banks of the Rhine River in the middle of the ultra-modern MesseCity, the hotel is also close to the Cologne Trade Fair entrance and the long-distance train station Messe/Deutz for both corporate and leisure travellers.
Hotel General Manager, Katharina Eckardt - who has joined the Cologne pre-opening team from her perch at Adina Frankfurt Westend - said TFE's newest Adina delivered in spades to both leisure and corporate travellers.
"The hotel is superbly located directly on the banks of the Rhine and is just a short 15-minute walk to the city centre via the famous Hohenzollern Bridge," she said. "Plus, business travellers are equally well serviced given the hotel's proximity to the trade fair and easy connections to the ICE train station Deutz." 
Sports and music fans will be able to take advantage of the hotel's proximity to Cologne's indoor Laxness Arena and outdoor lovers will naturally gravitate to the hotel's two open terraces during the European summer or to the heated pool and sauna in winter.
"We look forward to welcoming our first guests when doors open on 15 July," Katharina said.
TFE Hotels Group Chief Operating Officer, Chris Sedgwick, said TFE had achieved the seemingly impossible, opening 10 hotels in Australia, New Zealand, and one in Austria over the past 12 months, amid challenging operating conditions.
"We now turn our attention to Europe where we have some terrific hotels in the pipeline including our very first Adina Apartment Hotels in Cologne, Munich, Wiesbaden, Stuttgart and Dusseldorf," he said.
Sedgwick said TFE's European leadership team – lead by Adina CEO Simon Betty, Director of Development Matthias Niemeyer, and Director of Operations Georgios Ganitis – was incredibly excited to take the Adina brand into Switzerland for the very first time in 2023.
"TFE Hotels is a company on the move and we'll and continue to seek out new markets, and strategic and entrepreneurial opportunities for our European business," he said. 
Ends.
What's in a name: Adina Apartment Hotel Cologne can be shorted to Adina Cologne after first use.
Images: https://spaces.hightail.com/receive/4SybkGGAjN
Website: www.adinahotels.com/en 
For more about Adina Apartment Hotels in Europe: https://press.adinahotels.com/all-information-about-our-hotels-at-a-glance
FOR MORE INFORMATION CONTACT:
Jodi Clark
TFE Hotels (Director of Communications)
+61 499 900 658 / jclark@tfehotels.com
https://www.tfehotels.com/en/about/media-lounge
Julia Fernandez-Pola
Adina Europe (Regional Marketing Manager) 
Tel: +49 (0)30 863 298 650 / jfernandez-pola@adina.eu
www.adinahotels.com/en
ABOUT ADINA APARTMENT HOTELS
The Adina brand comprises 40 Adina Apartment Hotels and Adina Serviced Apartments in Australia, New Zealand, and Europe. The former offers stylish apartment living with the services and amenities you'd expect from a hotel property including 24-hour reception, pools, free WiFi, intimate meeting spaces or gym facilities. By contrast, Adina Serviced Apartments offer fully equipped serviced apartments and offer on-call service, homely comforts, and comfortable living. Serviced Apartments are the ideal choice for those wanting a home away from home that's a perfect fit for one or more. 
WHO ARE TFE HOTELS?
TFE Hotels (Toga Far East Hotels) is an international hotel group headquartered in Sydney and operating in Australia, New Zealand, Germany, Denmark, and Hungary. It has a portfolio of five established hotel brands - Adina Hotels, Vibe Hotels, Travelodge Hotels, Rendezvous Hotels and TFE Hotels Collection and is pleased to debut A by Adina and introduce Quincy Hotels to Australia in 2021.