TFE Hotels Sets Perth Aglow With Sun 'N Fun-Loving New Vibe Hotel
PERTH: Summertime is fast approaching, and the livin' is definitely easy at TFE Hotels' vibrant newcomer, Vibe Hotel Subiaco. Opening October, the stunning new landmark rolls out the welcome mat to a long-awaited urban lifestyle escape as the only full-service/branded hotel in Perth's favourite inner-city village, affectionately dubbed 'Subi' by locals.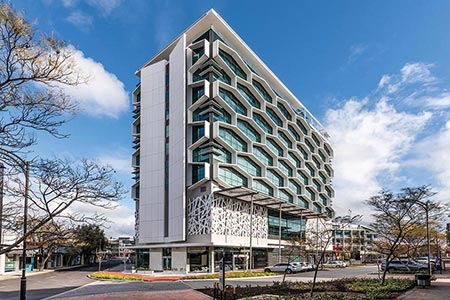 Pitch perfect for Australia's sunniest state capital – think 3,212 hours of sunshine year-round or 8.8 hours per day – the 168-room property, which blooms under a honeycomb-style façade (cleverly offering style and shade in equal measure), celebrates 'best of' Aussie lifestyle. Aptly signalling the arrival of the Vibe brand into Western Australia.
An icon guaranteed to be worshipped for its X-Factor rooftop oasis is perhaps best described as an urban getaway in its own right, complete with Vibe's signature Storehouse Restaurant and Bar, sun-kissed pool, gym, and light and airy conference rooms.
For TFE Hotels Area General Manager, Matthew Richardson, Vibe Hotel Subiaco's appeal as an urban lifestyle hotel in the heart of Perth's most accessible playground, is a 'no brainer'.
Put simply, it promises a stay-and-play gateway to a 'must experience' neighbourhood, bursting with 30 parks, leafy streets, eclectic boutiques, award-winning restaurants, chic bars, and arts and cultural haunts (not least being the gloriously Art Deco Regal Theatre on the corner of Hay St and hip-and-happening Rokeby Rd). All less than 4km from Perth's CBD, within 'Cooee!' of 19 metropolitan beaches, bush walking trails and, of course, the majestic Swan River.
Absolutely no question, he says, that this upscale, 12-storey urban lifestyle hotel, which doubles as the showpiece of Subiaco's buzzing new, mixed-use precinct – developed by Dradgin, on Hay St, combining retail/corporate spaces, a cinema and more – will attract locals and visitors. Like bees to honey.
"Subiaco is one of Perth's gems, where locals gravitate after work or on weekends once the CBD shuts down," Matthew explains. "It's a hive of activity, full of cafes and trees and fairy lights, and there's no question Vibe Hotel Subiaco will become 'the place to be' to effortlessly soak up everything on offer… in comfort and style.
"Fittingly, the real jewel in its crown sits right at the top, opening onto a massive entertaining space that's all about Australian lifestyle, with indoor and outdoor sections, a rooftop pool, restaurant, bar, gym, conference facilities. Talk about urban lifestyle at its best!"
Not surprisingly, he says panoramic views from the top are equally 'knock-out!': "You can literally see forever from up there – probably 25 or 30km on a good day – because there are no high-rise buildings between you and CBD or, in fact, anywhere."
The perfect place to flop and drop with family or friends (especially for locals, with out-of-town visitors); enjoy a sundowner before or after a movie; dine with the sunset; or simply recharge after a day exploring the great outdoors.
Truth be known, 'great' barely pays testament to the wonders that await outside Vibe Hotel Subiaco's door – that is, once guests are well-rested (also able to spread out, with average room sizes running to 30sqm) and fuelled-up on coffee from the hotel's Lobby-level St Marks Road Co.
Nature lovers are in for a treat with access to 30 parks in Subiaco, many with cycle paths and walking/jogging trails (check them out here), while on its northern outskirts, royally sprouts Kings Park & Botanic Garden. Only the world's largest inner-city park, at 4.06km², shadowing New York's Central Park (3.41km²)! Hot tip: book a volunteer-guided tour; pack a picnic basket (on Saturdays, stock-up on fresh produce and gourmet goodies at Subi Farmers Markets); tip-toe across a suspended treetop bridge at the end of Lotterywest Federation Walkway, spanning 620m; or kick back under the stars with a free program of outdoor concerts/movies and other events (November to April).
Psst: Don't miss front-row seats to 'Swan Lake' – all year round – at Lake Monger, in neighbouring Leederville. Home to a bevy of black swans, famed as the official emblem of Western Australia. Quick Tip: drive 10 minutes or catch a train from Subiaco Train Station, 200m from Vibe Hotel Subiaco's door). Are you feeling the vibe? Book now: https://vibehotels.com/hotel/subiaco-perth
Ends.
What's in a name: Vibe Hotel Subiaco (Please don't shorten to Vibe Subiaco).
Download word doc
Download images
Website: https://vibehotels.com/
Lead in Rate: From $209
Opening Special: 20% OFF fully flexible rate. Room only.

FOR MORE INFORMATION CONTACT:
Beau Kassas
Communications Director – Klick X
+61 488 027 555 / beau@klickx.co

Lauren Cowan
Communications Lead – Klick X
+61 431 550 466 / lc@klickx.co
Jodi Clark
TFE Hotels (Public Relations and Communications)
+61 499 900 658 / jclark@tfehotels.com

ABOUT VIBE HOTELS
Vibe Hotels are hotels designed to connect guests to their work, their fellow guests and the local area. Each has spaces and experiences that allow guests to be inspired, with innovative interior design in bright rooms and cool communal areas. Drink and dining offerings emphasise fresh and local, allowing guests to connect with their inner foodie. www.vibehotels.com
WHO ARE TFE HOTELS? TFE Hotels (Toga Far East Hotels) is an international hotel group headquartered in Sydney and operating in Australia, New Zealand, Germany, Denmark and Hungary. It has a portfolio of five established hotel brands - Adina Hotels, Vibe Hotels, Travelodge Hotels, Rendezvous Hotels and TFE Hotels Collection and is pleased to introduce Quincy Hotels to Australia in 2020.