TFE Hotels To Open Travelodge Hotel In Auckland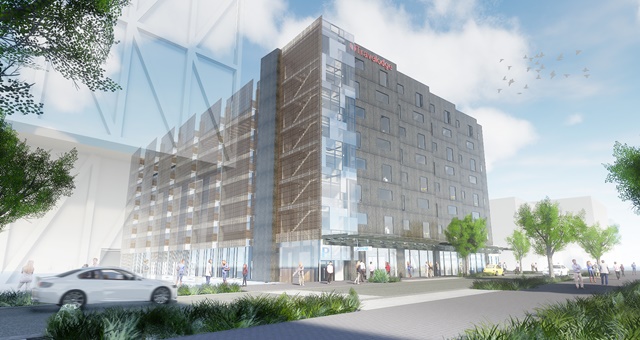 Auckland's newest waterfront neighbourhood, Wynyard Quarter, will soon be home to a new Travelodge Hotel, managed by TFE Hotels, on the corner of Pakenham Street West and Halsey Street in mid-2020. 

The hotel will add a much-needed mid-tier accommodation offering to the precinct, which attracts thousands of workers and visitors each week. A number of multi-national companies have head offices there including Air New Zealand, Microsoft, Datacom, IBM and Fonterra, New Zealand's largest company. 

Wynyard Quarter was first redeveloped seven years ago and has a host of new upmarket retail, residential and commercial developments in its pipeline, ahead of the America's Cup in 2021. It is home to the chic bars and restaurants of North Wharf, as well as Silo Park, ANZ Viaduct Events Centre and the Auckland Theatre Company.  It is estimated that up to 5000 residents and 25,000 workers will be based there in the next decade. 

TFE Hotels has partnered with energy, transport and infrastructure investor Infratil, who will develop the striking new Travelodge Hotel as part of a development of six new buildings.
Construction is about to begin on the 6 storey L-shaped hotel, which will have 154 guest rooms and a ground floor restaurant. The design by Peddle Thorp Aitken architects includes 1800 square metre ground floor retail area and an adjoining multi-level car park.
This will be the nineteenth Travelodge Hotel in Australia and New Zealand and will expand on the brand's Refreshingly Simple promise. It will align with the brand promise to deliver "more of what you want and less of what you don't". It will be TFE Hotels' second Travelodge Hotel in New Zealand, in addition to Wellington. TFE Hotels has 72 hotels in its portfolio worldwide. 
TFE Hotels Chairman Allan Vidor said there had been limited new rooms supply to the Auckland hotel market in recent years, despite growing demand caused by the nation's five-year stint of tourism growth. 

"Travelodge Hotel Wynyard Quarter will be in prime position to make the most of the increased volume of travellers to the city, and the future growth expected by the new development coming to the area – the NZICC in late 2019 and the America's Cup and APEC Summit in 2021," Mr Vidor said.
"This will be an attractive, contemporary hotel in keeping with this world-class development on the western waterfront. It will add to the sense of vibrancy that is drawing thousands of visitors to the precinct each week for work and each weekend for its cultural attractions and retail and dining offerings."
Ends.
ABOUT TRAVELODGE HOTELS 
Travelodge Hotels makes a hotel stay Refreshingly Simple. These 18 hotels in city locations around Australia and New Zealand offer great accommodation, high speed Wi-Fi and a relaxed feel with all the essential comforts one needs. Guests will find a warm and honest sense of humour in everything Travelodge Hotels does. These are places where people enjoy exceptional locations and options to enhance their stay. Travelodge Hotels makes everything from the booking process to room keys and check-out effortless, giving "more of what you want and less of the things you don't". A down to earth attitude is evident in hearty breakfasts, easy Grab & Go snacks and drinks from the lobby. The professional and friendly service is warm and welcoming. Travelodge Hotels offers all the essentials a traveller needs: comfortable beds, rooms with modern, well designed interiors and facilities to suit guests' needs, including rooms with kitchenettes and public spaces where they can feel free to hang about.  travelodge.com.au 
ABOUT TFE HOTELS
TFE Hotels (Toga Far East Hotels) is an international hotel group operating in Australia, New Zealand, Germany, Denmark and Hungary. It has a portfolio of five established hotel brands - Adina Hotels, Vibe Hotels, Travelodge Hotels, Rendezvous Hotels and TFE Hotels Collection.
FOR MORE INFORMATION CONTACT
Courtney Raine
FRANK PR (on behalf of TFE Hotels)
tfehotels@frankpr.com.au 
(02) 8202 0555