There's a Whole New Vibe in Western Australia
PERTH: Sydney based TFE Hotels, in partnership with developer Dradgin, is introducing its Vibe Hotel lifestyle brand into Western Australia with the opening of Vibe Hotel Subiaco in Perth's boho borough this October.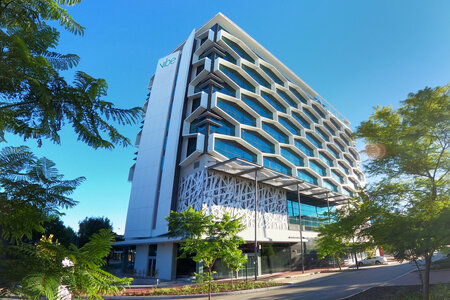 It's a bold move, in the midst of a global pandemic that, along with the opening of Vibe Hotel Adelaide, will see a next generation Vibe Hotel operational in almost every Australian capital city by the end of 2022.
Opening on 1 October 2020, the 168-room Vibe Subiaco Hotel, developed by Dradgin and managed by TFE Hotels, sits in the heart of Perth's inner west as part of a mixed-use precinct in Subiaco.  
TFE Hotels CEO, Antony Ritch said TFE was excited to bring the Vibe brand of Australian hospitality to the capital of WA. 
"There's been quite a lot of development in Perth CBD in recent years in the upper upscale accommodation category, but Vibe Hotel Subiaco will be the first brand-new build Australian lifestyle hotel, and the very first of our Next Generation Vibe properties in Western Australia," he said. 
"Vibe Hotel Subiaco offers the chance to experience a different side to Perth in a vibrant and eclectic suburb on the city fringe. These local experiences – from a night out at the iconic Regal Theatre to the bustle of the weekend farmer's markets to feeding swans in nearby parklands - will be bolstered by the hotel's facilities.  We'll have rooftop pool for sun seekers and, for those that love al fresco dining, the rooftop Storehouse Restaurant and Bar, will offer incredible views over Perth." 
According to Ritch, Perth CBD, cycle paths and tourist attractions are also within easy striking distance.
The new Vibe boasts a pool, gym, conference space, versatile guest rooms that can transform into three-bedroom suites and a St Marks Road Co. eatery on the ground floor – all of which will hold great appeal for leisure travellers, the nearby commercial district and for visitors to nearby hospitals and medical centres.
Dradgin's Investment Manager, Lynn Liang, said Dradgin was excited to welcome TFE Hotels to the precinct and delighted that Vibe Hotel Subiaco would be run by such experienced hotel operators.
"The opening of the hotel will bring long awaited quality hotel accommodation to Perth's western suburbs, and vitality and amenity to Subiaco," she said.
"Located at the corner of Railway Road and Alvan Street, the 12 storey Vibe Hotel is the tallest of the three buildings in the precinct and offers panoramic views in all directions. The precinct is also home to over 24,000m2 of commercial office, retail and cinema tenancies."
Ritch said TFE Hotels' partnership with Dradgin showed TFE Hotels had a long-term commitment to tourism in the west.
"At TFE Hotels we have every confidence in the strength of the West Australian tourism market, and its ability to bounce back post pandemic," he said. Ours is a long-term strategy. It's a story of Australian brands expanding and evolving. And it's a strategy of growth, that's in line with the long-term outlook for our tourism industry and corporate sectors."
"And we are looking forward a long and fruitful relationship with our Vibe Hotels in WA."
Vibe Hotel Subiaco officially opens for sale from today  for stays from 1 October. 
Ends.
What's in a name: Vibe Hotel Subiaco (Please don't shorten to Vibe Subiaco).
Download word doc
Download images
Website 
Lead in Rate: From $209 (Opening Special: 20% discount on room only)

Editor's Note: 
Vibe is an Australian homegrown brand and it's a true blend of Australian contemporary design and hospitality where high levels of service are delivered in a friendly and casual way.
Vibes' next generation portfolio – which Vibe Hotel Melbourne (opened July 2020); Vibe Subiaco (October 2020), Vibe Hobart (November 2020) and Vibe Adelaide (scheduled to open mid-2022). – was designed to bring connectivity to the local area to the core of the guest experience.  
WHO ARE TFE HOTELS?
TFE Hotels (Toga Far East Hotels) is an international hotel group headquartered in Sydney and operating in Australia, New Zealand, Germany, Denmark and Hungary. It has a portfolio of five established hotel brands - Adina Hotels, Vibe Hotels, Travelodge Hotels, Rendezvous Hotels and TFE Hotels Collection. 
FOR MORE INFORMATION CONTACT:
Jodi Clark
TFE Hotels (Public Relations and Communications)
(02) 9356 1048 / jclark@tfehotels.com
https://www.tfehotels.com/en/about/media-lounge
Nicole Moody
Hunter Communications on behalf of Dradgin 
(08) 6555 4977 / 0407 401 077 / nicole@huntercomms.com.au