Travelodge Blacktown Sydney's Softball Suite Is In A League Of Its Own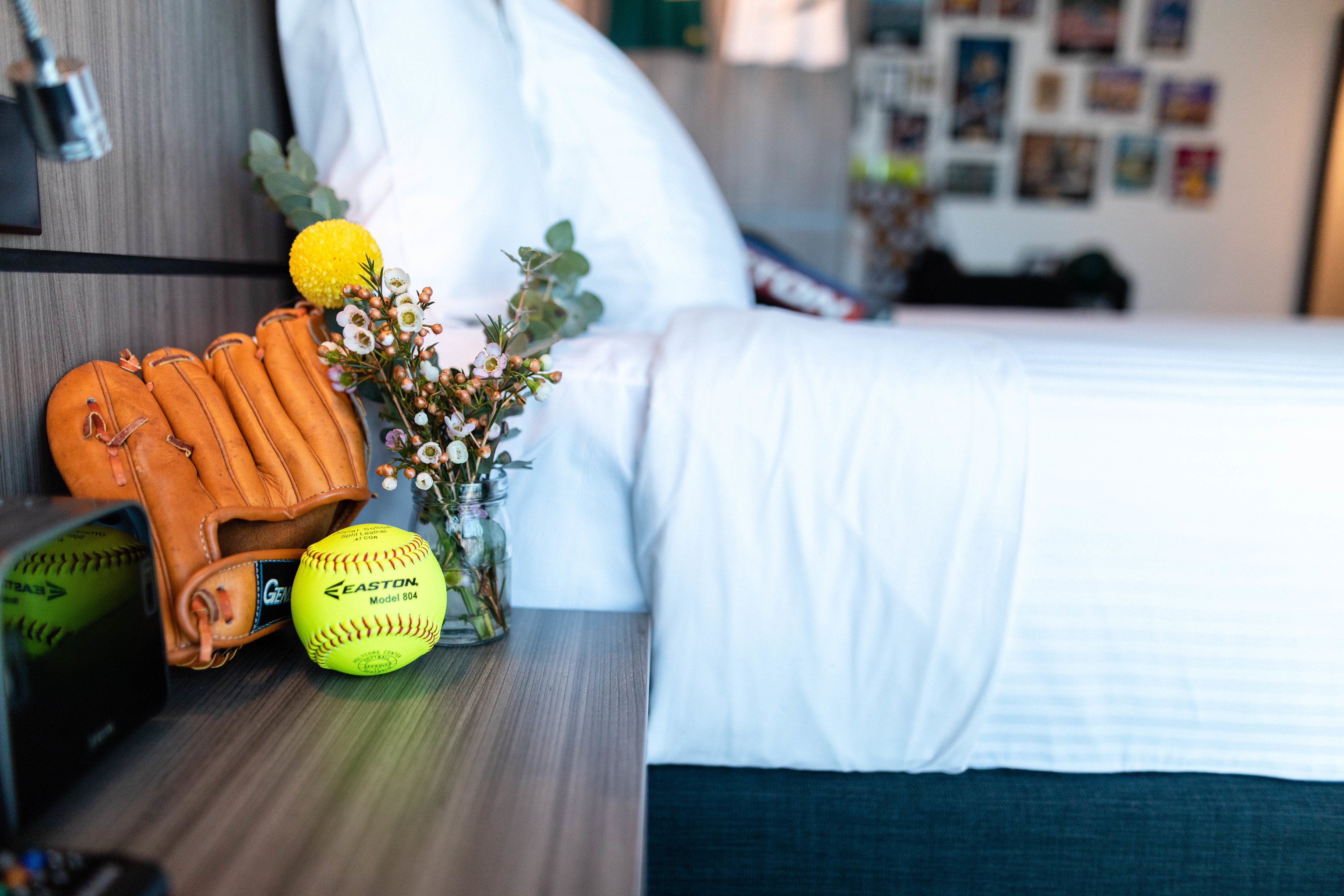 SYDNEY: In a nod to history-making, ground-shaking moments in Olympic history and softball fans can now book an overnight hotel stay in an exclusive softball-themed suite in Sydney's sports-mad western suburbs.
Travelodge Hotel Blacktown Sydney, located in the heartland of NSW softball, and within striking distance of the Blacktown Sportspark Stadium, has launched a Softball Suite so ultimate fans and sports-mad guests can immerse themselves in all elements of the game and get behind the Travelodge Aussie Spirit in the lead up to the Tokyo 2020 Olympic Qualifiers.  
The Softball Suite is available for a limited time only between 31 August and 7 September and features team memorabilia including bats, balls, mitts and framed images of game-changing moments. And, if the mood takes them during their stay, guests can head down to Blacktown International Sportspark Stadium and maybe catch the Softball Australia squad hard in training for the upcoming Olympics.
TFE Hotel's Chief Operating Officer, Chris Sedgwick, said the Aussie Spirit had a proud Olympic history, having medalled at every Olympic Games where softball has been part of competition, and their TFE family was proud to support them on their quest for Olympic gold.
"This is not only an exciting time for women's softball, but also for Australian sport, and we look forward to seeing these exceptional athletes in action as they do their country proud on the world's stage," he said. 
Sedgwick said the Travelodge Softball Suite had been created with super fans in mind, but also with the comforts and conveniences that are hallmarks of the Travelodge Hotels brand.
"When it comes to themed rooms, the Softball Suite really is in a league of its own," he said. "So, we're encouraging sports fans and softball super fans to show a little Aussie Spirit and head to the Travelodge Blacktown Sydney this spring to throw their support behind the team."
To book, call Central Reservations on 1300 886 886.
Ends.
Lead in rates: From $89.25
Call to action: https://www.travelodge.com.au/hotel/blacktown-sydney/ (To book the Softball Suite, call Central Reservations on 1300 886 886).
What's in a name? The hotel's official name is Travelodge Hotel Blacktown. This can be shortened to Travelodge Blacktown after the first use.
Download word document
Download images
FOR MORE INFORMATION CONTACT:
Jodi Clark
TFE Hotels (Public Relations and Communications Manager)
(02) 9356 1048 / jclark@tfehotels.com
 
ABOUT TRAVELODGE HOTELS 
Travelodge Hotels makes a hotel stay Refreshingly Simple. These 19 hotels in city locations around Australia and New Zealand offer great accommodation, high speed Wi-Fi and a relaxed feel with all the essential comforts. Guests will find a warm and honest sense of humour in everything Travelodge Hotels does. These are places where people enjoy exceptional locations and options to enhance their stay.  
The professional and friendly service is warm and welcoming. Travelodge Hotels offers all the essentials a traveller needs- comfortable beds, rooms with modern, well designed interiors and facilities to suit guests' needs, including rooms with kitchenettes and public spaces where they can feel free to hang about. travelodge.com.au 
WHO ARE TFE HOTELS?
TFE Hotels (Toga Far East Hotels) is an international hotel group operating in Australia, New Zealand, Germany, Denmark and Hungary. It has a portfolio of five established hotel brands - Adina Apartment Hotels, Vibe Hotels, Travelodge Hotels, Rendezvous Hotels and TFE Hotels Collection.