Travelodge Hotels Support Aussie Spirit Towards Olympic Dream
SYDNEY: Travelodge Hotels has re-committed to their Naming Rights Sponsorship of the Travelodge Aussie Spirit, confirming the hotel brand's continued support of the Australian Women's Softball team through until October 2021.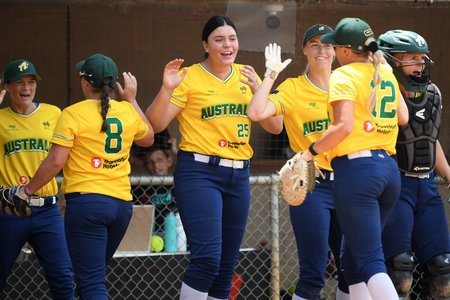 "It's an unprecedented time for sport sponsorship globally so for Travelodge Hotels to show faith in our Australian women's softball team is a credit to the athletes and Softball Australia," says Chief Executive at Softball Australia. 
"We are absolutely delighted Travelodge have decided to continue their partnership with the Travelodge Aussie Spirit and I'd like to thank both Travelodge and TFE Hotels for assisting in our preparation for Tokyo 2021."
Travelodge joined Softball Australia and the Travelodge Aussie Spirit in 2019 and provided exclusive accommodation offers to the softball community alongside their naming rights partnership.  The sponsorship has seen the Travelodge Aussie Spirit return to sports biggest stage and will now be extended to see the team compete in the re-scheduled Tokyo Games.
Antony Ritch, TFE Hotels' Chief Executive Officer said that after seeing the dedication of the current squad, TFE was eager to share their competitive spirit and passion in continuing our relationship.
"We look forward to seeing the Travelodge Aussie Spirit back on the diamond and working towards their goal in Tokyo 2021."
Download Word Doc
Download Images - Mandatory Photo Credit: Softball Australia
Ends.
FOR MORE INFORMATION CONTACT:
Jack Lucas
Communications and Marketing Manager
+61 419 298 172 / jack.lucas@softball.org.au / www.softball.org.au
Jodi Clark
Head of PR – TFE Hotels
+61 499 900 658 / jclark@tfehotels.com / https://www.tfehotels.com/en/about/media-lounge
ABOUT TRAVELODGE HOTELS
Travelodge Hotels makes a hotel stay Refreshingly Simple. These 19 hotels in city locations around Australia and New Zealand offer great accommodation, high speed Wi-Fi and a relaxed feel with all the essential comforts. Guests will find a warm and honest sense of humour in everything Travelodge Hotels does. These are places where people enjoy exceptional locations and options to enhance their stay. 
Travelodge Hotels offers all the essentials a traveller needs- comfortable beds, rooms with modern, well designed interiors and facilities to suit guests' needs, including rooms with kitchenettes and public spaces where they can feel free to hang about. travelodge.com.au
WHO ARE TFE HOTELS?
TFE Hotels (Toga Far East Hotels) Australia's International Hotel Company operating in Australia, New Zealand, Germany, Denmark and Hungary. It has a portfolio of five established hotel brands - Adina Hotels, Vibe Hotels, Travelodge Hotels, Rendezvous Hotels and TFE Hotels Collection with plans to launch a sixth brand into the Australian market in 2020.