View to a Thrill: Vibe Hotel Melbourne Sets New Visionary Standard
MELBOURNE: Rooms with extraordinary views are standard at Vibe Hotel Melbourne; TFE Hotels' new kid on one of the world's most sought-after blocks. Guaranteed: no upgrade required.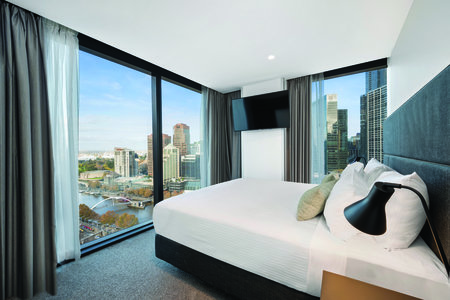 Staking prime position on the corner of Queen and Flinders Streets, Melbourne CBD's newest urban lifestyle hotel sits on the doorstep of everything the city is famous for: art, culture, coffee, shopping, food, festivals and sport. 
Topping it all, the best spectator seats in Melbourne's house – overlooking a city that holds the global record as 'most liveable' – are, spectacularly, in-house.
Rising 24 storeys from its heritage base, upscale Vibe Melbourne offers nothing short of a window into the city's soul. Hundreds of them, in fact! 
Marrying Melbourne's past, present and future, the hotel's contemporary glass-fronted tower houses 206 rooms blessed with the kind of views – and natural light – guests normally only dream of. 
Rooms that double as destinations in their own right; framed by showroom-style floor to ceiling windows, promising thrilling views of the city's ever-changing skyline to the north and south-east, and uninterrupted views across the Yarra River. All the way to Port Phillip Bay.
Developed by Caydon Property Group, TFE Hotels' Next Generation Vibe hotel (and currently the only one in Melbourne) draws inspiration from massive showroom windows on its street level façade, transformed when Fletcher Jones took up residence in 1955. 
"The real beauty about Vibe Melbourne is that it's within walking distance of everything people come to see, but for guests who don't want to spend all their time out, there's the appeal of staying in, ordering room service and watching the city in slow motion," says TFE Hotels Regional General Manager, Stephen Moore, recently appointed to the Accommodation Association of Australia's Victorian State Advisory Board.
"Normally, in a hotel of this size – on a corner, in the middle of the CBD – 20 to 40 per cent of rooms would have no view, apart from looking into another building."
By contrast, at Vibe Melbourne, arguably nothing (aside from sleep-ins) gets in the way of watching the full beauty of the city unfold, as the sun rises over the Yarra – with sunset views equally spectacular – all from the comfort of TFE Hotels' signature Dreamcatcher beds. So comfortable, in fact, that guests have the option to buy their own. 
Occasionally, bottle-nosed dolphins can be spotted on a staycation in the heart of Melbourne's CBD. According to the Dolphin Research Institute, about 100 dolphins live in Port Phillip Bay and reportedly swim into Melbourne's rivers about six times a year. Australian fur seals also regularly delight locals and visitors to the city. 
According to Stephen Moore, Vibe Melbourne's location ticks all the boxes, not least being the fact that views across the Yarra, and beyond, will never be built out. 
"Location is super important – always the number one thing we look for," Stephen said. "We loved the hotel's site as soon as we saw it, and the whole idea of a new tower coming out of the original building's heritage façade. We knew the views and guest experience would be excellent. It just ticked all the boxes." Read more about the hotel's design.
Vibe Melbourne's Terrace Suite is another big tick. Perched on the 22nd floor, commanding an eagle-eye view over the city, the 35sqm suite opens onto a private outdoor terrace measuring 60.69sqm big enough to entertain 22 people. A rare luxury for any high-rise hotel, traditionally reserved for 5-star properties. 
"For a 4-star property it definitely punches well above its weight," said Stephen. "You see roof top bars and hotels with balconies, but very few with private terraces in the middle of the CBD. For the style of the building, it's definitely unique."
Ends.
EDITOR NOTES:
What light through yonder windows break? Vibe Melbourne is leading a visionary charge of TFE Hotels' new-build properties due to open in the city before the end of the year, including Adina Apartment Hotel Melbourne Southbank. Situated on the opposite side of the Yarra River, the striking Bates Smart design of Adina Melbourne Southbank – already making headlines for its ground-breaking 'clean and green' construction technology – also features floor to ceiling windows, thanks to its curved glass-curtain façade. Stay tuned for more.
Marvel at one of the world's best skylines! It's official! Long celebrated for its photogenic skyline, punctuated by stunning skyscrapers and heritage icons, Melbourne sits high on the Top 100 list of 'must see' cityscapes… anywhere on the planet. According to the latest, internationally-recognised Emporis 'Skyline Ranking', Melbourne boasts the No.1 city skyline in Australia and, globally, at #39, outranks Sydney (#40); London (#50); San Francisco (#52) and even Las Vegas (#77). Psst: you don't need a crystal ball to see what's on the horizon, thanks to the City of Melbourne's creation of what is best described as 'Google Earth of the Future' in its virtual 3D model of buildings approved, under development or in the pipeline. Click here to see it for yourself!
Did you know? Melbourne has also scored the No 1 ranking in the world's 'most liveable city' index 10 times since the measurement commenced in 2002. 
While it's tempting on a Vibe Melbourne staycation to 'stay in', order room service (from drool-worthy St Marks Road Co.) and watch the city unfold from floor to ceiling windows, other 'must-see' vantage points famously include:
Eureka Skydeck (the highest public viewing platform in the Southern Hemisphere, 300 metres above Southbank); 
Vue de Monde (celebrity chef Shannon Bennet's drool-factor restaurant, located 55 floors up, on what was once the observation deck of the Rialto building, the tallest office building in the Southern Hemisphere when it first opened in 1986); 
Melbourne Star (the Southern Hemisphere's only giant Observation Wheel); and
St Kilda Pier, where even Little Blue fairy penguins take in sunset views of the city skyline (hot tip: pull up a seat at picturesque Little Blue restaurant at the end of the pier; Melbourne's only venue 'fully surrounded' by Port Phillip Bay).
For something different: head to Ponyfish Island (a floating café/bar beneath Southgate Footbridge, linking iconic Flinders Street Station to the buzzing Southbank precinct) or hop on a north-bound train to the city fringe hub of Collingwood, where burgers and beers are the specialty, in a rooftop 'Hitachi' train carriage overlooking the city skyline at Easey's. Too easy! It's also an easy  stroll, just a few blocks west to Fitzroy's buzzing Brunswick Street, where 'local secret', Naked in the Sky rooftop bar/restaurant promises devilishly-good Spanish tapas and breathtaking views of the city skyline. Olé!
 
Download Word Doc
Download Images
Owner: Caydon Design & Architecture
What's in a name: Vibe Hotel Melbourne (can be shortened to Vibe Melbourne after first use)
Link to Book: https://vibehotels.com/hotel/melbourne
Lead in Rate: $143
Opening Special: 20% OFF fully flexible rate. Room only.
FOR MORE INFORMATION CONTACT
Jodi Clark
Head of PR - TFE Hotels 
+61 499 900 658 / jclark@tfehotels.com
Beau Kassas
Communications Director – Klick X 
+61 488 027 555 / beau@klickx.co
Lauren Cowan
Communications Lead – Klick X 
+61 431 550 466 / lc@klickx.co
ABOUT VIBE HOTELS
Vibe Hotels are hotels designed to connect guests to their work, their fellow guests and the local area. Each has spaces and experiences that allow guests to be inspired, with innovative interior design in bright rooms and cool communal areas. Drink and dining offerings emphasise fresh and local, allowing guests to connect with their inner foodie. 
www.vibehotels.com
WHO ARE TFE HOTELS?
TFE Hotels (Toga Far East Hotels) Australia's International Hotel Company operating in Australia, New Zealand, Germany, Denmark and Hungary. It has a portfolio of five established hotel brands - Adina Hotels, Vibe Hotels, Travelodge Hotels, Rendezvous Hotels and TFE Hotels Collection.