TFE Hotels Travelodge Delivers a Rock Star Lifestyle on a Budget
AUCKLAND WATERFRONT: What floats your boat? A rock star lifestyle without the hefty price tag.TFE Hotels' new 'heavy metal (precast concrete and glass)' superstar, Travelodge Hotel Auckland Wynyard Quarter, which opened on 30 October, takes centre stage in Auckland's up-and-coming, industrial-chic waterfront precinct.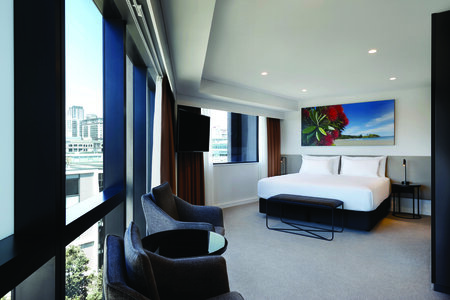 A guaranteed crowd pleaser in a million-dollar location. Big on style, but even bigger on heart, thanks to its refreshingly simple customer service philosophy, delivering 'more of what you want, minus the unnecessary extras'. 
Think Bohemian Rhapsody meets The Great Gatsby. Hip and happening, without a skerrick of pretension, footsteps from the city's buzzing ASB Waterfront Theatre; head-turning superyachts; Auckland's working fish market; Zen Silo Park, complete with interactive playscapes and open air 'silo' cinema screens; North Wharf's funky cafes, breweries and bars; and even the fussiest gourmand's A-Z of sumptuously eclectic restaurants at every turn. 
Not forgetting the win-win of booking a trendsetting hotel at a mid-level price point, just a stone's throw from where the world's yachting elite will descend, starting December, to contest events in the lead-up to the 36th showdown of the America's Cup (March 2021). The same year Royal New Zealand Yacht Squadron (RNZYS) celebrates its 150th anniversary with a full calendar of celebratory events, kicking off from 3 October. 
A fact not lost on proud Aucklander and Travelodge Wynyard Quarter Hotel General Manager Nick Mannion. 
"Team New Zealand's base is just up the street – you're talking maybe 500 metres from the hotel's door," says Nick of the reigning champions, and first team in history to challenge and win the oldest trophy in international sport twice. "It will definitely be a big drawcard for hotel guests, placing them at the epicentre of the action."
Emirates Team New Zealand HQ – signposted by two striking 75ft foiling monohulls, aka AC75s, built to contest 'the Auld Mug' (currently held by RNZYS) – is located on the same street as Travelodge Wynyard Quarter, taking over the former Viaduct Events Centre at the end of Halsey Street.
Nick predicts a different kind of race once words gets out about the hotel's superstar location. Namely, the rush to book the property's stellar 'Marina View' corner rooms, promising a value-for-money vantage point to watch the towering AC75s in action, come race time. All against the iconic backdrop of volcanic Rangitoto Island, rising 260m over the Hauraki Gulf.
"For sure, that's where you'll get $3million-views onto the harbour, with Rangitoto and Auckland's North Shore in the background," agrees Manuel Diaz, Associate Director of Peddlethorp, award-winning architects behind Travelodge Wynyard Quarter. 
"The corner rooms are designed to draw in as much of those showstopping northern views over the water as possible… although quite a number of the other rooms also have views to the marina. The beauty about this property is that it punches above its weight on so many levels."
Unobstructed views – also stretching east to Auckland CBD's skyline, punctuated by the city's Sky Tower landmark – are just the start of Travelodge Wynyard Quarter's undeniable charm in a 'must stay' location.
"If you've never been to Auckland before you wouldn't want to be anywhere else," said Manuel of the destination. Already a hit with locals and fast gaining a reputation as the ultimate 'weekend escape', boasting boardwalks, east, to the CBD and, west, to Auckland Harbour Bridge (itself earmarked for development of a pedestrian/bicycle pathway, linking Westhaven Marina to North Shore beaches and nature reserves). 
"Wynyard Quarter is the gateway to everything and Auckland's first taste of a funky, bohemian, industrial-chic neighbourhood… the likes of which have never been seen here before. We're witnessing an exciting process of urban renewal whereby a whole heap of historical industrial buildings are being repurposed – a bit like Southbank in Melbourne. 
"What's exciting is Travelodge Wynyard Quarter is exceptionally located at the heart of it all and, we think, a catalyst for the whole area's future development."
In keeping with the emerging inner-city neighbourhood's industrial-chic footprint and maritime heritage, TFE Hotels' newest Travelodge property (only the second in New Zealand, tag-teaming Wellington) certainly sets the tone for ongoing development in its immediate vicinity. 
Giving a nod to the precinct's industrial past, it features a sawtooth roof and stunning patchwork façade of exposed steel, glass and charcoal precast concrete panels. Internally, the hotel's cavernous, warehouse-like lobby kicks goals when it comes to delivering a dramatic sense of arrival for guests, via its double-height, 4.5m ceiling. High enough to easily accommodate goal posts in a rugby-mad nation.
In another unexpected twist, Travelodge Wynyard Quarter's L-shape design cleverly forms a sleeve around a new, seven-storey car park (which the hotel's rooms look out and away from). Surprisingly, an addition that adds value to the streetscape's vibe, well beyond its core function and streamlined 'park and check-in' service for guests.
"Having a car park on the back of a hotel is very handy, but it's not like any other car park – this one is clad in stainless steel mesh that has come all the way from Spain and looks quite beautiful, almost like a thin veil," Manuel said.
"The car park is designed to be something far more appealing because its façade will become the face of an intimate laneway, filled with cafes, street art and other retail – all on the hotel's doorstep, meaning guests won't want for anything."
For TFE Hotels Executive Development Manager, Michael Herman, Travelodge Wynyard Quarter ticks all the boxes and more, as a hotel that offers something for everyone – from families to business travellers.

"Wynyard Quarter is a bit like North Sydney," Michael said, noting that big corporates of the ilk of Microsoft, Datacom, Fonterra, KPMG and Air New Zealand have already set up offices in the area. 
"It's just a winner of a location – especially for Travelodge Wynyard Quarter guests, who won't be paying the earth nor wanting or asking for anything when they're there."
Ends.
What's in a name: Travelodge Hotel Auckland Wynyard Quarter (can be shortened to Travelodge Wynyard Quarter after first use)
Opening Special: From $191 NZD (20% OFF fully flexible rate. Room only.)
Download word doc
Download images 
 
FOR MORE INFORMATION CONTACT:
Jodi Clark
TFE Hotels (Director of Communications)
+61 499 900 658 / jclark@tfehotels.com

Beau Kassas
Communications Lead – Klick X 
+61 488027 555 / beau@klickx.co
Lauren Cowan
Communications Lead – Klick X 
+61 431 550 466 / lc@klickx.co
ABOUT TRAVELODGE HOTELS 
Travelodge Hotels makes a hotel stay Refreshingly Simple. Hotels in city locations around Australia and New Zealand offer great accommodation, high speed Wi-Fi and a relaxed feel with all the essential comforts. Guests will find a warm and honest sense of humour in everything Travelodge Hotels does. These are places where people enjoy exceptional locations and options to enhance their stay.  travelodge.com.au 
WHO ARE TFE HOTELS?
TFE Hotels (Toga Far East Hotels) is an international hotel group headquartered in Sydney and operating in Australia, New Zealand, Germany, Denmark and Hungary. It has a portfolio of five established hotel brands - Adina Hotels, Vibe Hotels, Travelodge Hotels, Rendezvous Hotels and TFE Hotels Collection and is pleased to introduce Quincy Hotels to Australia in 2020.