Looking for a fun way to connect your team and boost comradery? Sydney has a multitude of team building options for both indoor and outdoor fun.
Cooking Class
The sharing of food is often thought of as one of the most universal bonding experience. Learn how to work together collaboratively to create a gourmet dish with a team cooking class. The warm and welcoming environment of the kitchen will allow even the shyest team members to feel at ease. This is an all-inclusive group activity where each team member contributes to the final product. Add some spice and make it themed – Mexican madness, Spanish fiesta or an Italian feast. Once all the hard work is done, the team can enjoy a lovely meal together. Try out Cheeky Food Events for a corporate cooking class with a twist. Or Sydney Cooking School for a Masterchef style Mystery Box Challenge.
Charitable Activity
Get the team together for a meaningful project with a charitable CSR activity. A great way for your colleagues to work together and focus their energies on making a difference and contributing to the bigger picture. This type of activity is guaranteed to create a lasting impression on your staff and can even shift their mindsets into becoming more socially responsible corporate employees. Charitable team activities in Sydney include building toys for children's charities, creating 'Helping Hand Hampers' for the homeless or volunteering in animal shelters. Check out
Beyond the Boardroom
and
Thrill
for more details.
Creative Experience
Dr. Stuart Brown from Stanford University agrees that play is more than just fun. Creative play shapes our development and problem solving skills. Artistic expression is one of the most effective ways to alleviate stress and ignite our imaginations, boosting productivity and passion. How about a mobile painting party with Margaritas and Masterpieces? Or some physical play with Circus Arts Sydney where your team can learn new skills and push boundaries while mastering the high flying trapeze, walking the tight wire or learning to juggle. Inspire energy and excitement with an interactive dance class at Dance Central teaching styles such as salsa, hip hop and Bollywood.
White Water Rafting
For an adventurous outdoor activity, white water rafting will have your team literally banding together with team spirit. Relying on successful communication strategies, the team will have to pull together to navigate the water course. White Water Rafting is both mentally and physically challenging but guarantees plenty of fun and laughter. Just an hour outside of Sydney, Penrith White Water Stadium offers a range of corporate packages for team building days.
[caption id="attachment_1972" align="aligncenter" width="602"]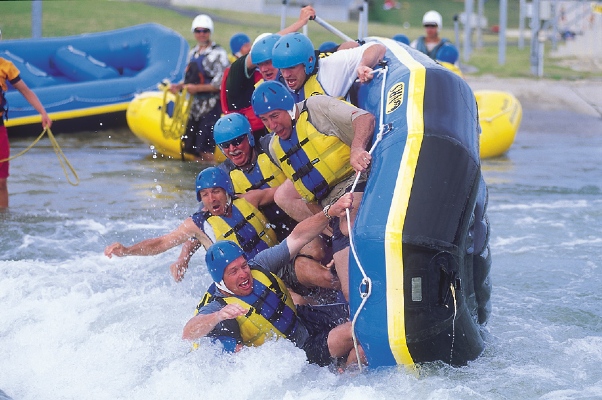 White water rafting at Penrith www.penrithwhitewater.com.au[/caption]
Bubble Soccer
For some light-hearted fun, Bubble Soccer is a trending team building activity that all can enjoy – from the players on the field to the spectators on the side line. Forge team spirit and devise a team strategy to score the goals and win the game. For Sydney-siders, check out Bubble Soccer and Kik Off for a corporate package including onsite locations, bubble suits and referees.